How to buy a wedding ring when you can't visit us...
We know things are tricky at the moment, but if you're in the final months of wedding planning and are yet to find your wedding rings – we can help.
The ideal time to buy your wedding rings is around four to six months before your wedding if you want something bespoke. This gives you plenty of time to find your perfect fit, and to have it made in time for your big day. Of course, if you've fallen in love with one of our ready to ship designs, this can be with you a lot quicker!
With that being said, here are our top tips for choosing your wedding ring, if you can't visit us in person.


learn about your engagement ring
The first thing to think about when looking for your wedding ring is how it's going to complement your engagement ring. It's likely that a lot of time was spent researching and purchasing your engagement ring, but not many people think about which wedding ring will look perfect alongside it.
Firstly, is your engagement ring set in a high, or a low profile? If the stones are set in a high profile (wed-fit) then any straight band will happily sit underneath with the setting sitting above.
If your engagement ring is low profile and sits more flush with your finger then you will need to look for a shaped wedding ring to complement it. Shaped wedding bands can include tiaras, ribbons and waves and can be made to fit your engagement ring exactly... more on that later!


download our stacking guide
If you've fallen for one of our designs and want to see how it stacks, our printable stacking guide is your new best friend!
Download the guide here, print it out, then slide your engagement ring onto it to see which of our existing designs fit. Whether you'd like a full diamond tiara or a simple waved band, we have something for everyone!
If you like the look of a style, but it's not quite the right fit, perhaps a bespoke band is for you...
Now you know whether you have a high or low profile engagement ring, and have downloaded our printable guide, you will have a rough idea which kind of wedding ring would suit your existing band.
If you have a low profile ring, shaped bands such as tiaras, ribbons or wave designs would complement it nicely.
To ensure your wedding ring fits perfectly, we can provide a mould pot. Simply take an impression of your engagement ring and send it back to us. Once we have the mould pot, we will customise your wedding band to fit alongside your engagement ring and provide you with a CAD image so you can see it in person before it goes into production.
If you've found a wedding ring design that you like, but you want to try it on before you completely decide, you can order a silver sample from us.
Pay a deposit and we'll get the silver sample sent out to you in the post for you to try. Then simply send the sample back to us and we'll either refund your deposit, or take it off your final purchase.
book a virtual appointment
If you'd prefer to discuss your wedding band project with us in person, book a virtual appointment and a member of the Jessica Flinn team will happily go through all of our ready-to-ship pieces with you or discuss any ideas you might have for a bespoke ring.
Our virtual appointments will allow you to see the rings up close, and if you have a Jessica Flinn engagement ring, we may even be able to show you the two styles together!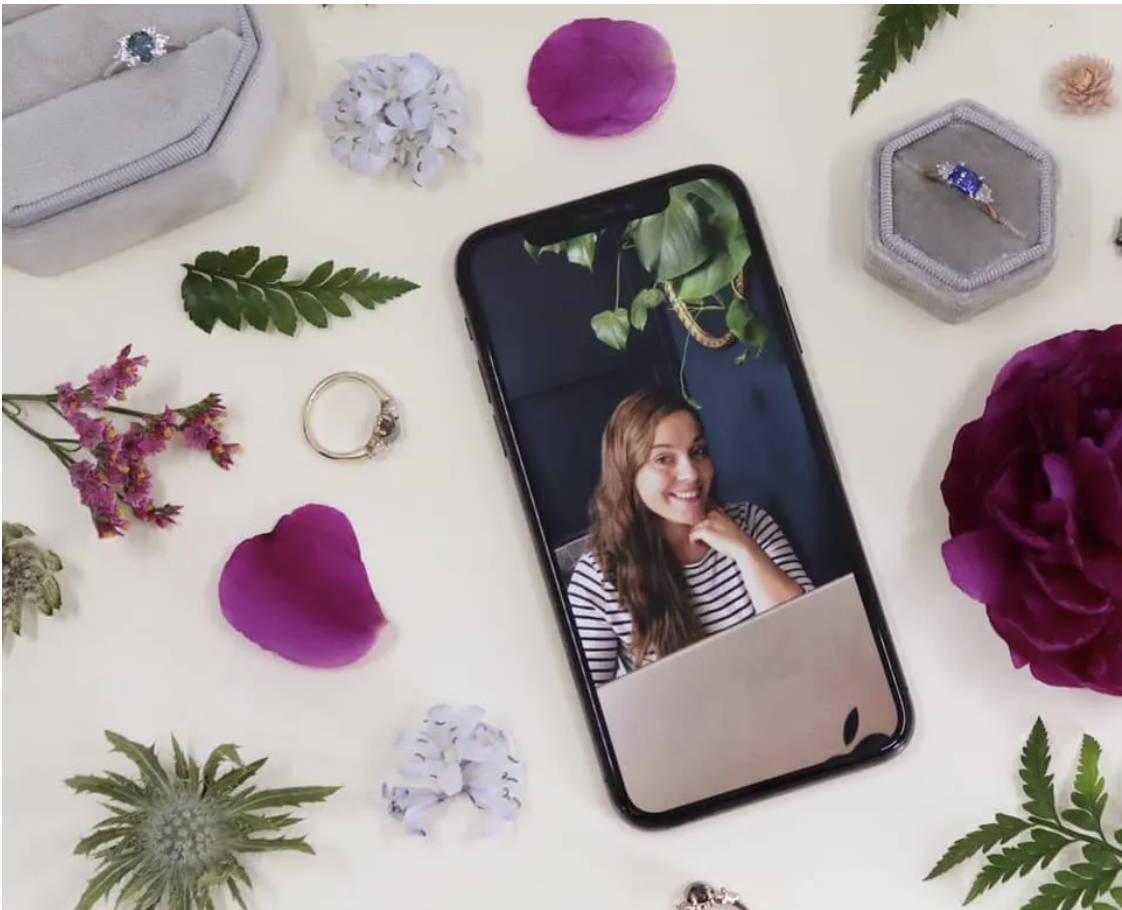 ---