tHE ULTIMATE gUIDE TO FINDING YOUR
DREAM WEDDING RING
Hi, lovebirds! So, you're on the thrilling journey to your big day, and there's one fabulous decision left on the to-do list: picking the perfect wedding band to complement your engagement ring. Think of it as finding the potato to your gravy; they're great on their own, but together, they're a match made in heaven.
Let's chat about your engagement ring – whether it's a timeless classic, a vintage showstopper, or a modern stunner, we're here to help you find the perfect wedding ring match!
Which shape wedding band will match my engagement ring?
Your engagement ring might be stealing the spotlight, but when it comes to picking a wedding band, let your personality shine! Go ahead and add all the flair and pizzazz you've been dreaming of—this is your time to sparkle! Take our Marquise cut Elspeth engagement ring, for instance. It joins forces seamlessly with Enid, a diamond-studded wishbone wedding ring, both flaunting as much flair as each other!
And don't overlook the importance of width. If your engagement ring is a delicate diva, go for a slender band. Or if you're feeling bold and ready to make a statement, a wider wedding band is your go-to move.
Now, envision your engagement ring and wedding band as the Batman and Robin of your jewellery box – an unstoppable team. They should complement each other with matching patterns, engravings, or gemstones, creating that seamless connection. When they're in sync, it's pure magic!
If you're on the lookout for a wedding ring with that extra flair, meet Wednesday – our sapphire wedding band. Paired up with Callie, whose salt and pepper charm is the perfect sidekick, they create a style that's both distinctive and harmonious.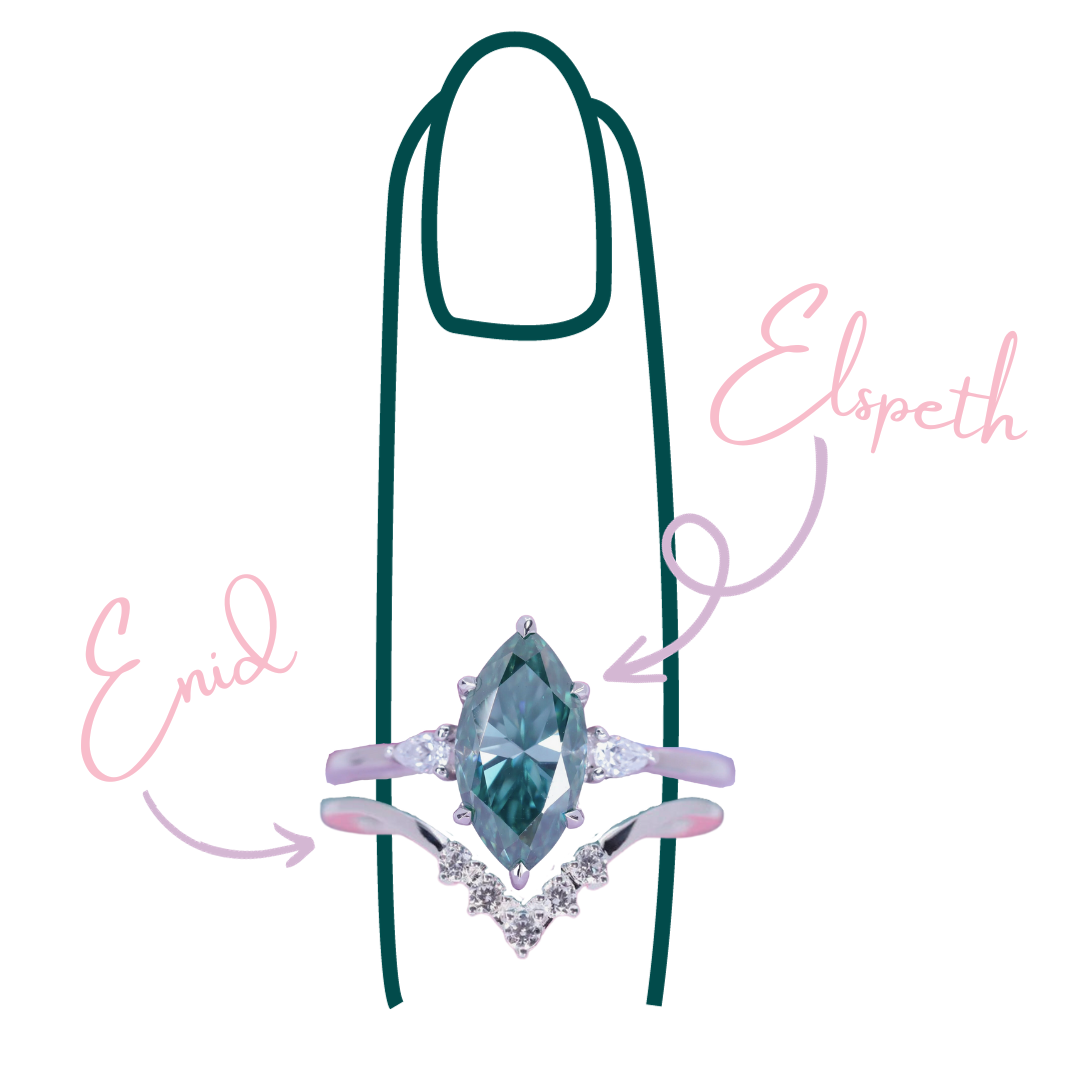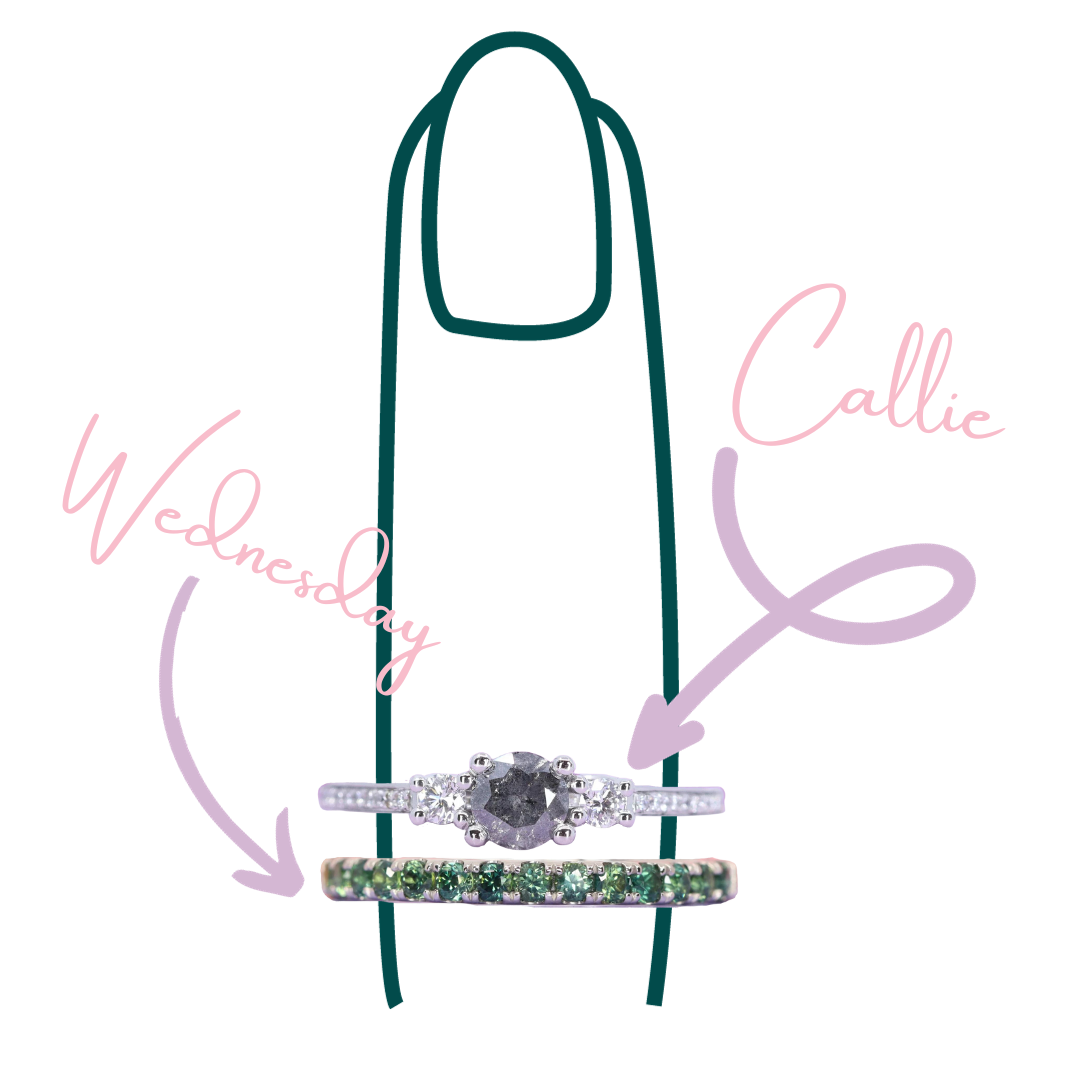 how can I make sure my wedding ring will fit around my engagement ring?
Attention perfectionists, we've got you covered! If you desire flawless harmony between your rings, our shaped-to-fit service is here for you. Simply provide us with a mould of your engagement ring, and we'll craft one of our designs with precise measurements to ensure your wedding band fits seamlessly with your engagement ring. Your perfect match is just a mould away!
This part is like trying on different outfits for a party. Go ahead, try on various wedding bands to see how they work with your engagement ring. You never know, that wild card could be your soulmate in ring form. And if you want a second opinion, then feel free to book in an appointment with one of our lovely team members, they will be more than happy to discuss wedding ring options with you either virtually or in our showroom!
Which metal is best for a wedding ring?
Before you pop the question, think about your lifestyle. If you're a busy bee, go for a low-maintenance, sturdy metal such as platinum. If you're a fan of white metals we always recommend going for platinum over white gold as it's sturdier, but be aware that it does come with a higher price tag! We've paired our platinum Raine engagement ring with a platinum Dee wedding band, the sturdiness of the metals doesn't takeaway from the delicate beauty of this pairing.
Here comes the metal match-up. You've got options: white gold, yellow gold, platinum, or even a mix of metals. To keep the fashion police at bay, aim for a wedding band that plays nicely with the metal of your engagement ring. Mixing metals can be a gorgeous and unique way to rock your ring, but we always suggest trying out the combinations before making any lifelong commitments! We've coupled the elegance of our gold and green sapphire Florence engagement ring with the stylish silver Joanie, showcasing that mixing metals can result in a harmonious and balanced fusion of elegance!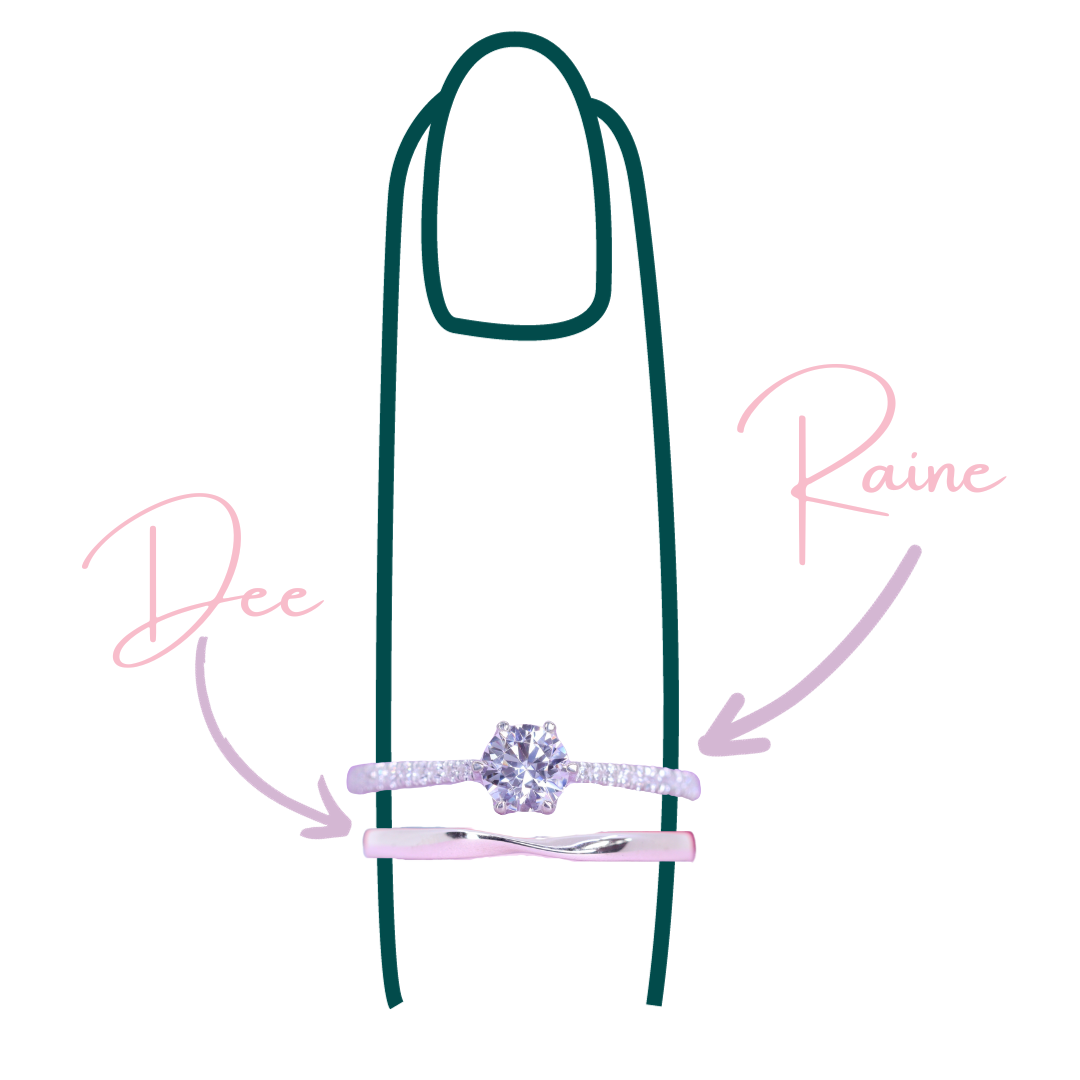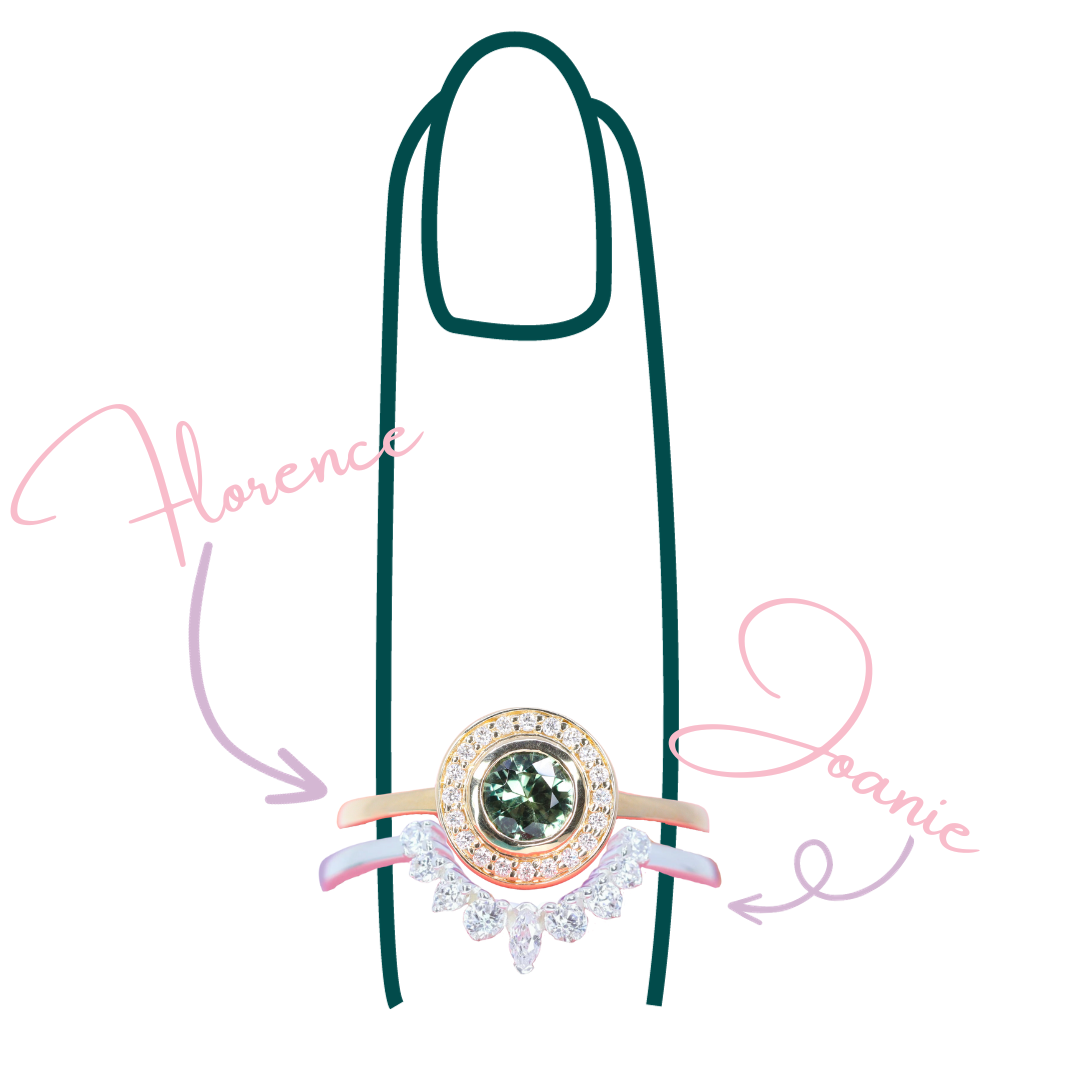 How can i make my wedding ring personal?
We also offer matching sets for you and your partner, so with these sets, you and your soon-to-be spouse can enjoy a lasting symbol of unity and harmony.
And if you want a personal element, we offer engravings on all our wedding bands. Whether it's your wedding date, a sweet message, or both your names, this adds a completely unique component to your ring that you can cherish forever.
Selecting the perfect wedding band for your engagement ring should be a relaxed and enjoyable experience. It's not just about making them match perfectly; it's about finding a combo that grooves to your love story. Take your time, have fun with it, and make it uniquely yours. Your wedding band should be more than just a sidekick to your engagement ring; it should symbolise your love and commitment. Here's to a fantastic chapter in your love story! Cheers!