MEET THE TANTALISING TOURMALINE - OCTOBER'S BIRTHSTONE
October, the month of pumpkins, falling leaves, and all things cosy, has a secret treasure tucked away – the mesmerising tourmaline!
If you're among the lucky October-born, you're blessed with this tantalising gem as your birthstone. Tourmalines come in a kaleidoscope of colours, making them as diverse and vibrant as the autumn landscape, ensuring you have a gem that's truly as unique as you are!
Tourmalines are a captivating family of gemstones, boasting an impressive spectrum of colours. From vivid greens and pinks to deep blues, and if you want something truly unique, there's the enchanting watermelon tourmaline, where green and pink dance together in one gem.
But tourmalines aren't just pretty rocks; they come with a rich history. Ancient legends suggest they've journeyed through rainbows deep within the Earth, collecting colours like souvenirs. And for those who wore them, tourmalines were like a magical shield, warding off bad vibes and boosting confidence.
In the world of holistic healing, these gems are prized for their emotional balancing act, they're said to whisk away stress and help you find your inner harmony.
At Jessica Flinn, we're delighted to showcase a captivating collection of tourmaline gemstone rings. Join us as we unveil a selection of our top tourmaline pieces!
If you're looking for a stunning green tourmaline ring, then our Arden is the one for you! She's adorned with a breathtaking Optix octagon-cut teal-green tourmaline, complemented by two exquisite lab-grown baguette diamonds and six dainty round brilliant-cut lab-grown diamonds, she's truly an Art Deco masterpiece!
The green tourmaline and gold band combo is an absolute favourite of ours. The rich tones play off each other beautifully, resulting in a piece that radiates pure brilliance! However, if silver is more your jam, don't hesitate to get in touch, and we'll craft a stunning silver Arden just for you.
Optix stands as a groundbreaking faceting technique that ignites gemstones with a multi-dimensional play of light. Unlike the standard cut, which offers a single reflection, the Optix cut orchestrates numerous reflections, giving the stone an unparalleled sparkle, consistent colour dispersion, and enhanced brilliance.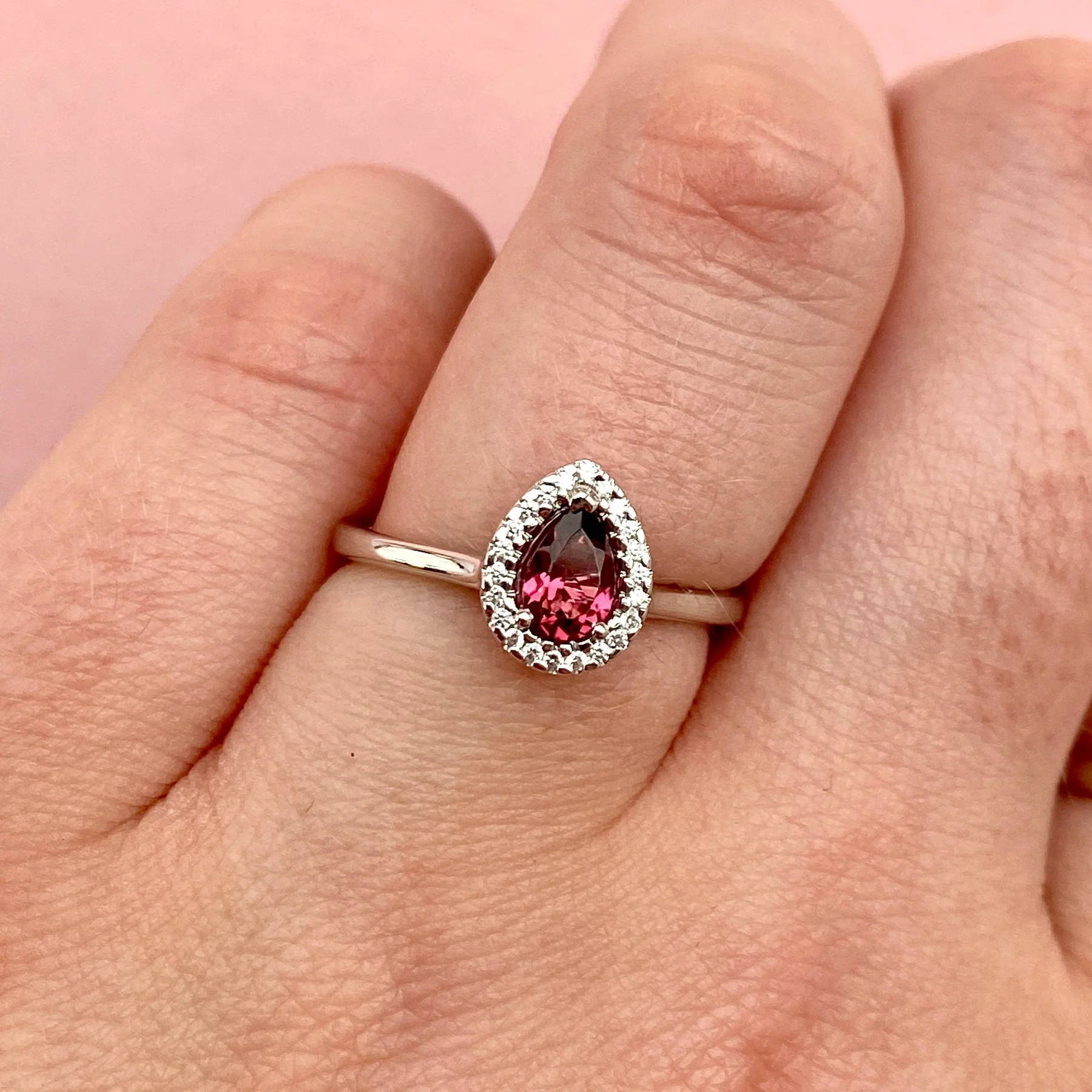 Now, let's talk about the dazzling Winter. This beauty boasts a striking teardrop pink/red tourmaline, encircled by a halo of 22 dazzling diamonds, and she unquestionably steals the spotlight!
Her distinctive teardrop-shaped gem was selected for its individuality and has been graced with a stunning halo of glistening white diamonds.
Winter's dainty pear gem rests in a graceful basket setting, extending gracefully from the ring to let the light work its magic on her exceptional attributes. With her elevated profile, she's the perfect match for a straight wedding band, but tiara shaped wedding bands are always a gorgeous addition to teardrop rings!
This gem boasts a range of pink shades, from delicate, blushing hues to bold and vibrant tones. The pink tourmaline is a boron silicate, which means it comes with a bit of chemical variety, leading to its fantastic pink palette. What can we say, it's a gemstone with an attitude!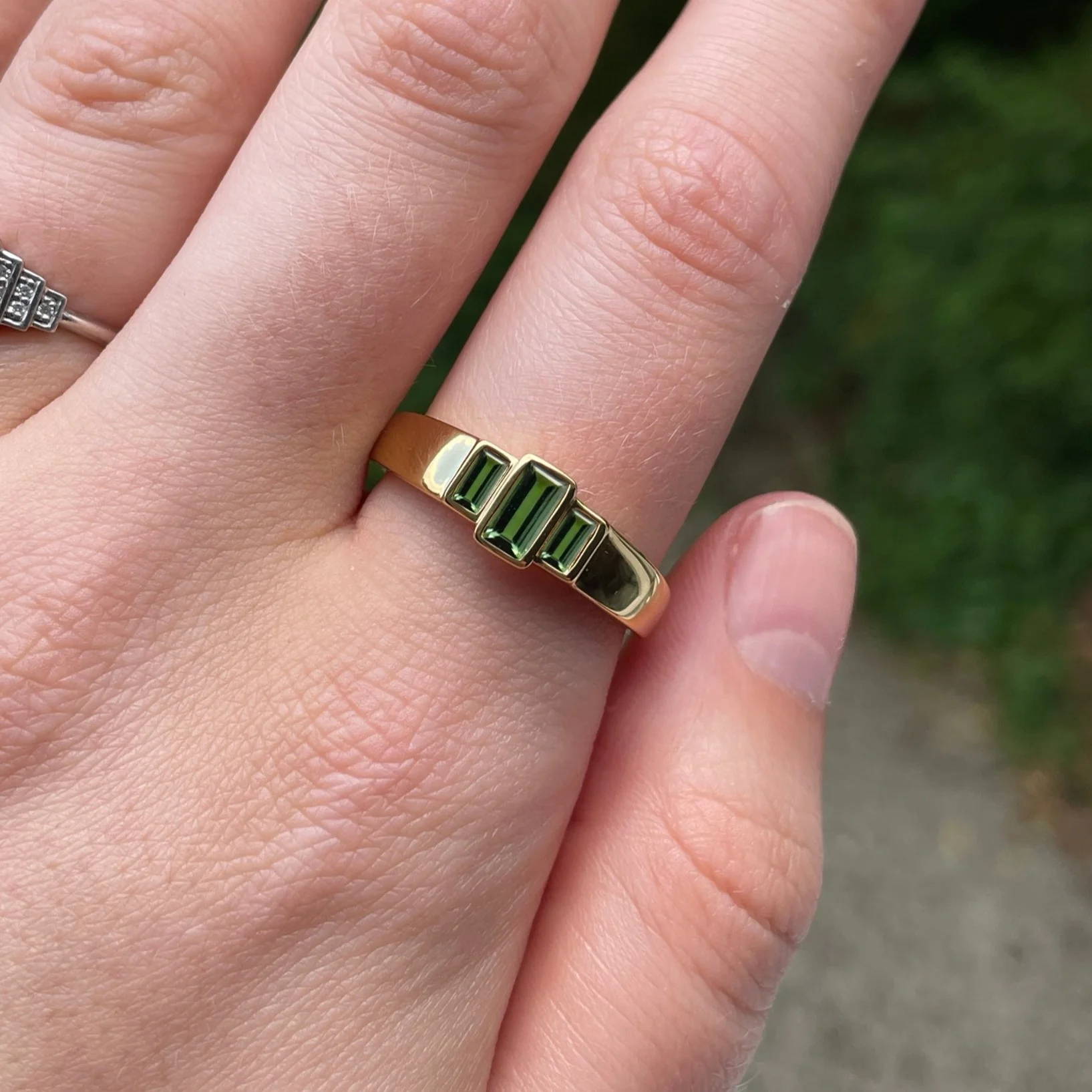 Next up we have Jesse! Another green tourmaline ring, but Jesse is far from ordinary! As part of our Euphoria Collection, a selection of jewellery designed to challenge the traditional binary gender norms, Jesse is the perfect addition to anyone's jewellery collection!
This piece effortlessly combines three baguette green tourmalines, evoking the Art Deco era's timeless charm. As a remarkably versatile jewellery item, Jesse is a perfect fit for anyone and every occasion.
All of the rings in the Euphoria collection are completely customisable, so if you'd rather a silver band, different accent stones, or even want to swap out the green tourmaline centre stone, the options are endless for creating your ideal version of Jesse!
We hope you've enjoyed our little tour through some of our favourite tourmaline gems. Whether green, pink, or the mesmerising watermelon variety tickles your fancy, we've got a ring to match your tourmaline dreams. So, let's savour October with a sprinkle of sparkle, and don't forget to take a leisurely stroll through our full range of tourmaline rings!