Cutting gemstones is a process of turning rough, unpolished stones into gemstones as we know and love them. Think of it as a makeover!
This enhances the natural beauty of a gemstone by adding texture, allowing light to shine through. This process is essential to create a real show-stopper.
To get the most out of a gemstone, cutters study the shape, symmetry and balance of a stone. It's a true art form.
Once this has been evaluated, cutting gives the extra "oomph" needed to bring out the natural personality of the stone. We then begin to truly appreciate their unique characteristics. It's time for a gemstone round-up, let's delve deep into shapes and cuts to discover what makes them so special.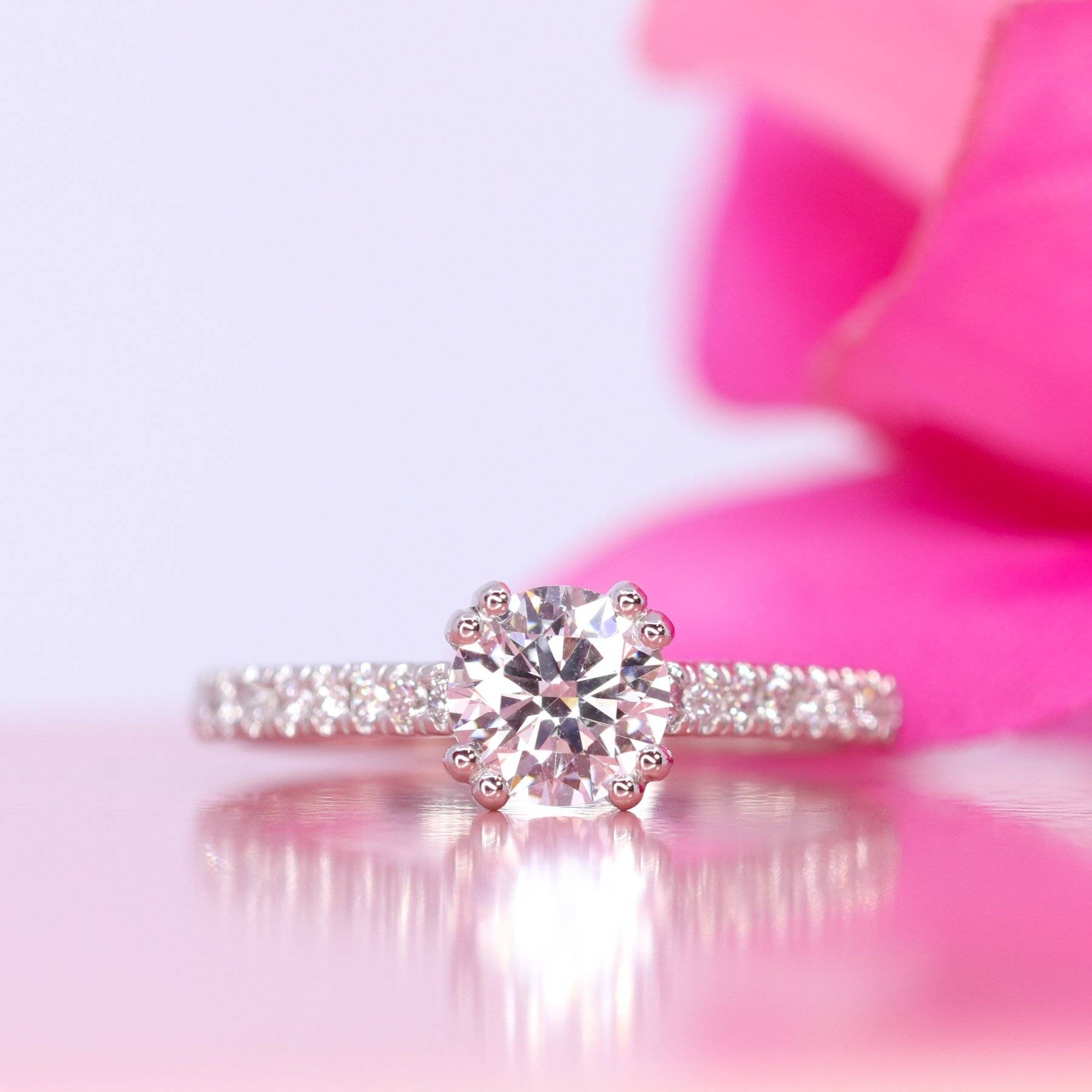 Probably the most traditional and recognisable, the Round Brilliant cut allows light to glide through 58 facets. Don't believe me? Try counting them... (Maybe not in the sun at full dazzle)
Acting as "prisms", the facets throw the sparkle in different directions. Wanting a ring that will capture a gaze from across the room? Our dazzling "Rebecca" made in Platinum with a round brilliant cut Lab Grown Diamond centre stone may be the one for you...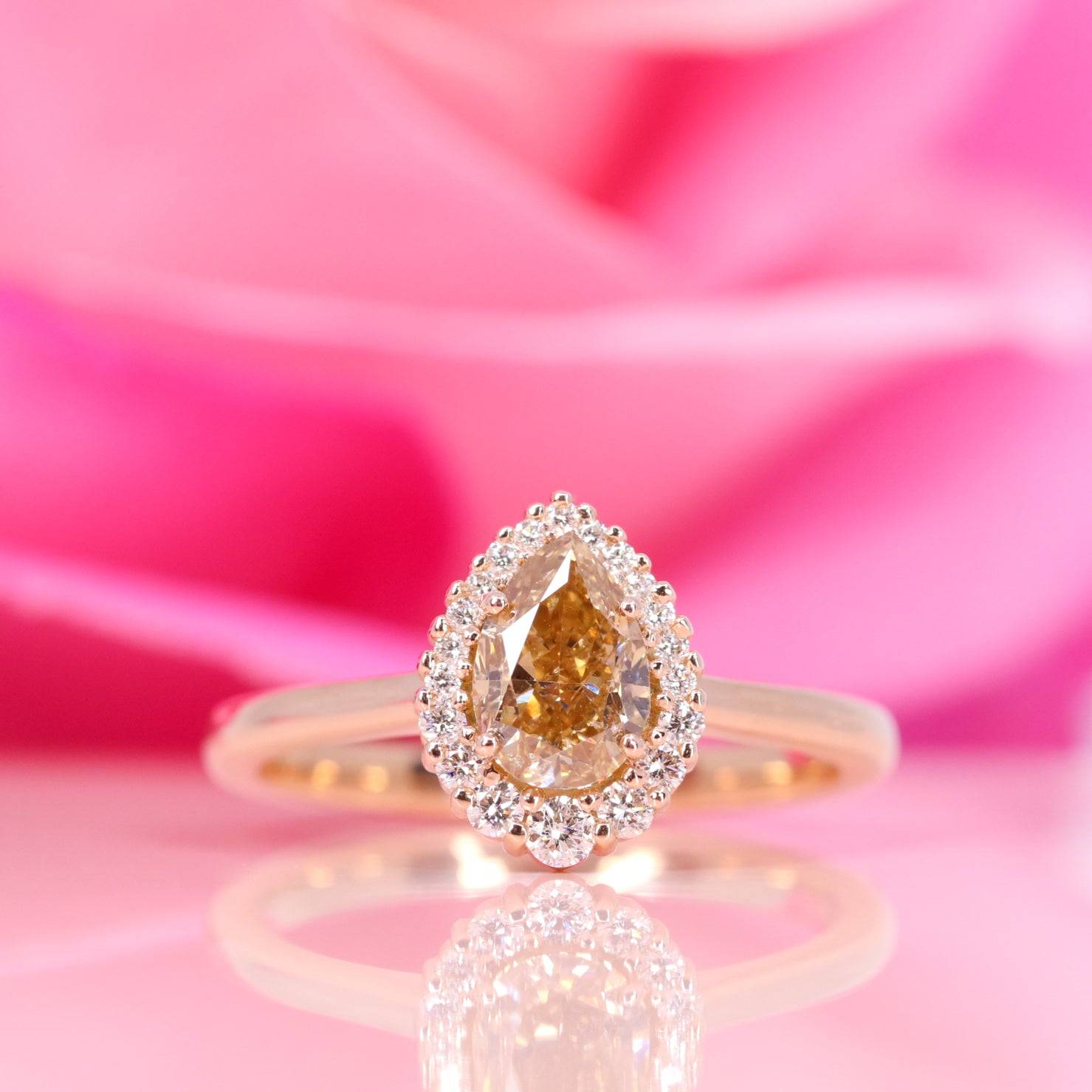 Marquise meets Brilliant Cut and it was love at first sight...
We adore Pear Shapes - from plump to elongated, we celebrate each shape and size in our designs.
Aswell as their size variety they are becoming a firm favourite with the modern bride. Not only this, they are a big favourite with celebrities, climbing the social ladder they have made appearances on Margot Robbie, Cardi B and Victoria Beckham's fingers (just to name a few).
Sounds like this could be for you? We recommend you have a look at our Aneesa, with her rich Cinnamon Cognac Diamond centre stone set in warming Rose Gold.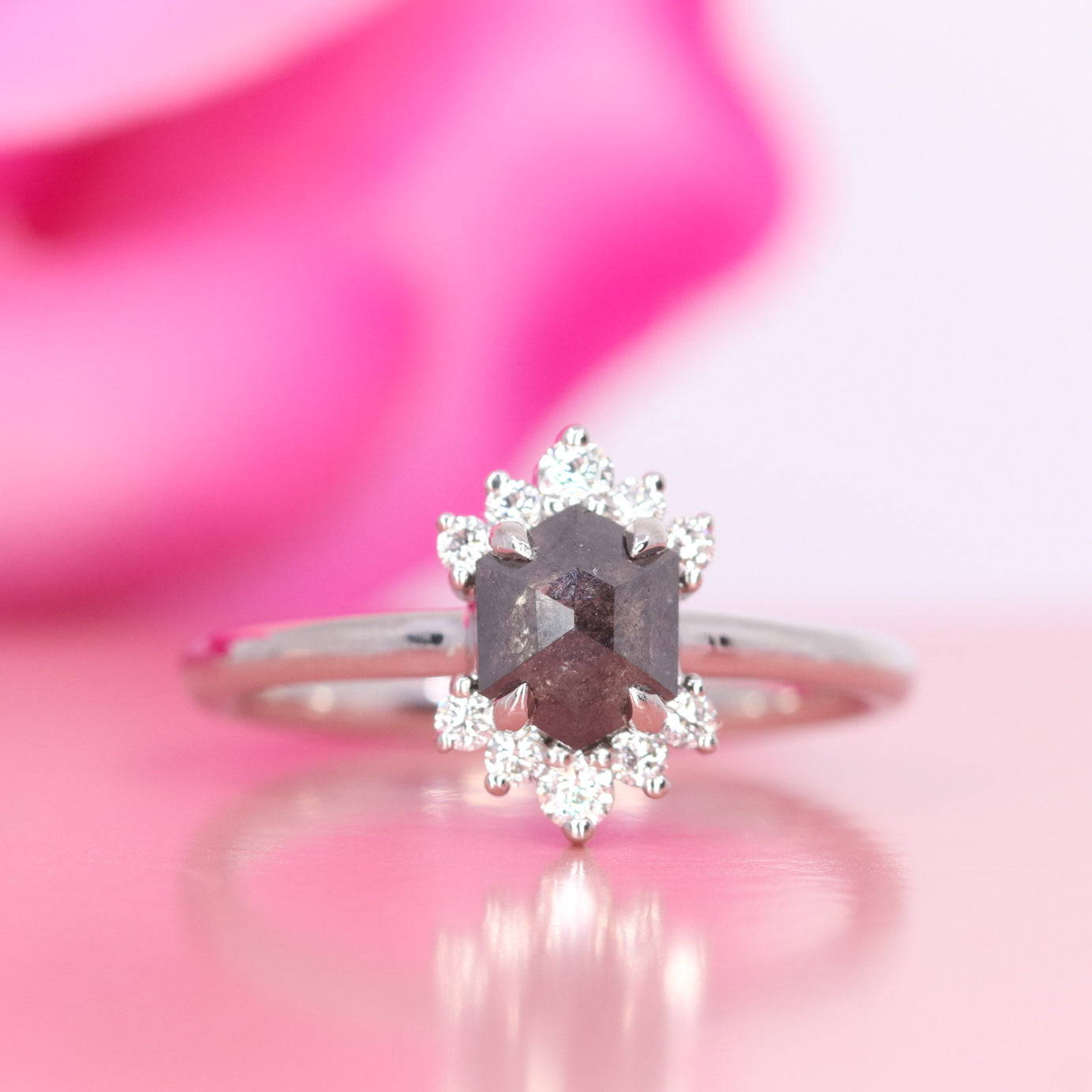 Bye-bye boring shaped solitaires, we want to make an impression! Hexagon shapes are perfect for the alternative bride seeking a ring that matches their unique personality. They can be sourced in all sizes from small and dainty, to elongated and dramatic.
We love working with Salt and Pepper Diamond hexagon shapes which is a firm favourite in our showroom and office due to their striking appearance.
Because who wants to blend into the crowd?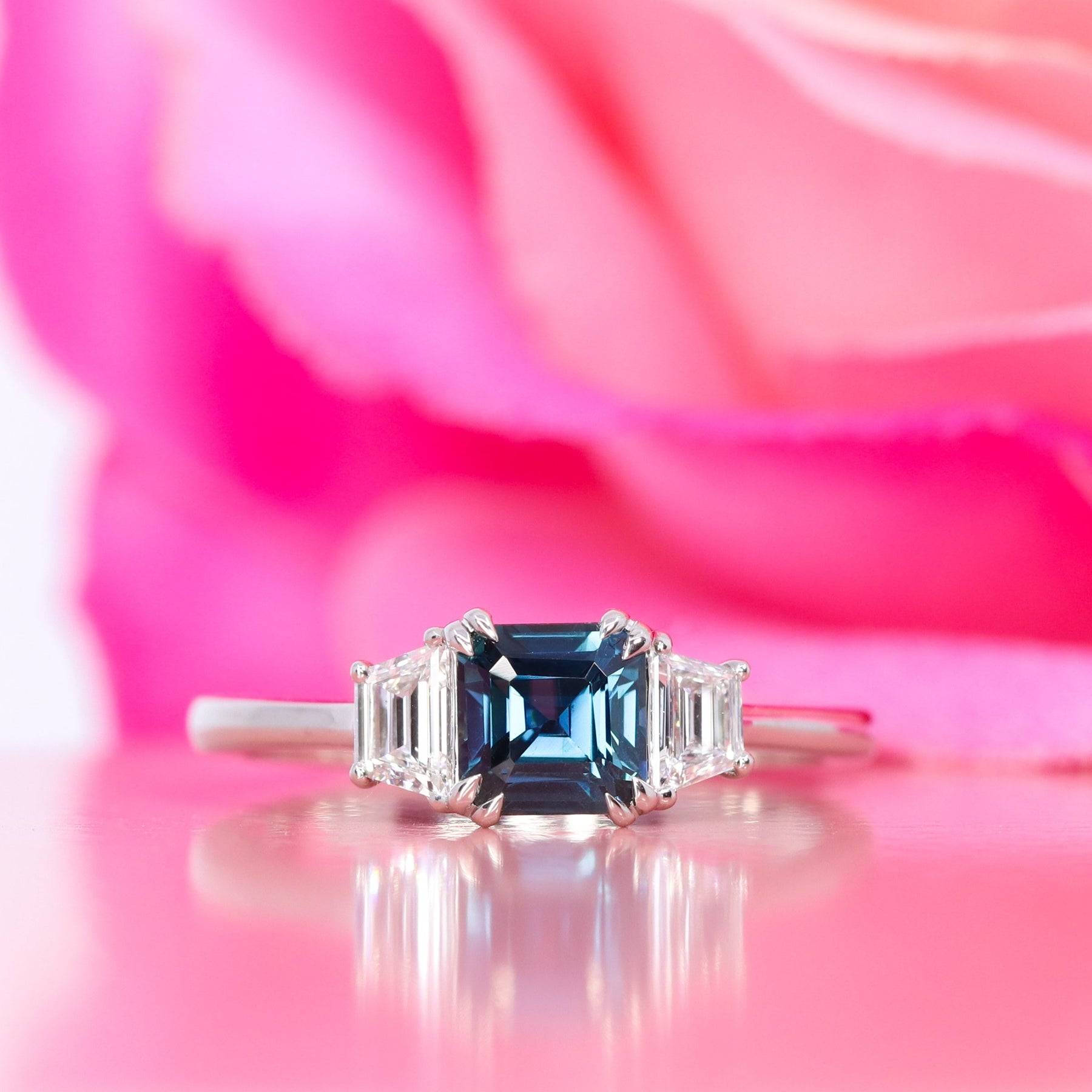 From kites, to emerald to shield. We LOVE geometric cuts and shapes. They are a very versatile shape to work with in our designs. Wanting to create the perfect modern ring combination? Take a look at Dahlia with her Kite Diamond shoulders. Or maybe a more vintage inspired Art Deco feel with Petra?
The unique shapes with our 'geometric' collections make up a big proportion of our designs. With a love for breaking the traditions and creating Art Deco inspired engagement rings, these shapes compliment our vision perfectly.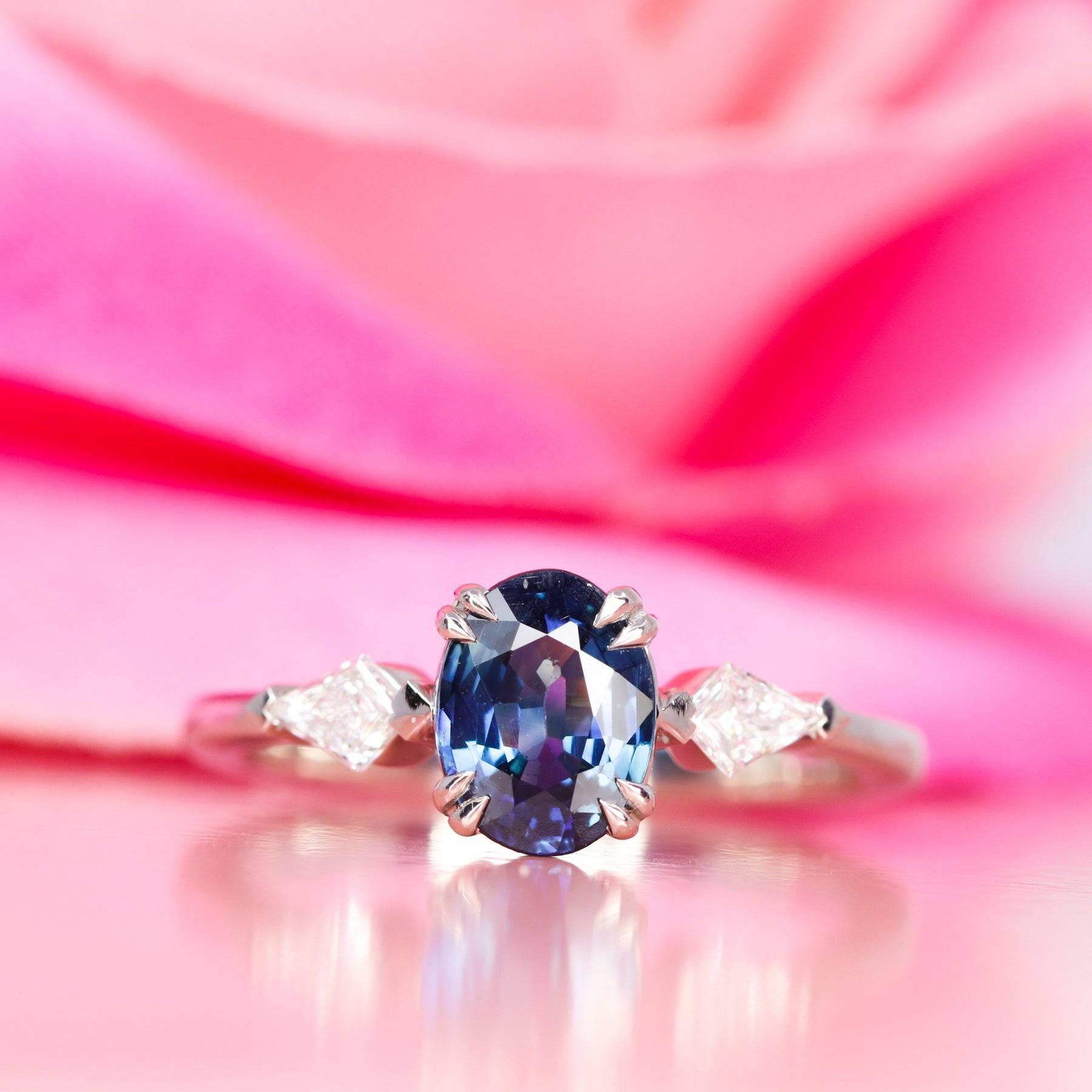 Mix elegance with modern and you create...
The romantic symbolism of Oval cuts has predominantly come through their overall popularity with brides, social media and the A-list stars! Our future Queen, Kate Middleton, has a gorgeous oval Sapphire which was previously Princess Diana's engagement ring. Maybe knowledge for the next Christmas party quiz?!
Oval shapes elongate the finger and add more of a delicate appearance with their smooth curves. A well proportioned oval should have a length-to-width ratio of around 1.25-1.50, drop below 1.25 and the shape becomes more rounded.
Why not mix curves with geometrics and create the ultimate party piece... Dahlia.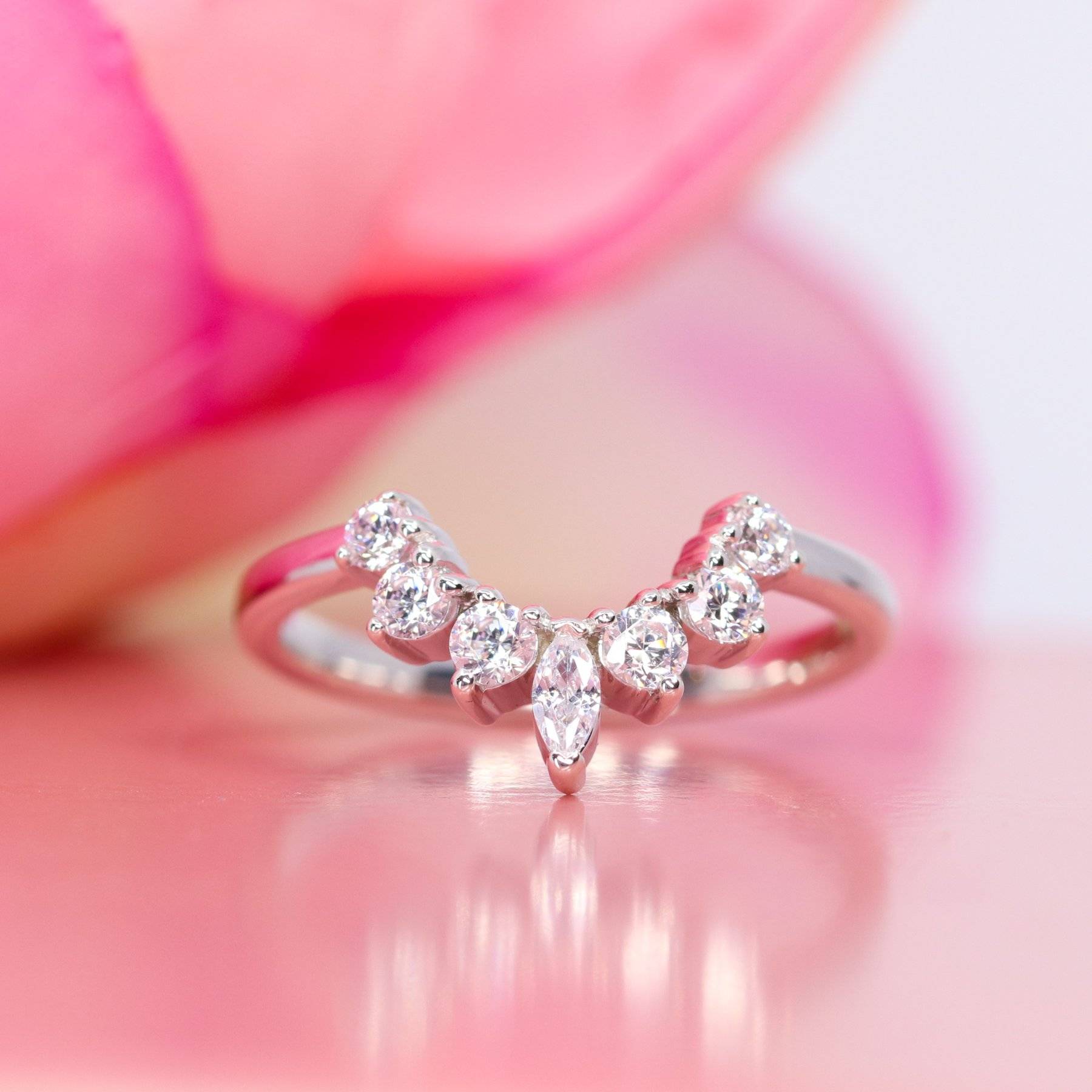 Calling all the alternative brides…
Gone are the days of plain, boring yellow gold wedding bands, we love to experiment with unusual and unique shapes such as Marquise cuts.
Perfect for the non-traditional bride, the whimsical shape of a marquise could be described as an eye, a little boat, a rugby ball, a smile, whatever you can see!
Marquise shapes are perfect as a dramatic elongated centre stone, or as feature stones with their pointed sides directing your eye to your main stone. Fallen in love? Joanie is here to rock your world!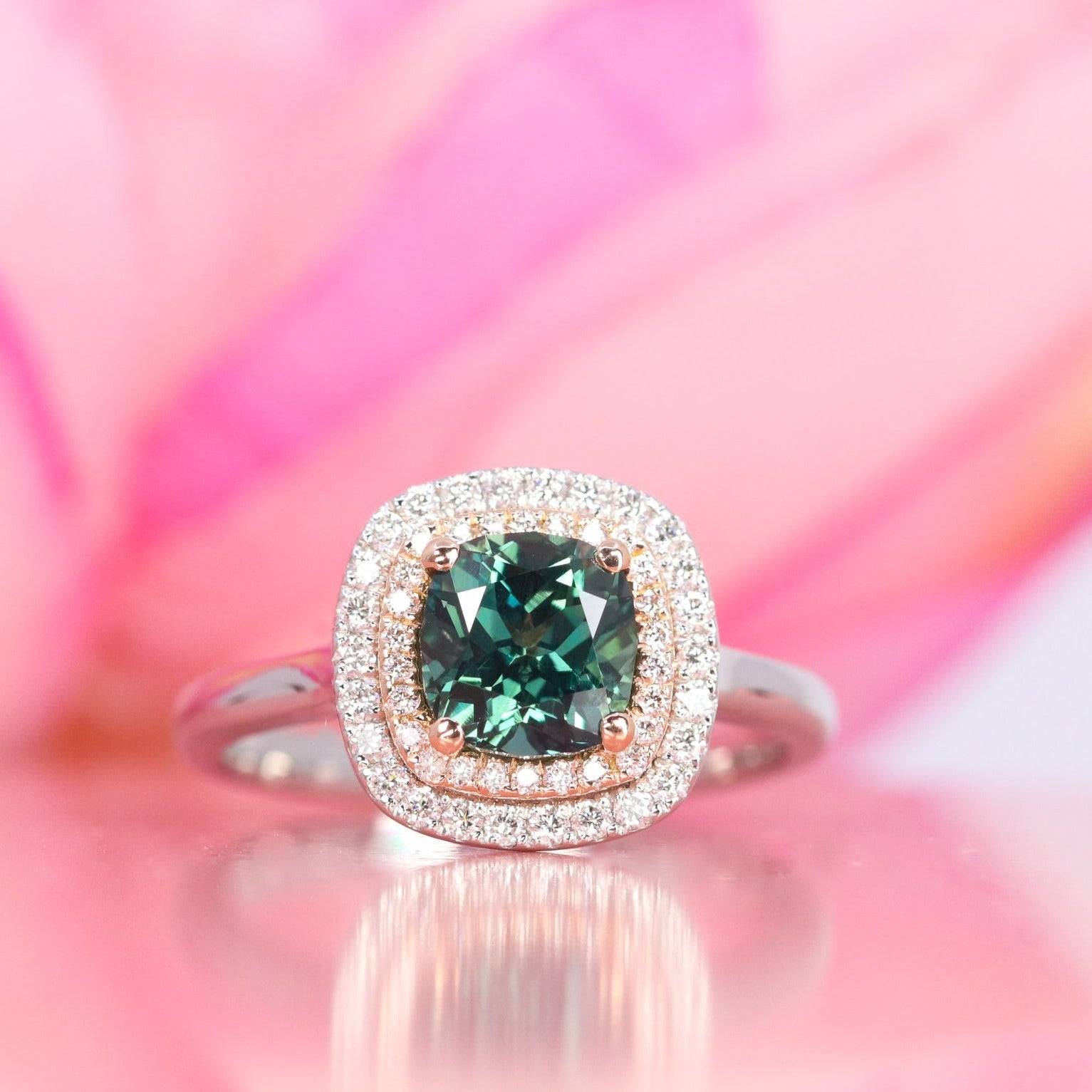 Making dreams a reality with...
Dreaming of a cushion cut centre stone? They do resemble a cushion shape, so that could be why.
They have a softer square shape with rounded corners unlike their similar cuts such as Princess or Emerald cuts. The cushion cut is both feminine and trendy. The curved corners and brilliant facets are perfect if you are searching for a soft look with a lot of sparkle.
Celeb watch! Cushion cuts have been pictured on celebs such as, Jennifer Garner's diamond solitaire or Jessica Biel's cushion cut Aquamarine (chosen as it's her birthstone!)
Looking to add a cushion cut to your jewellery box? Take a look at our Serena, so angelic she needed TWO halos!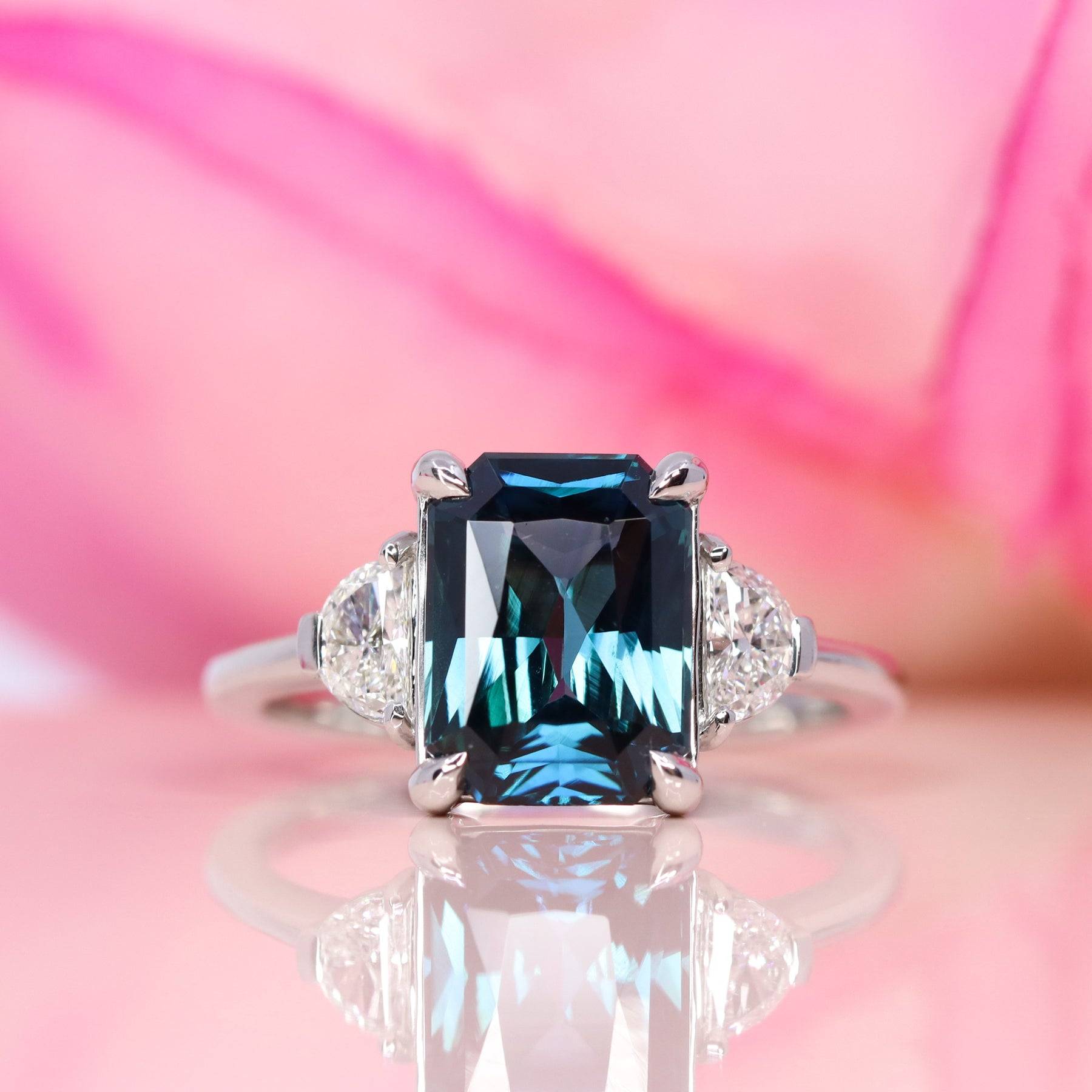 Boasting the most facets of any gemstone shape, the radiant has an impressive 70 facets! The perfect mix of subdued sophistication and sparkling celebration.
Radiant cuts have been popular since the 1980's, and really live up to their name. With carefully beveled corners, radiants have substantial durability against chips and breakage, making it an excellent choice for those with an active lifestyle.
Wanting to add a bit of magic? Take a peek at our Luna with mystical half moon diamond centre stones framing her incredible Radiant Cut Sapphire.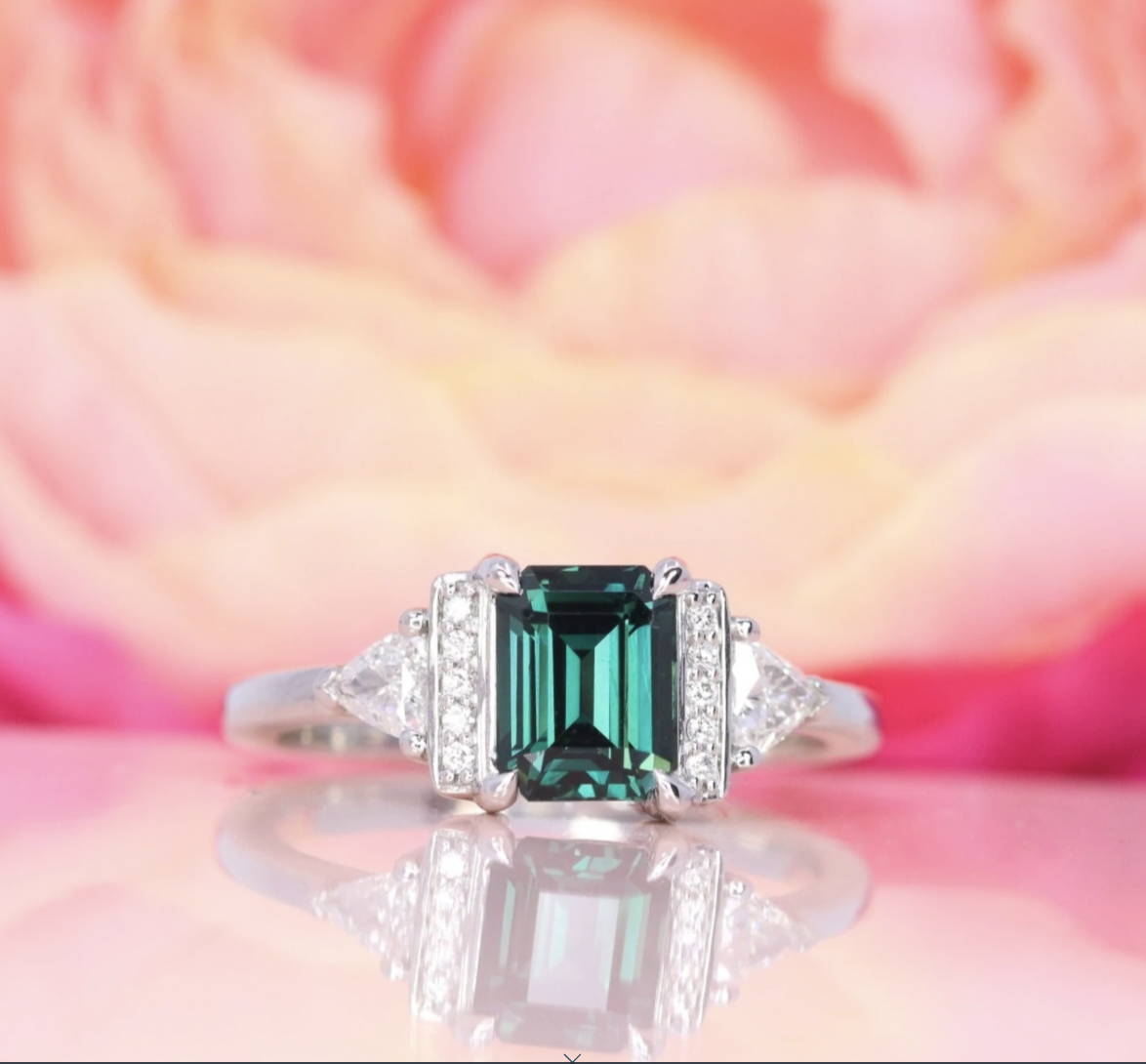 Welcome...You've entered the house of fun! Take a turn and see the "Hall of mirrors" No, you're not at the carnival... You're deep diving into a traditional Emerald cut gemstone.
With "steps" that draw your eye to another dimension, they truly are an incredible way to heighten your chosen gemstone.
These cuts most definitely give off a sparkle and gleam, but in a more subdued way.
This sophisticated cut has gained popularity over the years due to its sleek, clean appearance. Popular with the modern bride, are you looking for a classic engagement ring?
How about our Ophelia to add that little sparkle and drama to your life?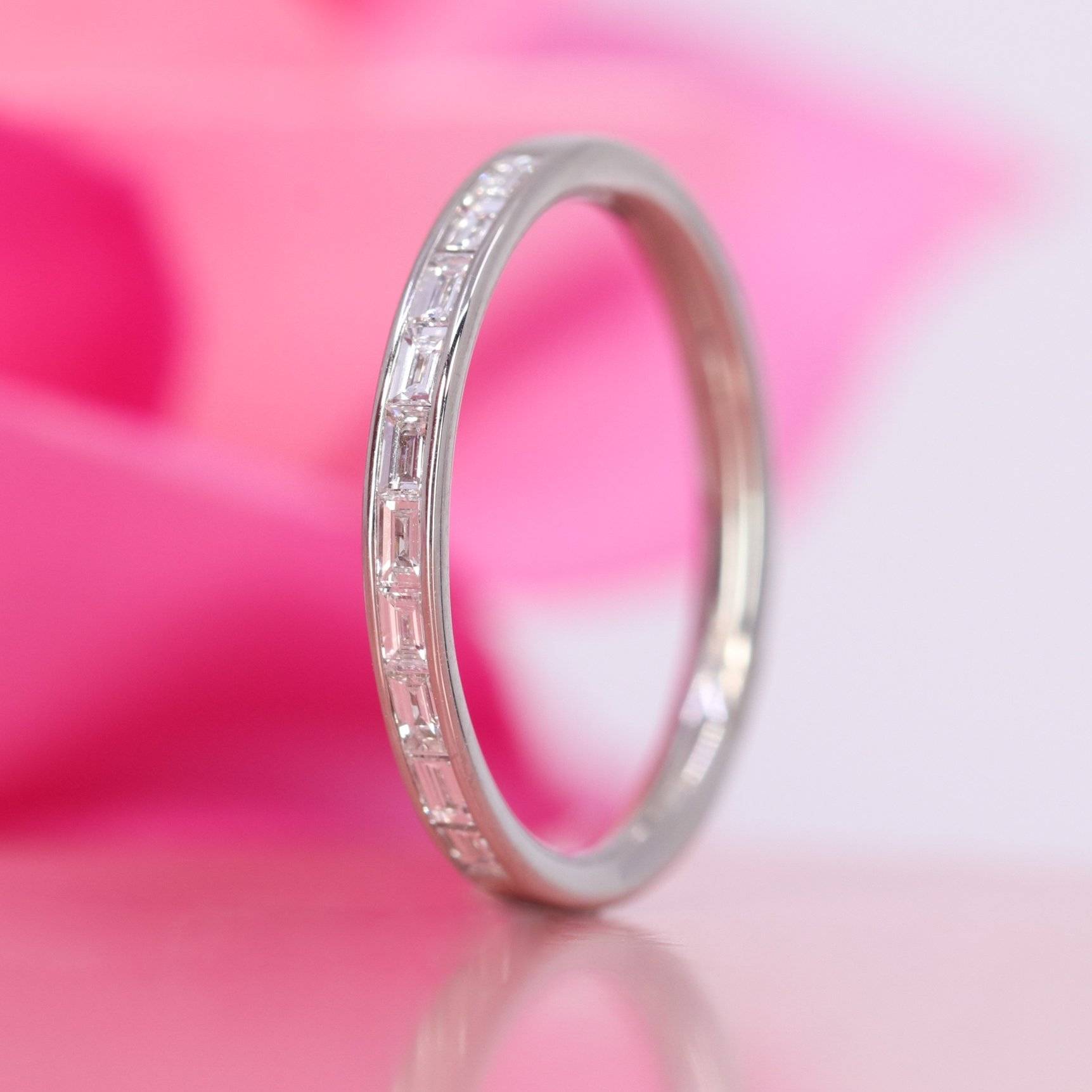 Belonging to the step-cut family, Baguette Cuts have an elongated rectangular appearance.
They're predominantly used as side stones which heighten the art deco designs we LOVE here at Jessica Flinn. Our Zara - channel set Baguette Diamond Half Eternity Ring is sure to be a real show stopper!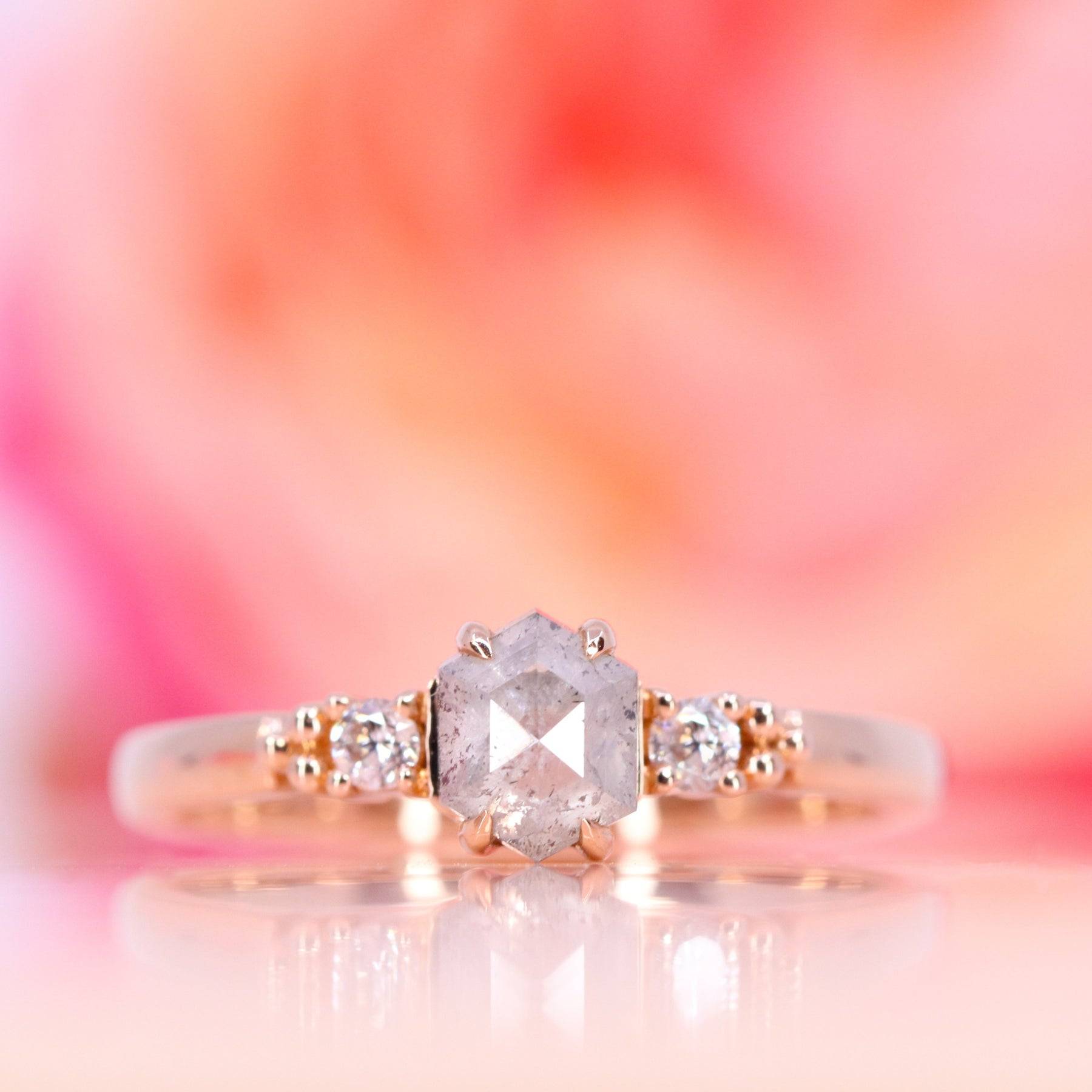 Bringing back bohemian...
We're taking you to a time long ago, around 1500 AD! This is when the Rose Cut was developed.
Dating back to the 16th century this unique style of cutting involves a round, flat base and a faceted top.
Resembling an unopened rose bud, their vintage, unique style has impacted their soaring popularity.
Making their comeback with Salt and Pepper Diamonds, the Rose Cut highlights the imperfect perfection within their inclusions creating a piece of art on your finger.
Appointments are still available in our Insta-worthy Sheffield showroom. To visit Grace and the team, please click on the link below where you can book your in-person appointment online.
---