GATSBY GLAM INCOMING!
INTRODUCING OUR NEW ART DECO COLLECTION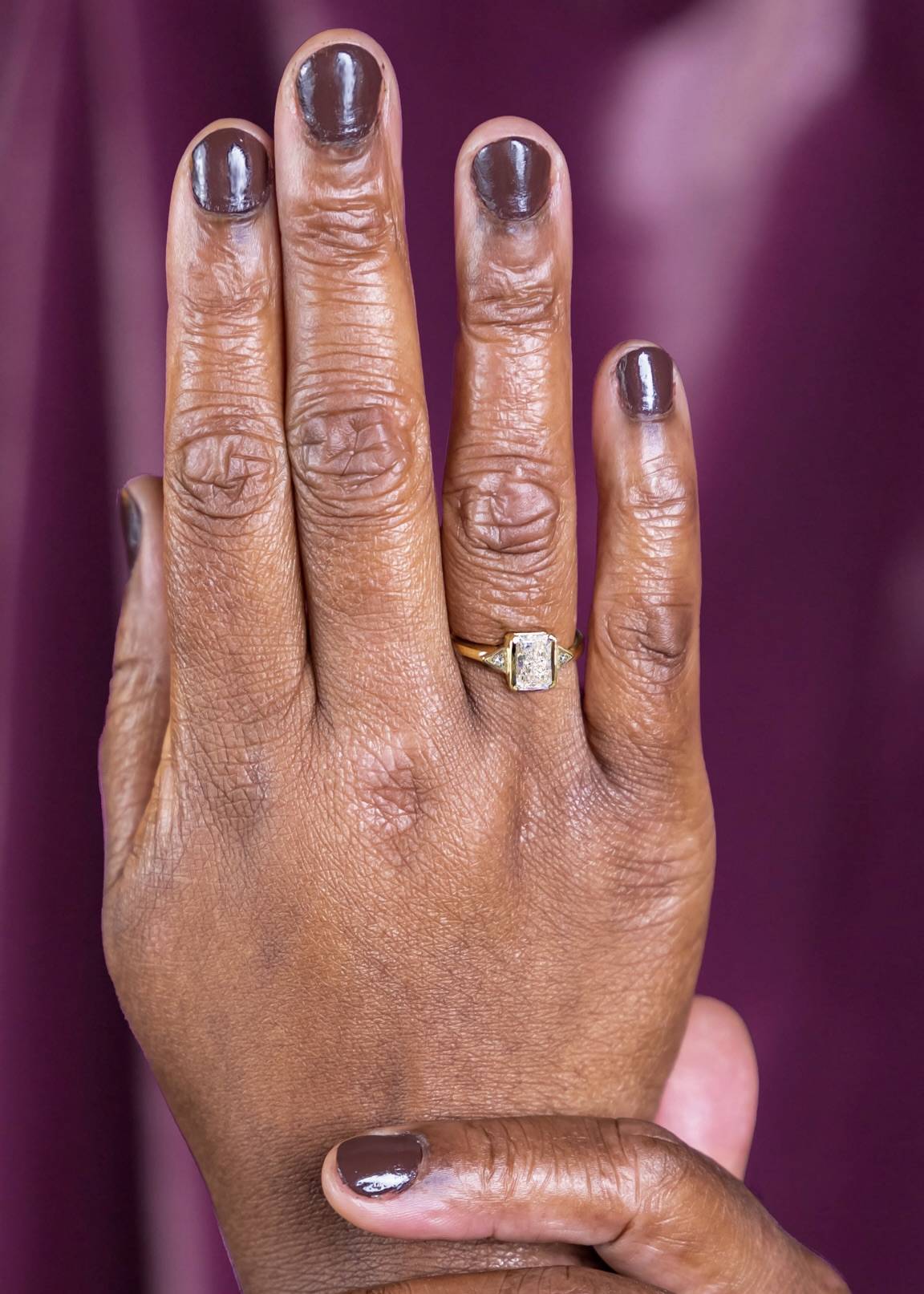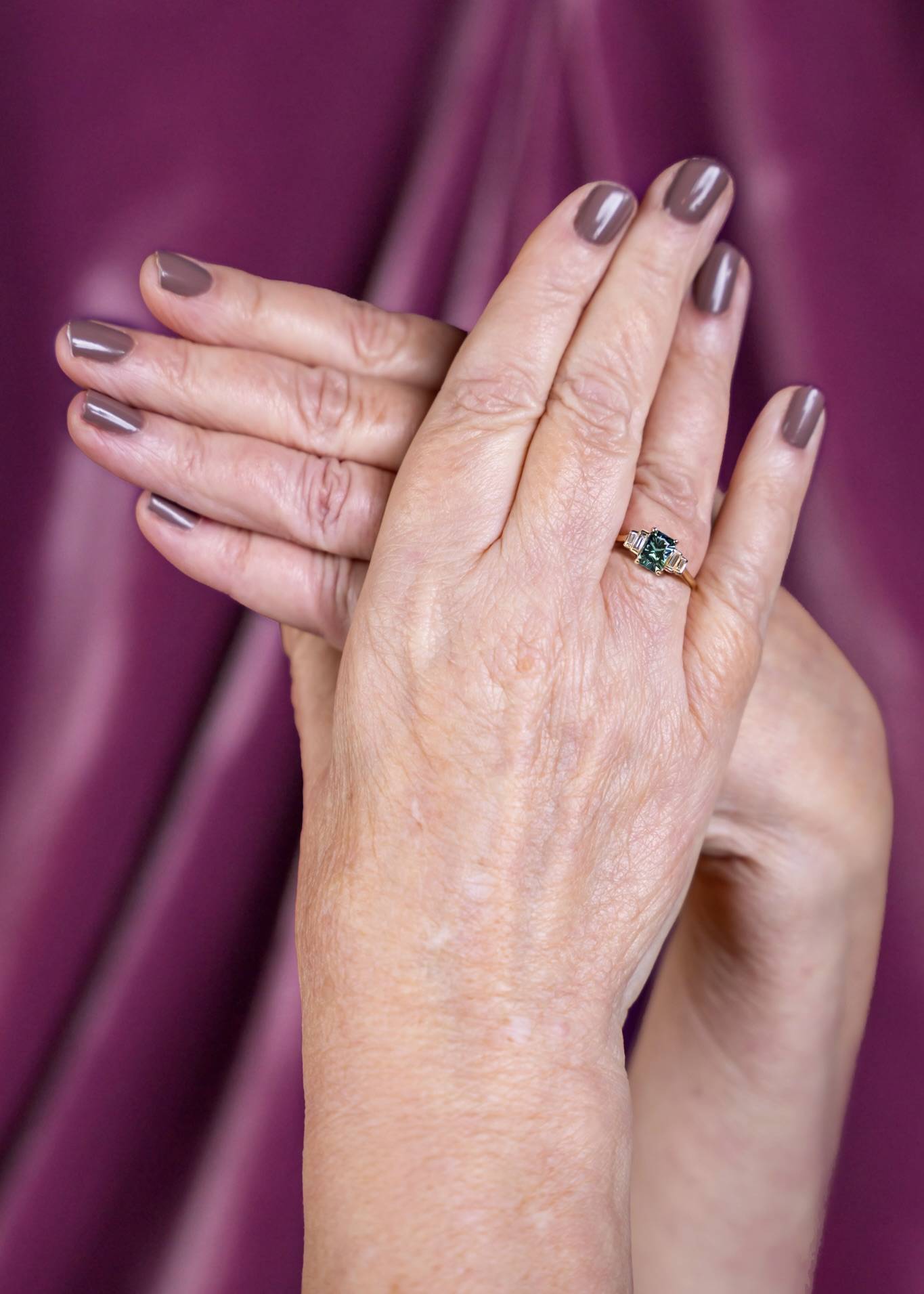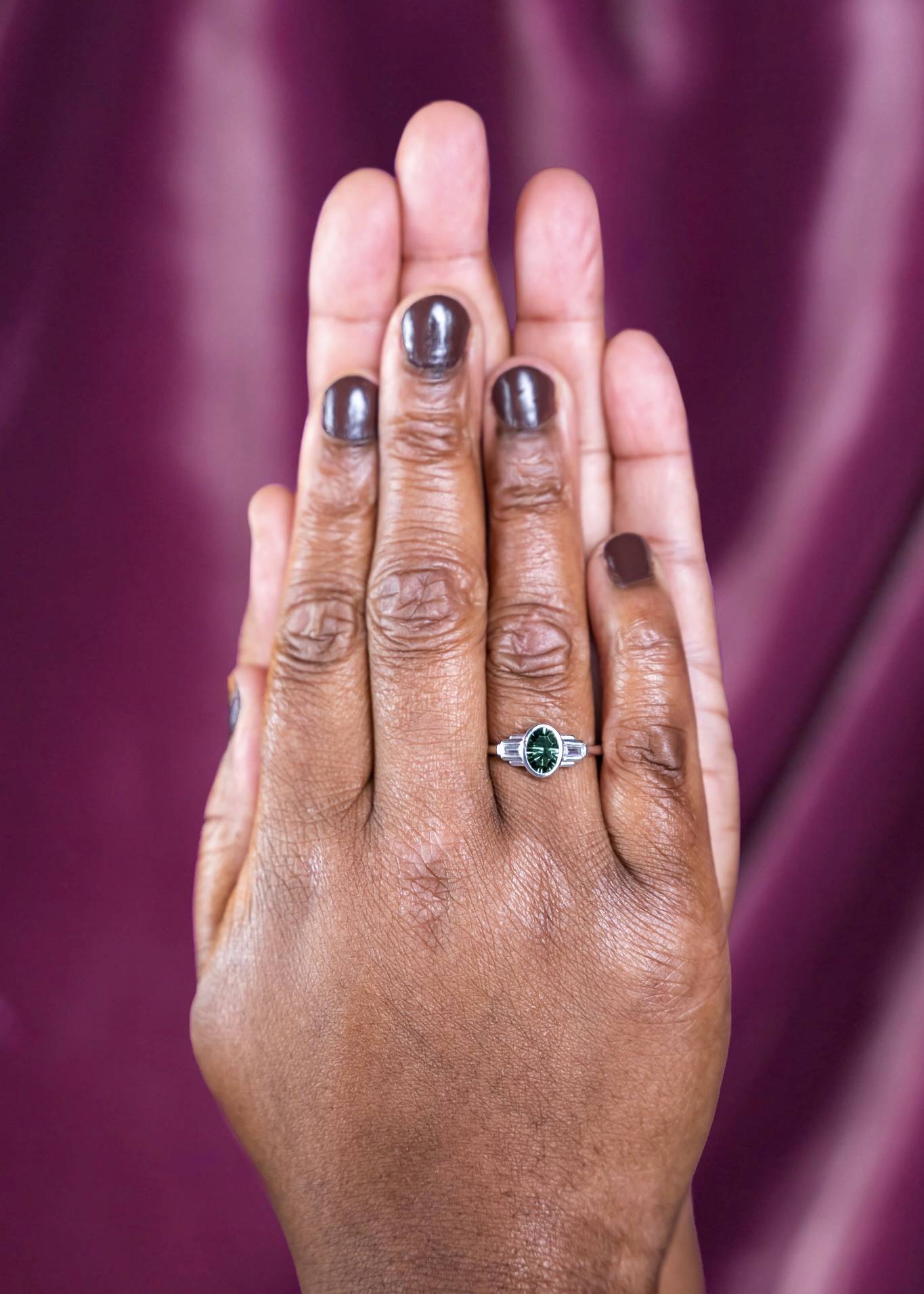 It's finally here – the long-awaited Art Deco collection is ready to dazzle! We've fully embraced the essence of vintage Art Deco jewellery in every piece, so get ready to be swept away by the elegance and charm of our new collection.
The Art Deco era was an absolute showstopper with its fantastic fashion, a burst of newfangled technologies, and architectural masterpieces that were nothing short of iconic. It was a time when people embraced a newfound enthusiasm for life, and, naturally, they couldn't get enough of those sparkling diamonds and exquisite jewellery.
Art Deco jewellery wasn't shy about borrowing ideas from architecture. Imagine the boldness of straight lines, squares, triangles, pyramids, and arcs all coming together to craft designs that were as intricate as they were jaw-dropping.
Our Junior Designer, Emma, has delved into the world of vintage Art Deco engagement rings to find inspiration for our latest collection. She's taken cues from the era's emphasis on symmetry and intricate geometric lines, resulting in a collection that's as stylish as it is timeless.
"Designing this collection of engagement rings, I wanted to encapsulate the true essence of Art Deco jewellery. I utilised design features such as symmetry, geometric lines and lots of rich colours with sapphires, rubies, salt and pepper diamonds and tourmalines! Looking to antique rings for inspiration, I have come up with fourteen modern Art Deco ring designs, It's a fusion of the past and the present, and we can't wait for you to see it!" - Emma Fathers, Junior Designer
Now, let's take a look at the stunning new Art Deco collection...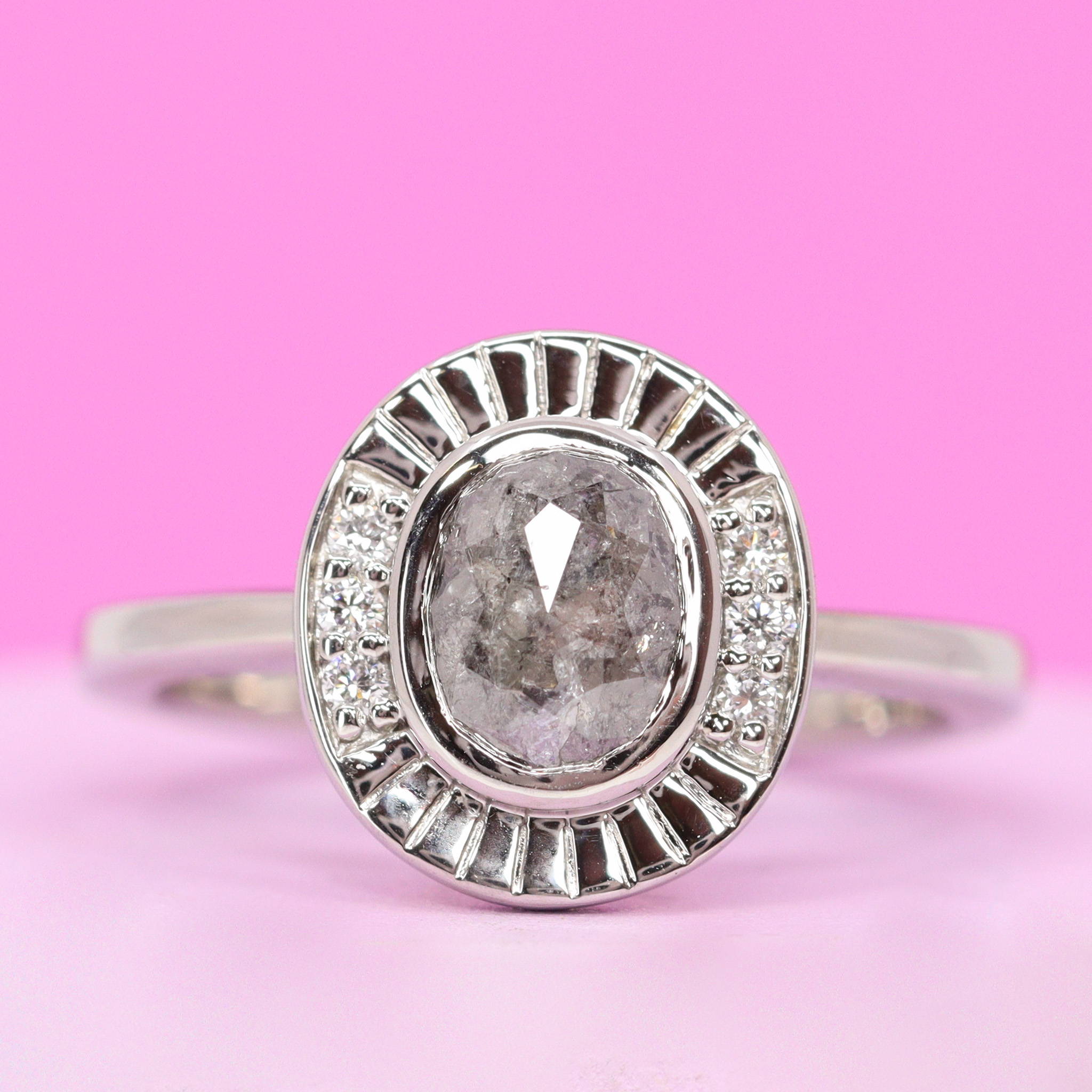 Meet Addison, she's got it all – a sunbeam halo, a bezel setting, and a personality that's simply full of LIFE. She has a dazzling sunbeam halo adorned with not one, not two, but six delicate round brilliant-cut lab-grown diamonds. And at the centre of it all, there's her oval rose-cut salt and pepper diamond, living its best life in a cozy rubover setting. It's got the perfect mix of salty and peppery inclusions, making Addison the life of the party!
Meet Hattie, the embodiment of delicate Art Deco beauty. Her radiant cut sapphire takes centre stage, nestled within a half bezel, and she's got some stylish sidekicks – two diamonds set in a chic geometric triangle pattern. She's like a piece of art from a bygone era that's here to steal your heart!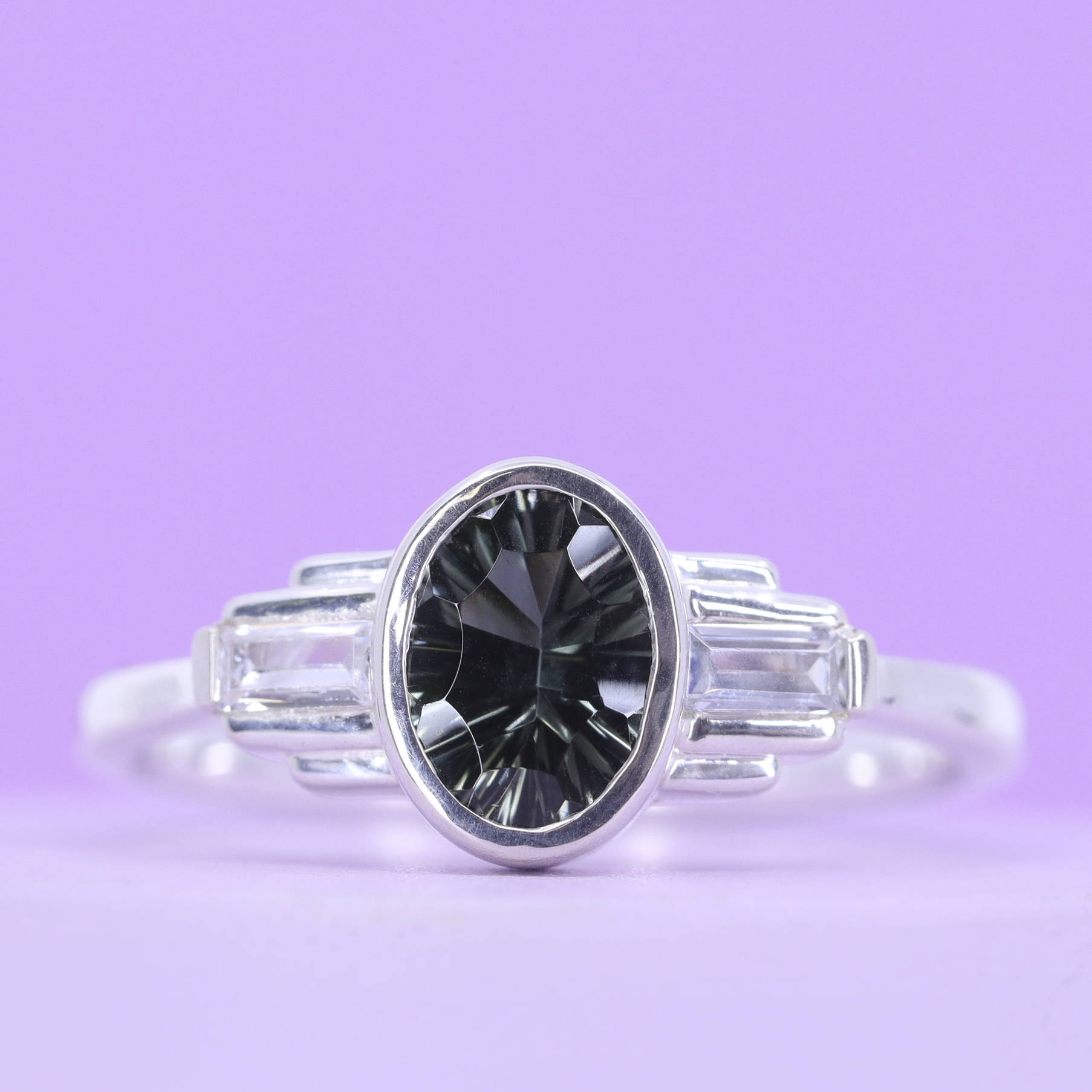 Meet Esther, a masterpiece of true Art Deco charm, ready to dazzle and captivate. Her stunning optix-cut tourmaline takes centre stage, while the baguette diamond side stones add a touch of vintage elegance. She's here to make a statement as a symbol of Art Deco allure that's simply unforgettable!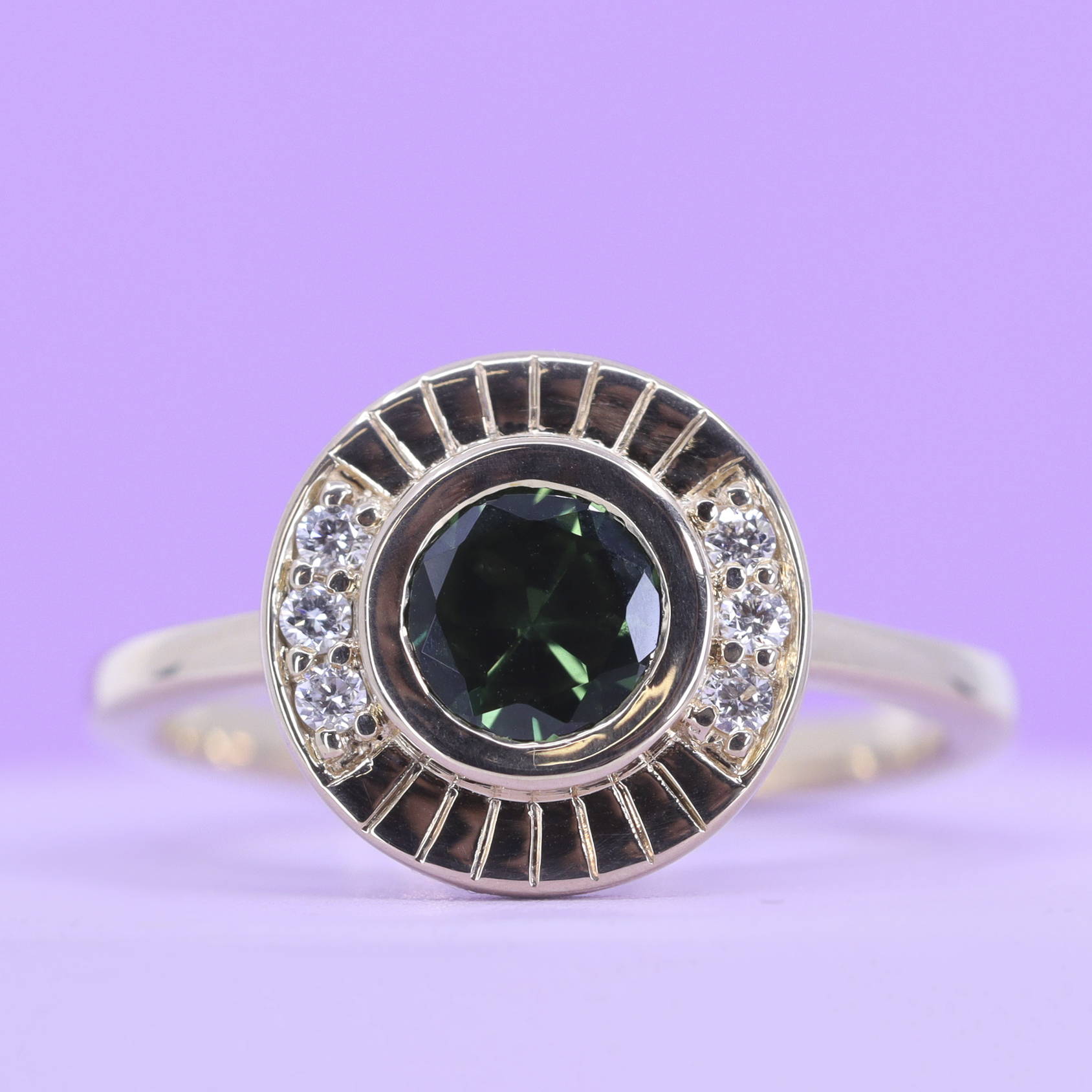 Allow me to introduce you to the other of the dynamic Art Deco duo, Addison. The rounded Addison boasts a brilliant round-cut green sapphire at her core, and she's adorned with six smaller diamonds to add some extra sparkle to her sides. All wrapped up in luscious 14ct yellow gold, round Addison is an absolute beauty that's bound to steal your heart!
The ring of all your geometric dreams, Olivia's bold shapes and details are the perfect match for anyone who wants to make a statement. Her hexagon-cut salt and pepper centre stone is framed by a sunbeam halo and two dazzling baguette-cut diamond side stones. Olivia isn't your typical vintage Art Deco ring; she's got a modern twist that's absolutely captivating. If you're after a statement piece that's truly unique, look no further!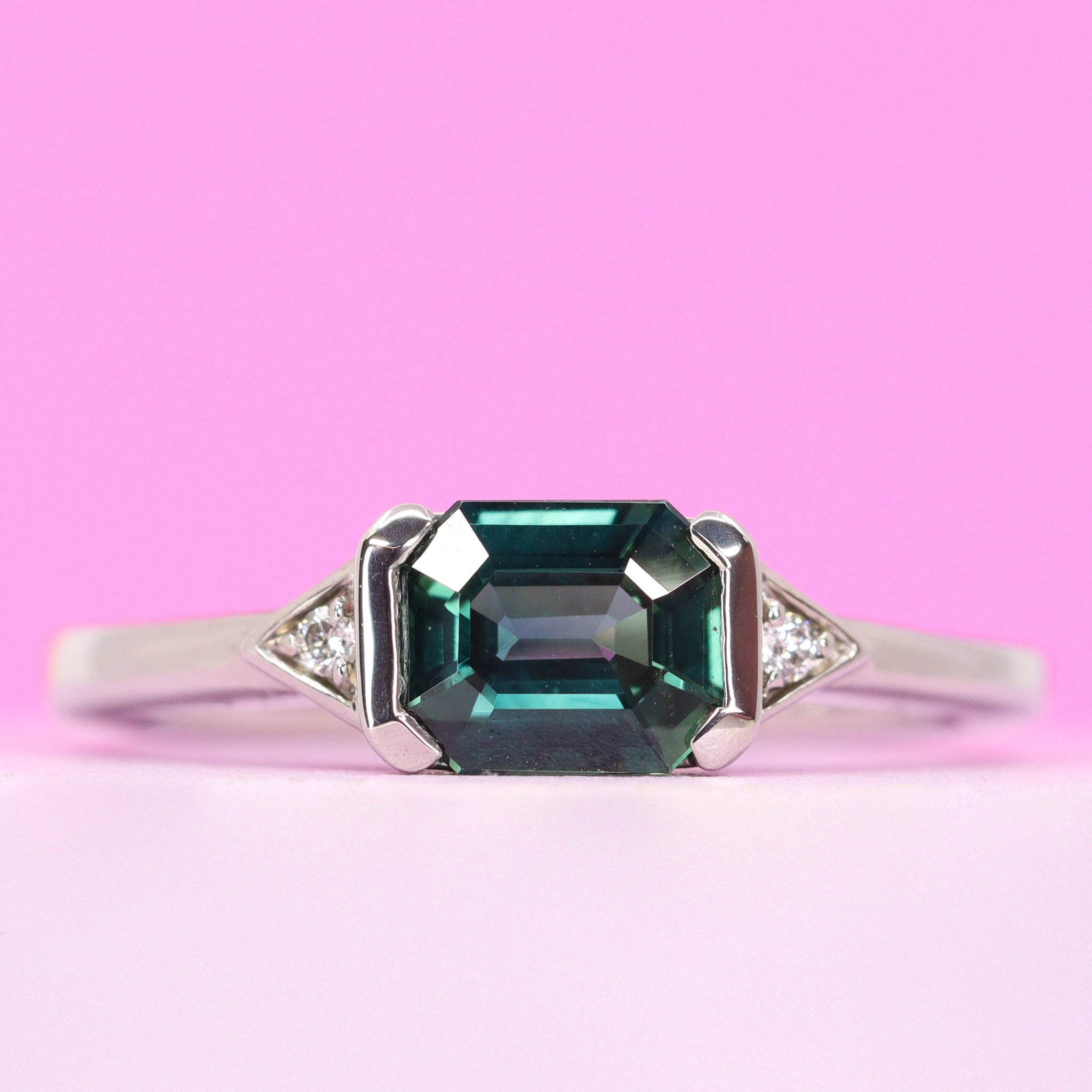 A platinum version of her gold counterpart, this Hattie encapsulates the true Art Deco vibe. Complete with an emerald cut teal sapphire and two round brilliant cut diamond side stones, Hattie is the perfect Art Deco engagement ring for anyone searching for something classic and timeless.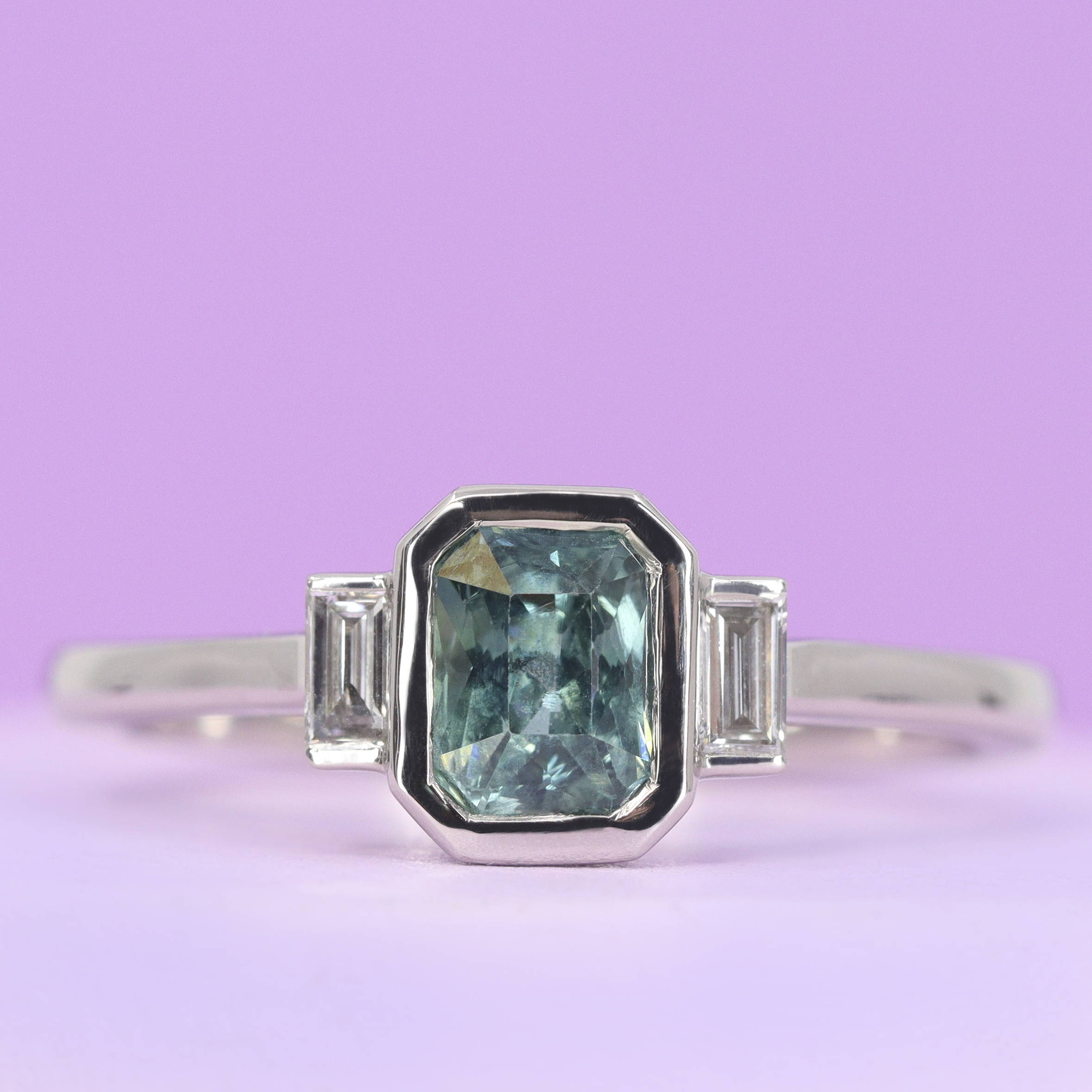 Allow me to introduce the first of the Phoebe sisters, Platinum Phoebe. She's a true gem with her radiant cut blue/teal sapphire that commands the spotlight. Her bezel setting is a classic nod to Art Deco style, cradling her stunning centrepiece with elegance. The baguette-cut side diamonds add a touch of perfect balance, making her an exquisite Art Deco muse that's sure to inspire.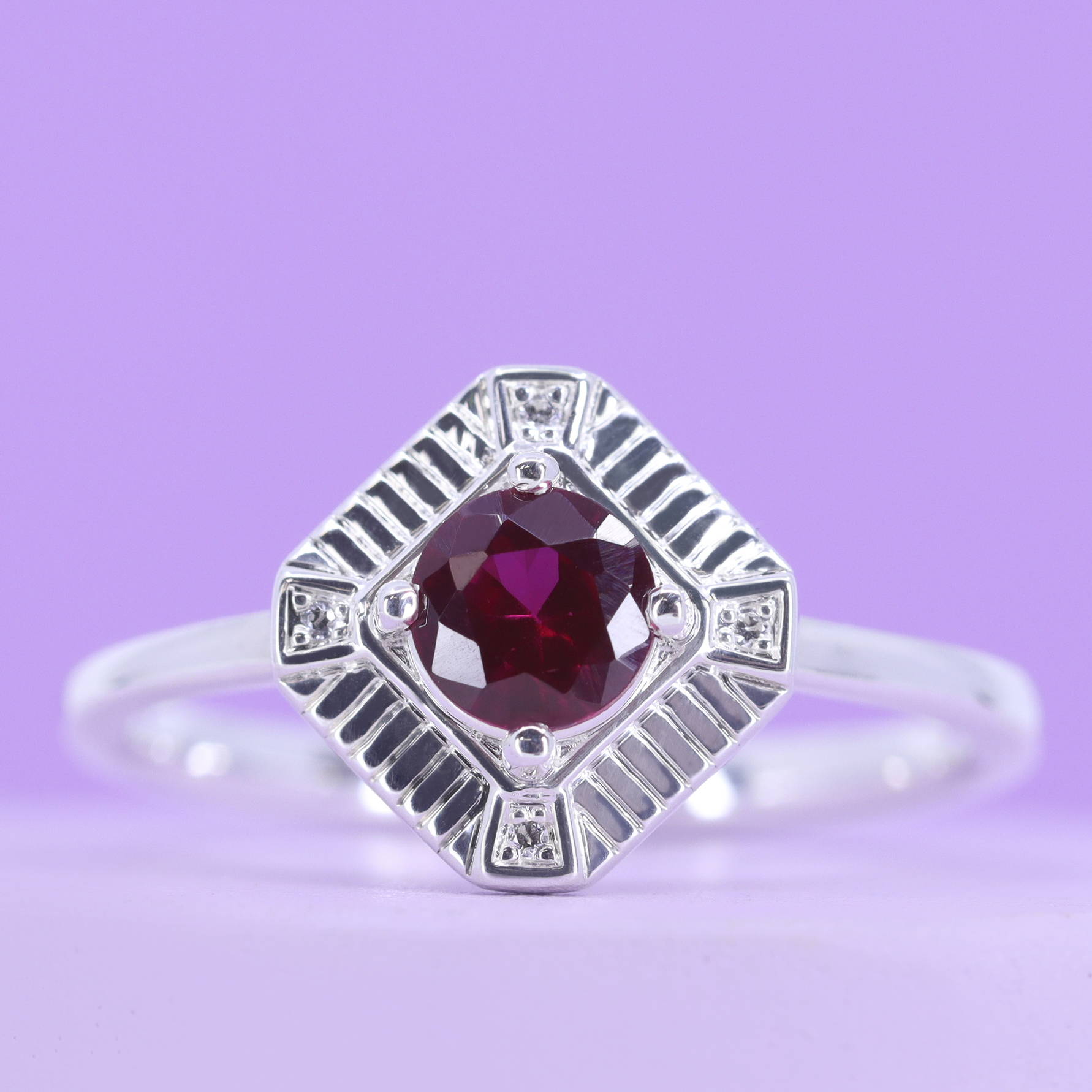 It's time to meet Etta, a gem in our Art Deco collection, and she's all about elegance.
Her round-cut Ruby takes centre stage, surrounded by a captivating geometric sunbeam halo, accented with four dainty round brilliant-cut diamonds at each corner. It's a match made in jewellery heaven!
We hope you've enjoyed exploring each of our new creations. We draw inspiration from the fabulous Art Deco era for many of our jewellery pieces, but now, it's time to shine a spotlight on our love for this incredible period in history with a dedicated collection.
If you're curious about what goes on behind the scenes during the photoshoot for this collection and fancy a sneak peek at some cheeky behind-the-scenes moments, we've got you covered. You can check it all out right here!
And don't forget, if any of our Art Deco engagement rings catch your eye but you have a vision for a custom twist, just give our fantastic Sales and Design team a shout. They're more than happy to collaborate with you and create your very own stunning piece that's uniquely yours. Let's make your dream Art Deco jewellery piece a reality!