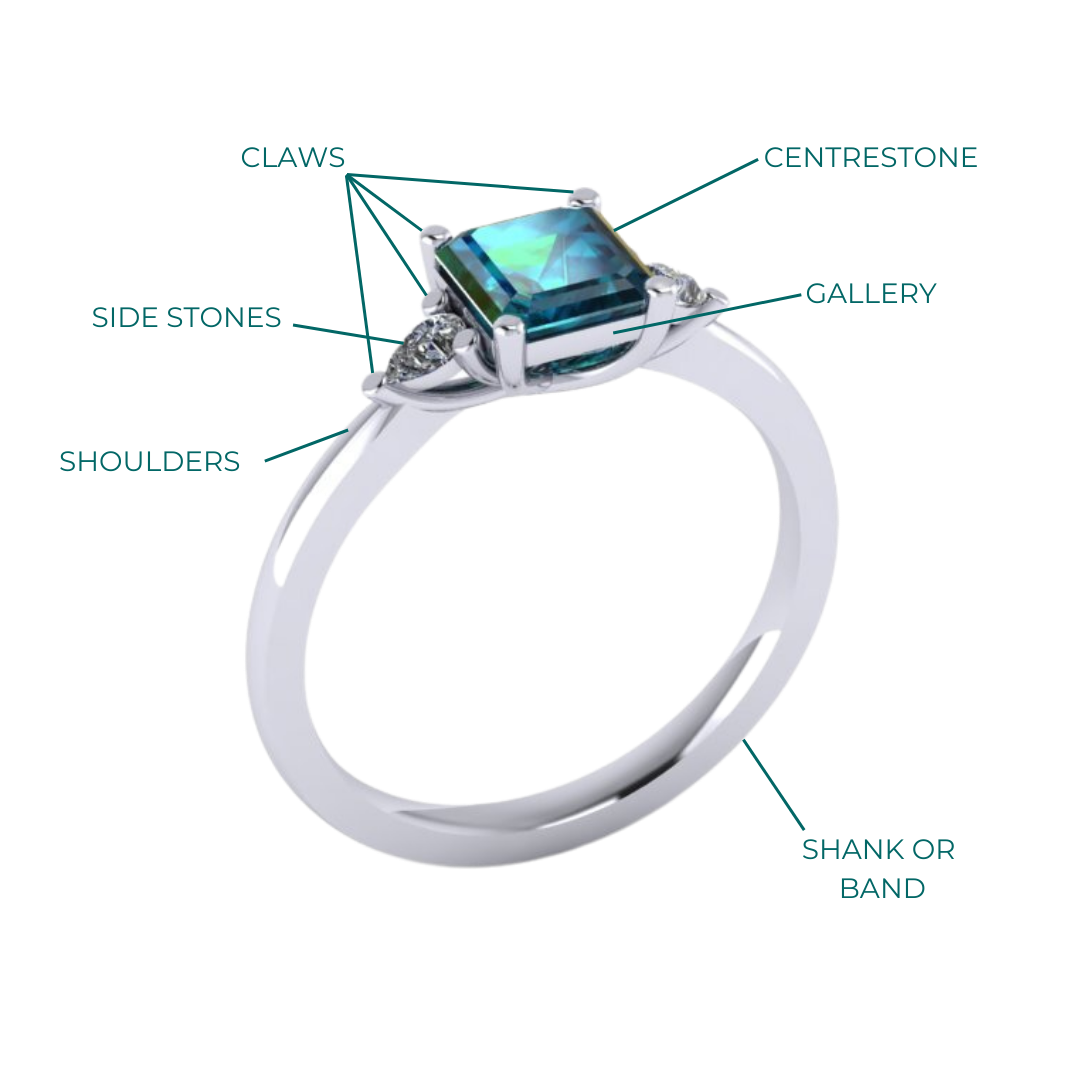 A diamond or gemstone ring is made up of many ingredients, all carefully considered before being brought together to create the final piece.

Understanding the basic anatomy, or ingredients, within a ring will help you choose one that's right for you. We try our best to avoid complex industry language, however there are some key terms you'll probably hear us say if we're working with you on a bespoke design.
This page has been created to help guide you through the process of finding your perfect ring.
Your centrestone is the most important part of any design. This is what sets your ring or piece of fine jewellery apart from any other, and is precisely why we have created a network of global suppliers, so we can help you to find one that truly speaks to you.
At Jessica Flinn, we understand that each piece is an investment and should last lifetimes. It is for this very reason we only work with gemstones which score above 7 on the Mohs scale of hardness. Choose from white and Lab Grown Diamonds, Salt and Pepper Diamonds and Colourful Diamonds, sapphires in a variety of shades, tourmalines and members of the Beryl family - namely Morganite, Emerald and Aquamarine. We're also happy to work with Spinel, Alexandrte and Topaz.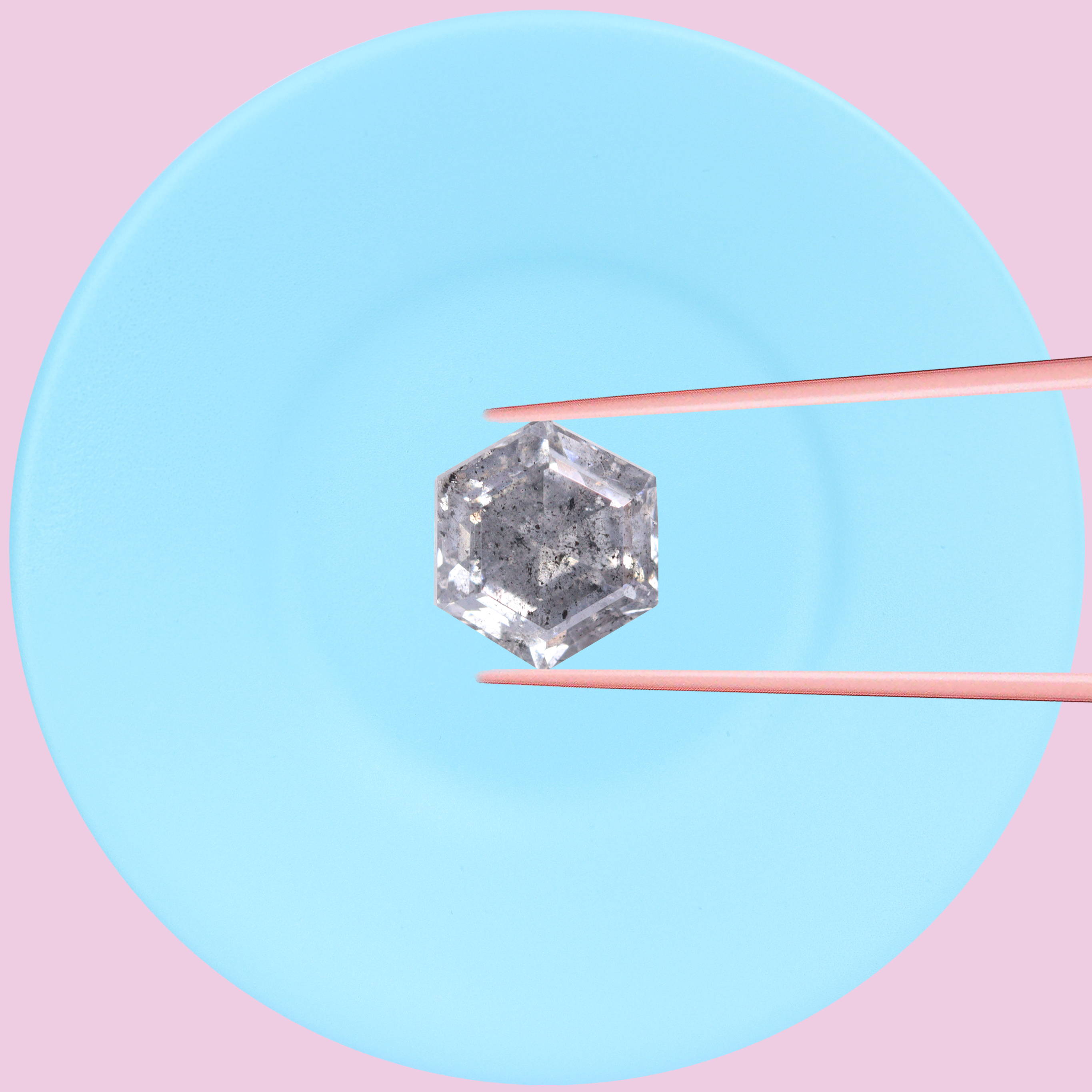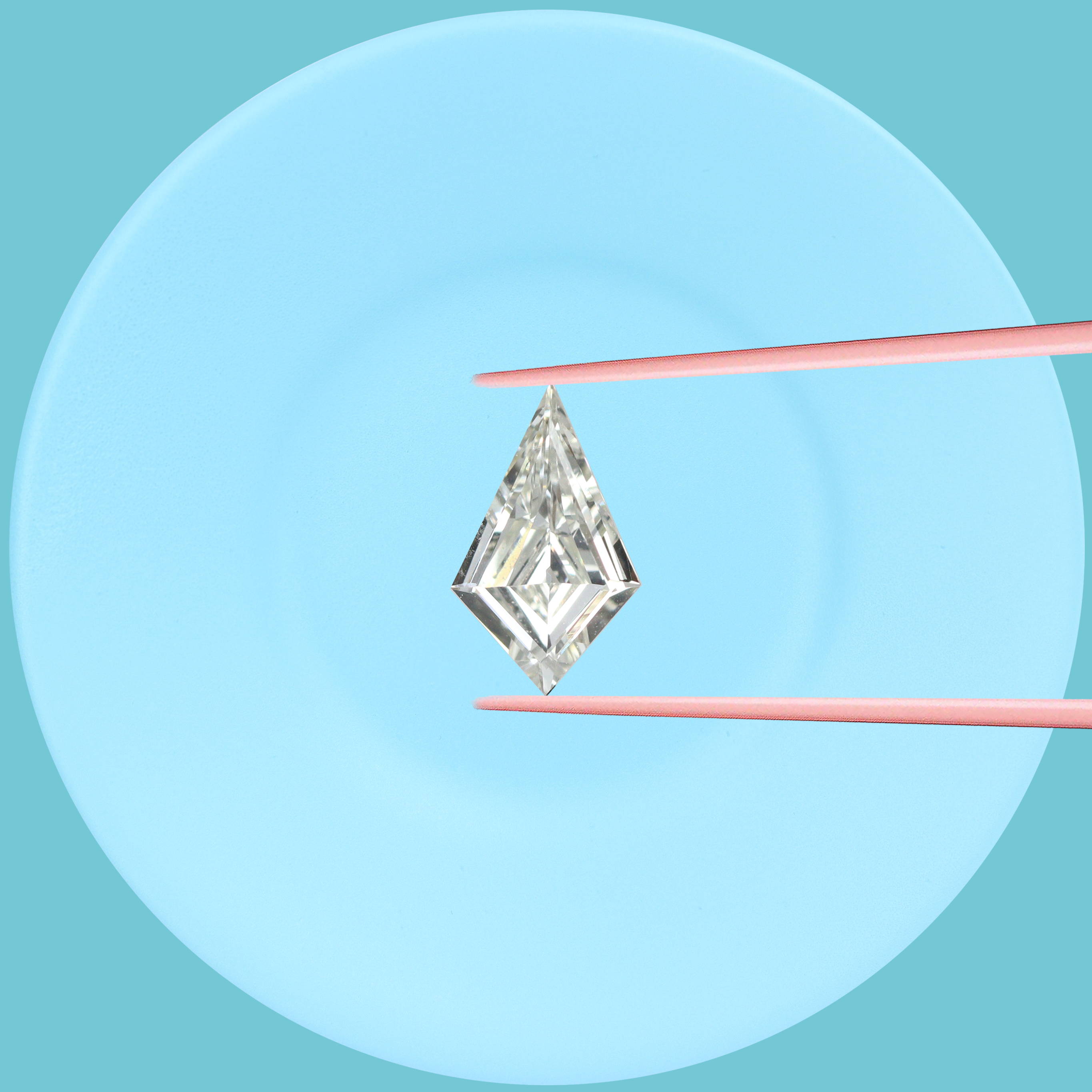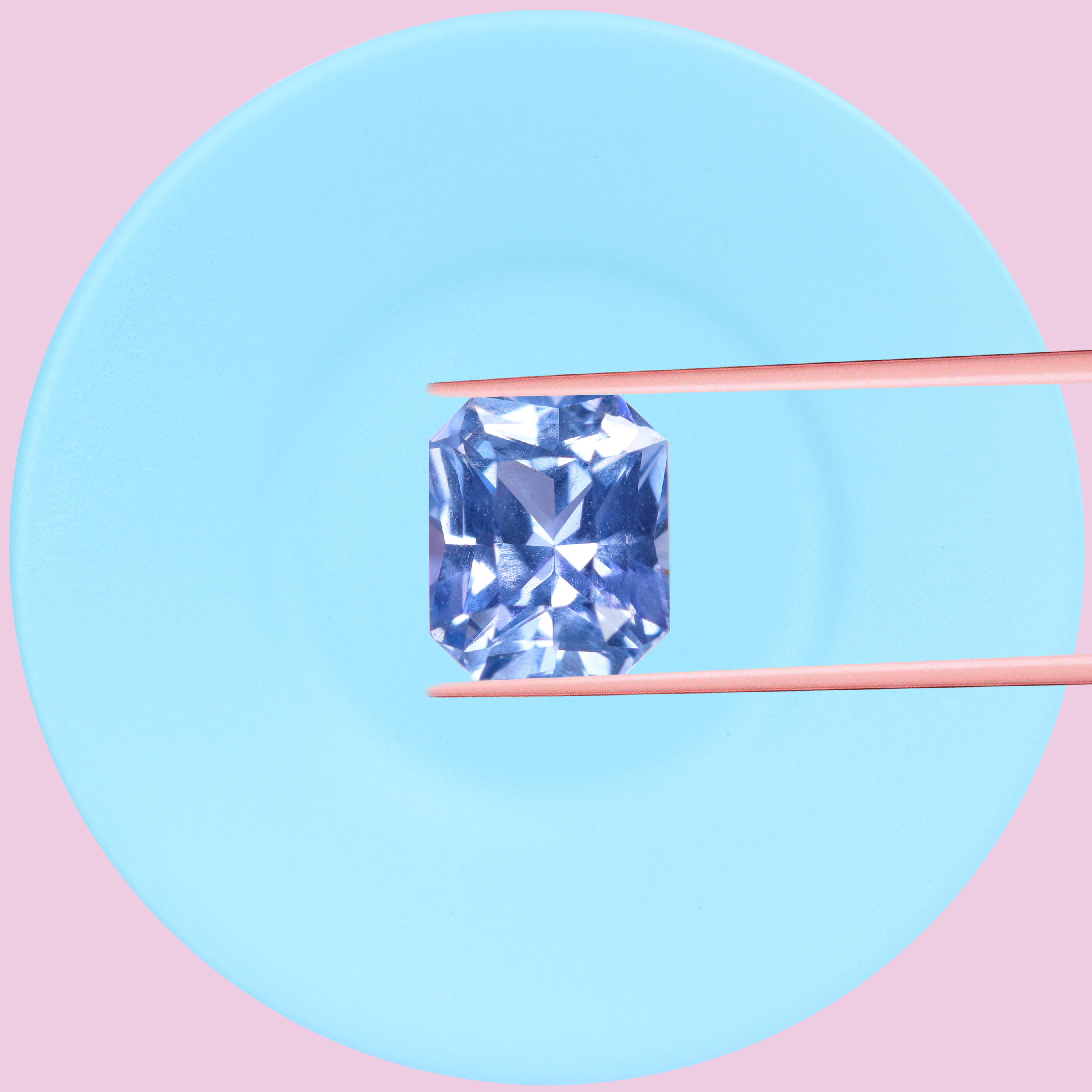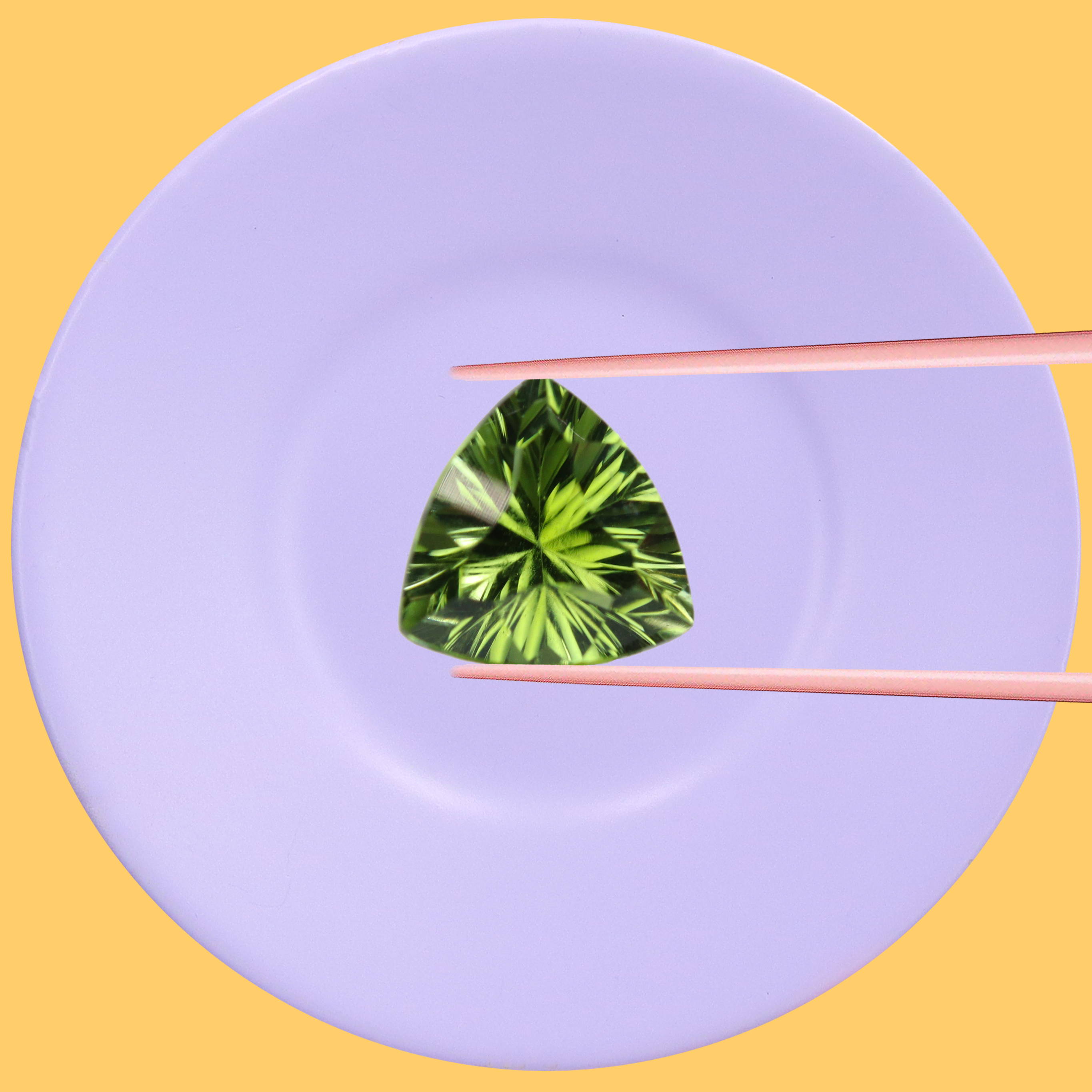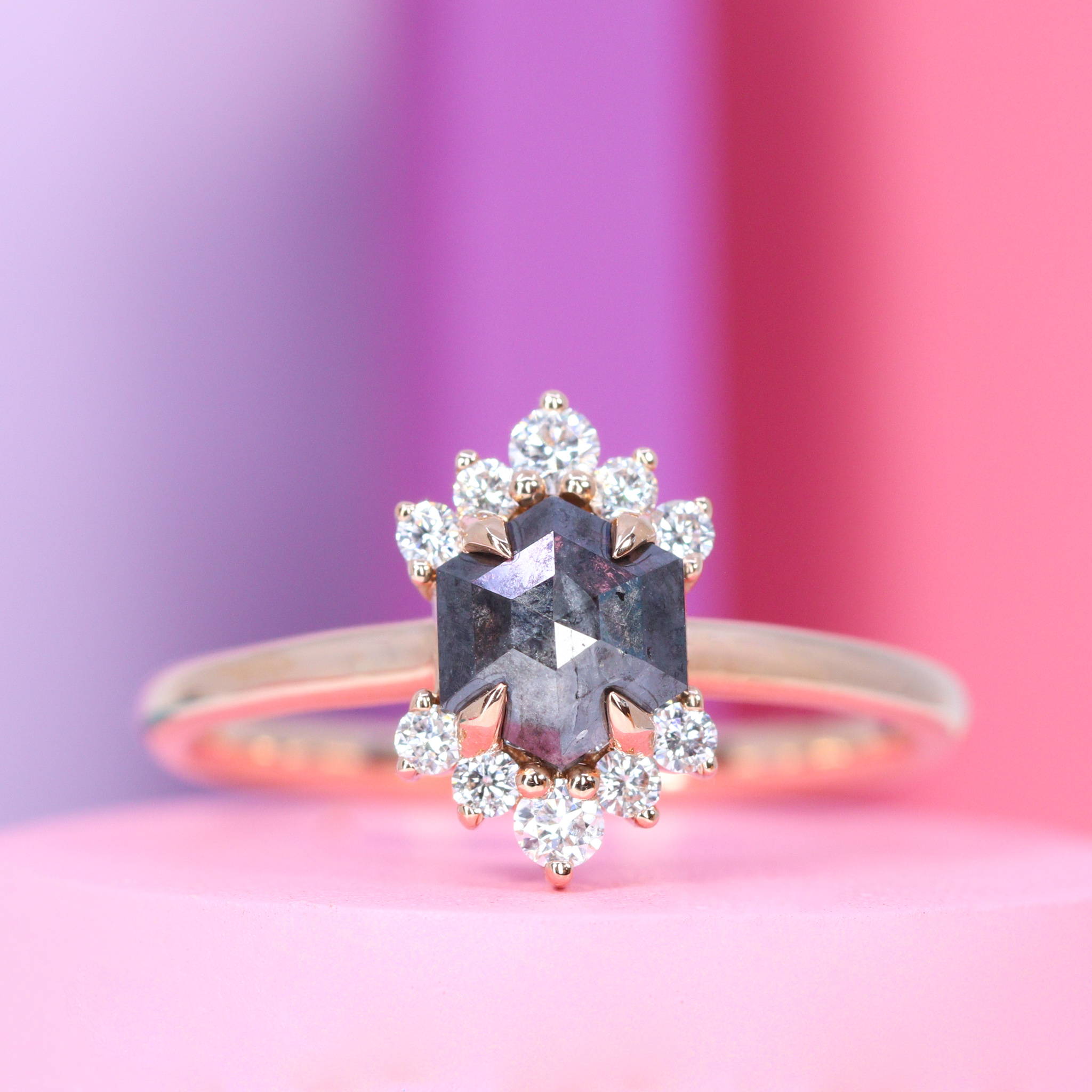 Claws are the most common type of setting within our designs. You can choose 'talon claws' which taper to a point, or 'round claws' which are rounded on the end.
This isn't the only way to hold diamonds in gemstones in place. You can opt for a bezel, bar or channel setting, plus many more.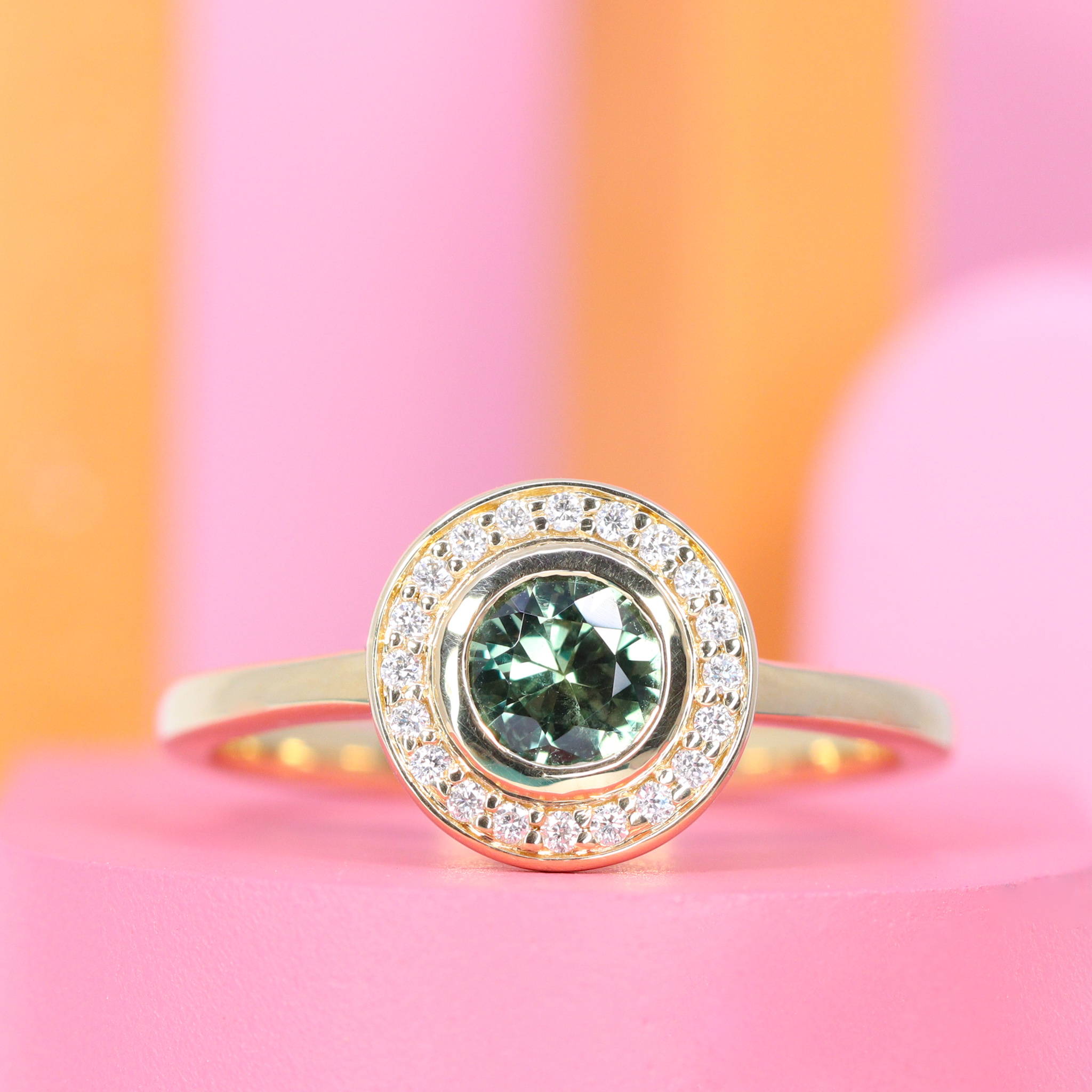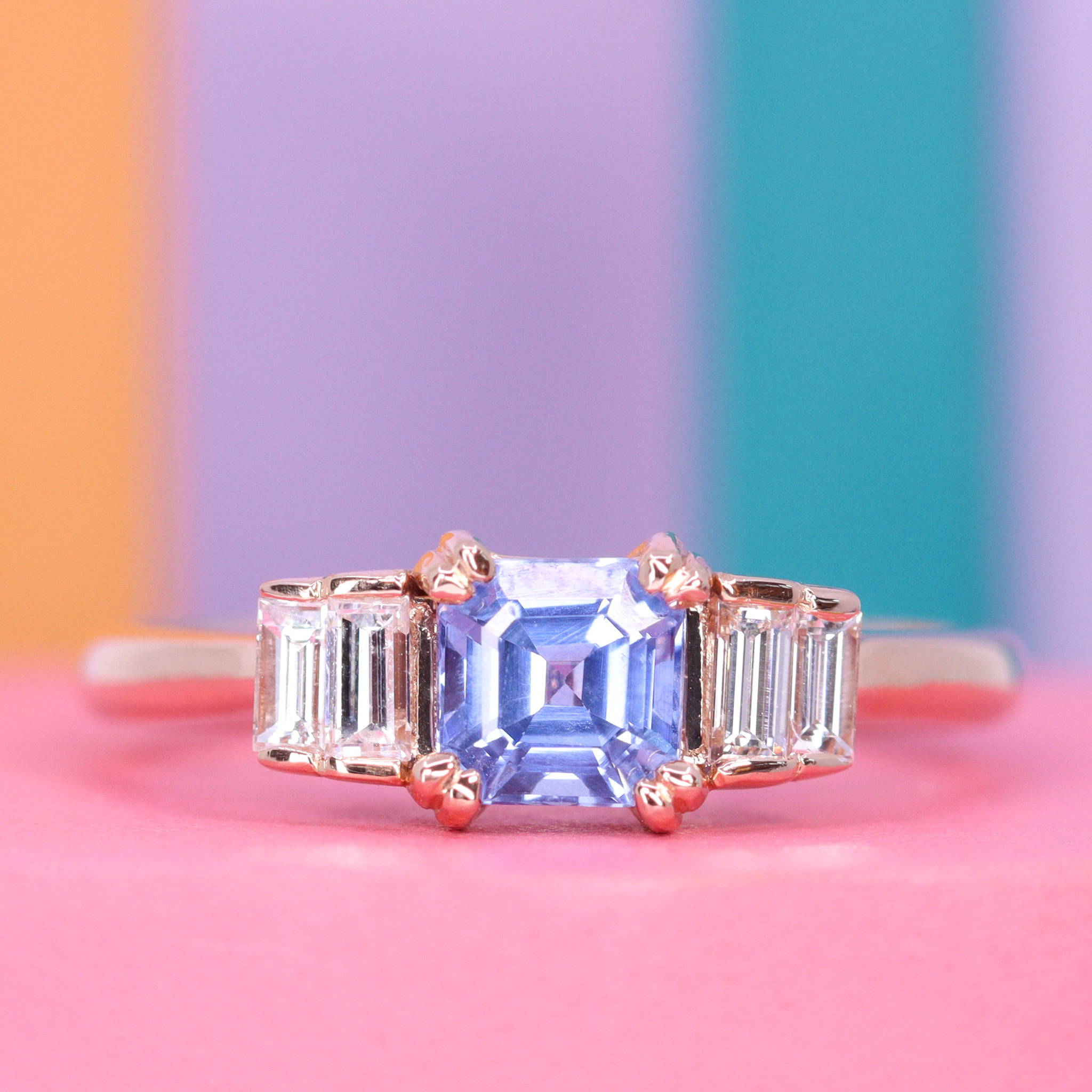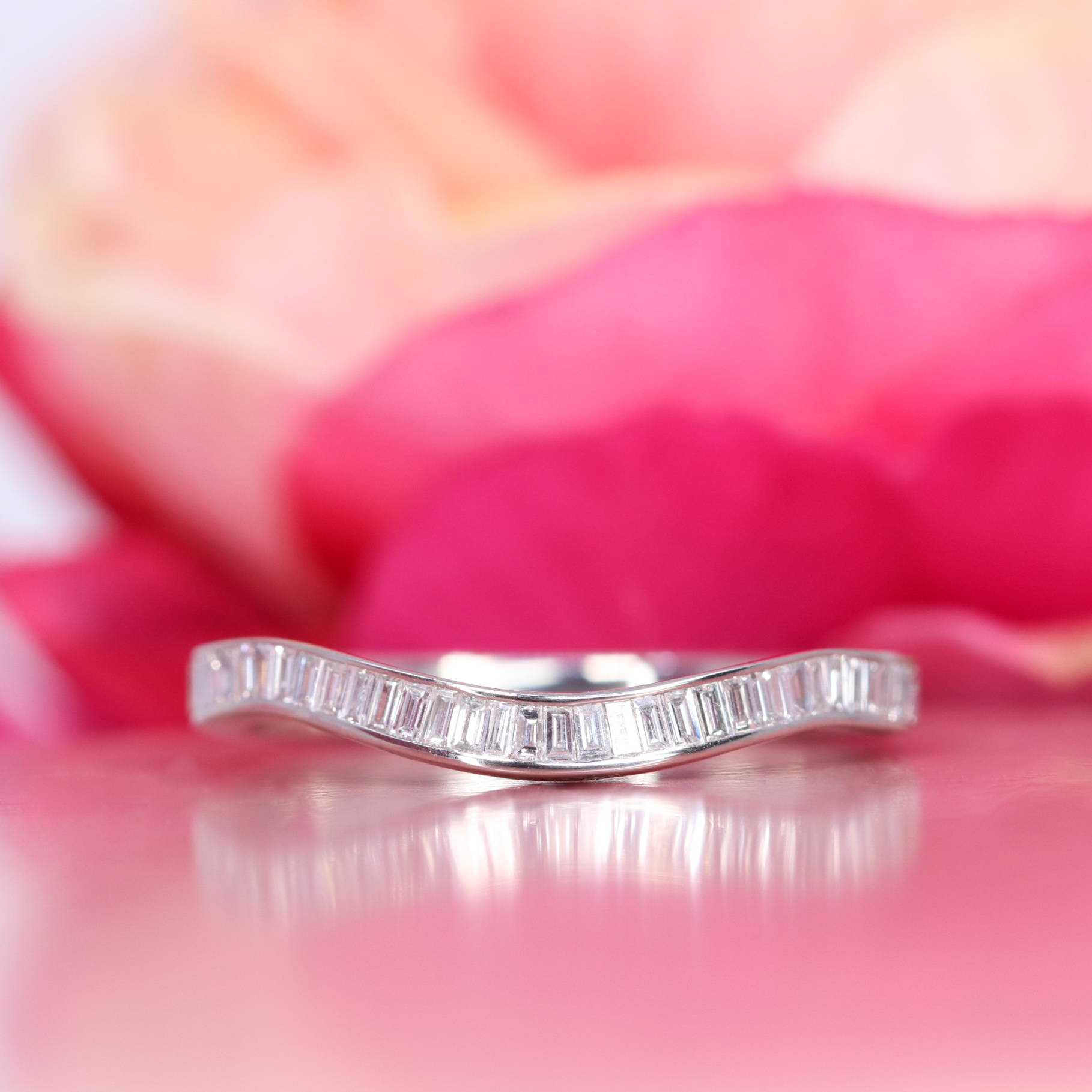 BASKET SETTING WITH GALLERY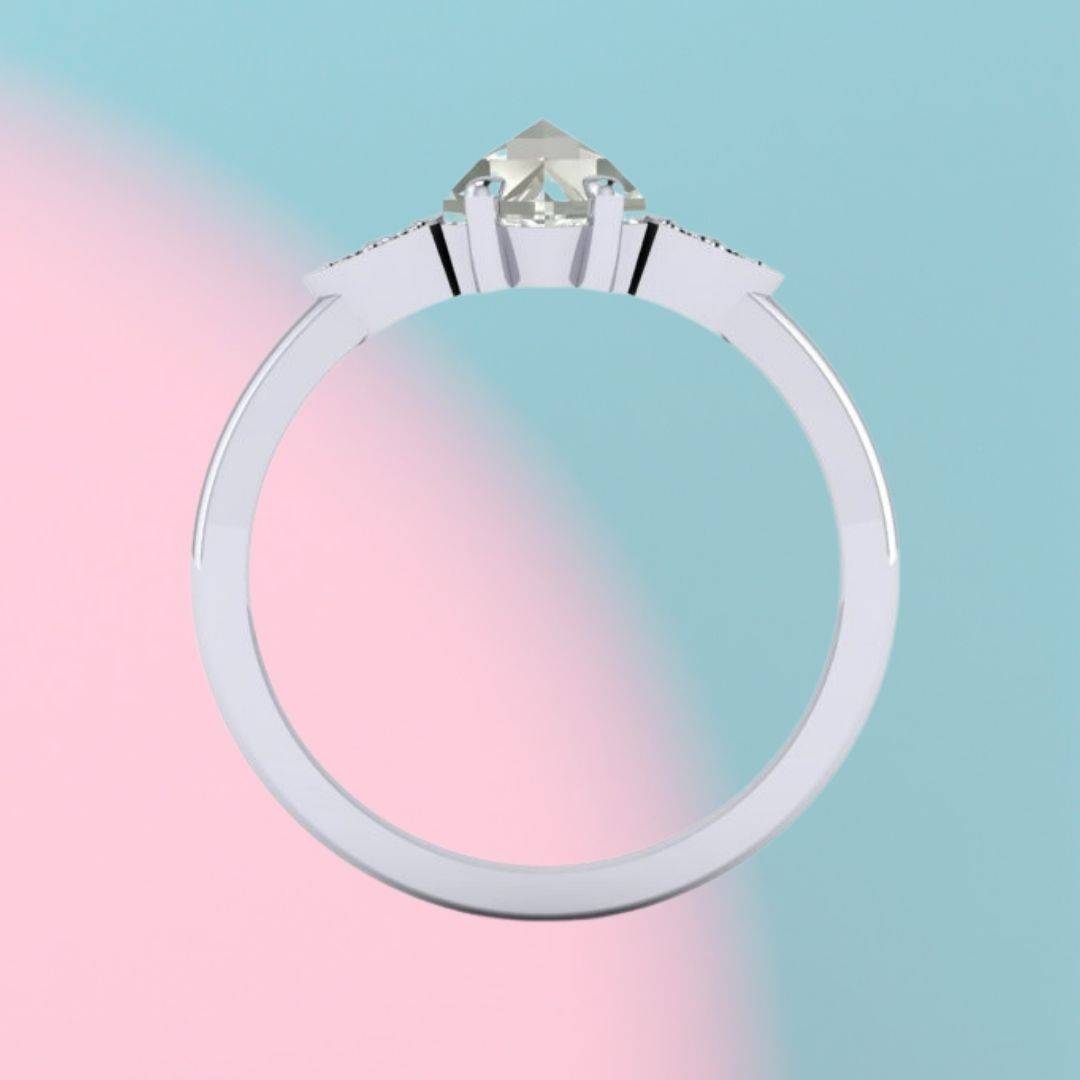 LOW-PROFILE FLUSH SETTING
OUR TAKE ON A CATHEDRAL SETTING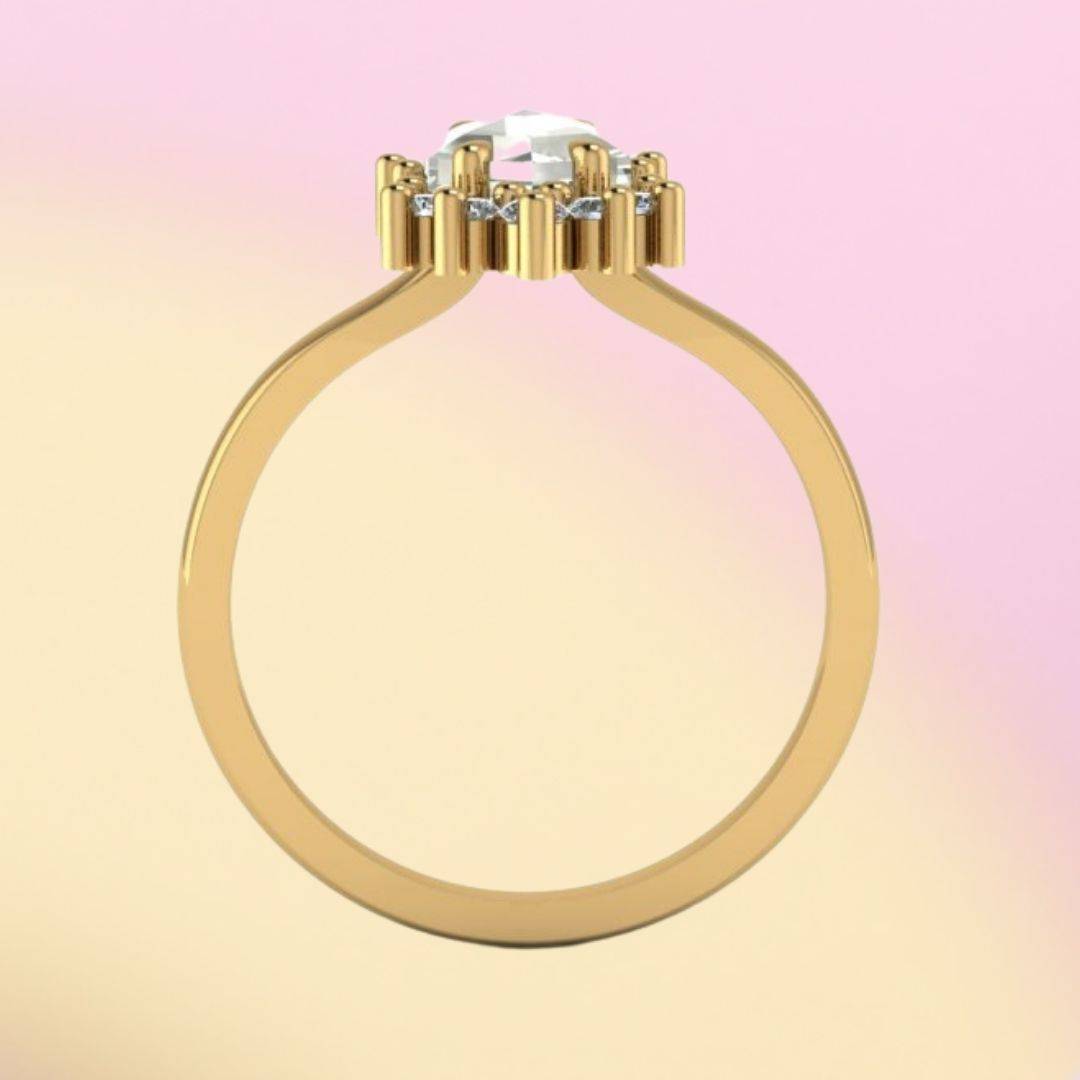 HIGH PROFILE WED FIT HALO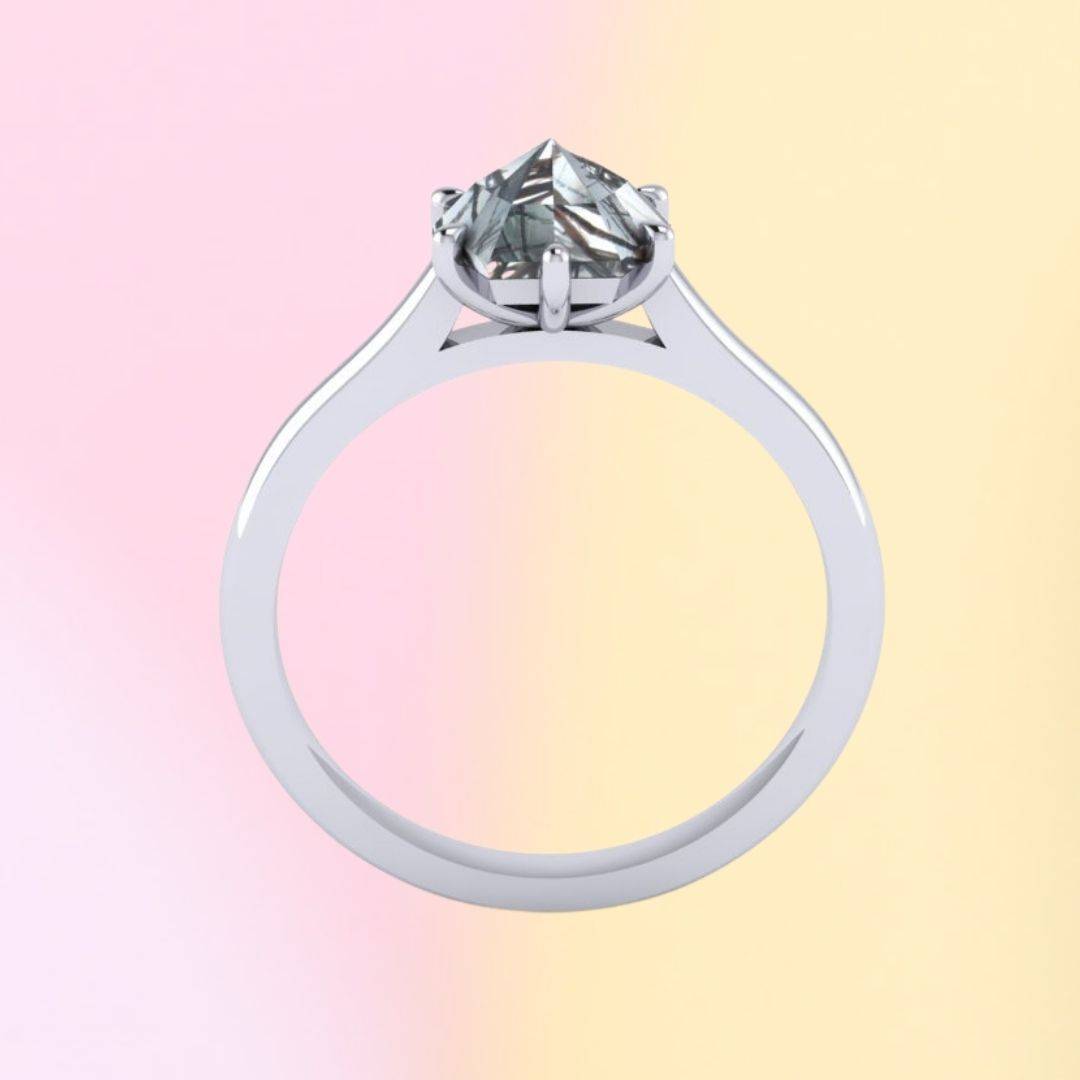 The 'setting' of a ring refers to how the diamonds and gemstones are held in place. In all of our designs we have taken the tried and tested approaches to setting design, and given them our own unique twist.
Your ring can be high profile or 'wed fit', allowing it to fit a straight band beneath, or low profile to sit flush with your finger, meaning that it would stack best with a shaped band. It can be held in basket settings, cathedral settings or a traditional solitaire setting.
The options are endless. Here are just some of our most popular setting styles.
THE PERFECT ACCOMPANIMENT
Some centrestones are destined to be accompanied by sparkling back up dancers. Trilogy rings are often the often the first port of call when creating a multi-stone ring, but they needn't be the only option. Creating an across-the-finger look can be done in so many ways.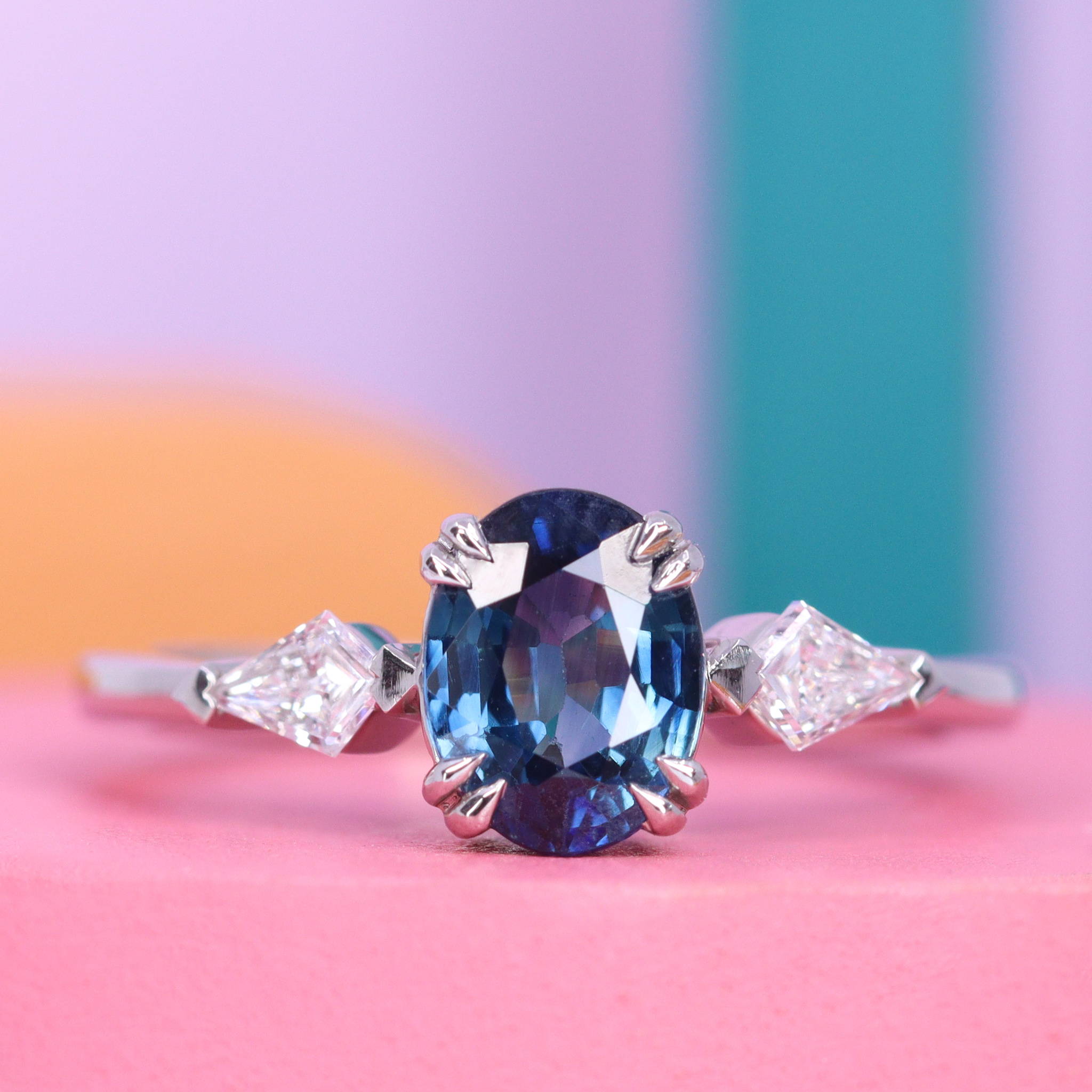 There's more to trilogy rings than round brilliant cut white diamonds. Choose a unique shape such as pears, half-moons or even kites, or accent your centre stone with a different gemstone all together.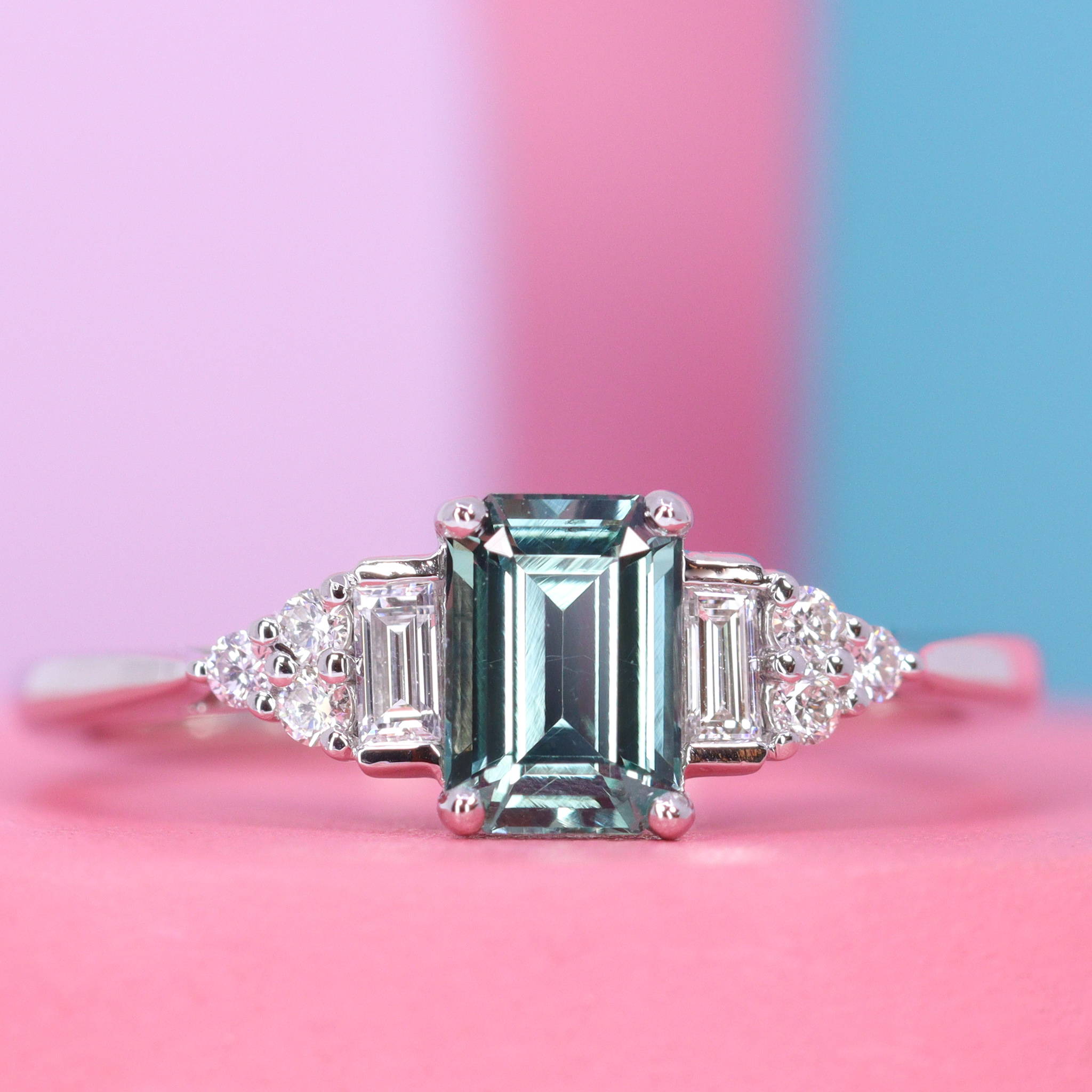 This incredibly elegant side stone style sees multiple diamonds flowing from the centre and out to a point. Here we've used white diamond baguettes, with a triangle of round brilliant cut diamonds.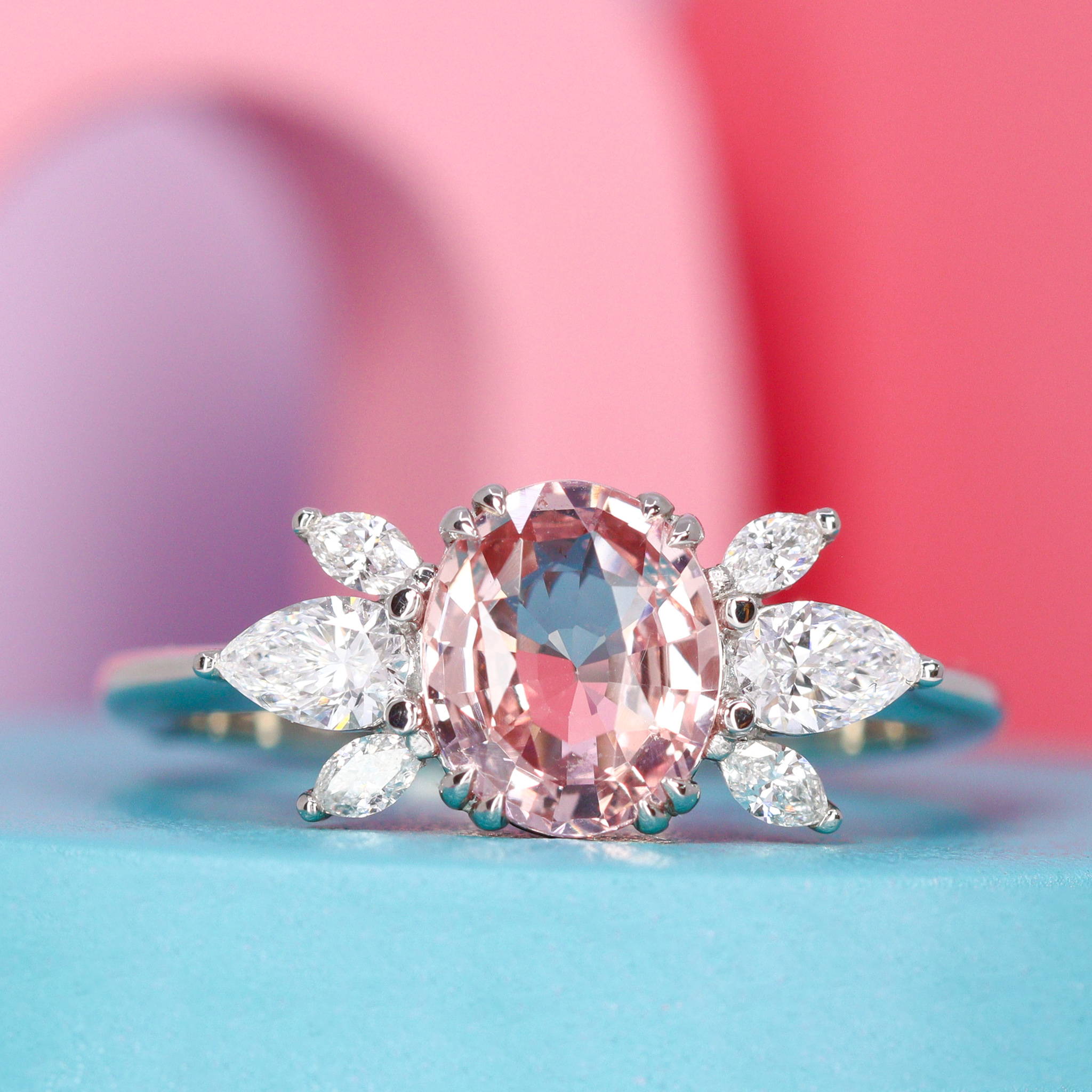 In contrast to a taper, you can use side stones to add drama to your centrestone, positioning diamonds to look as they they are blooming or blossoming from the centrestone.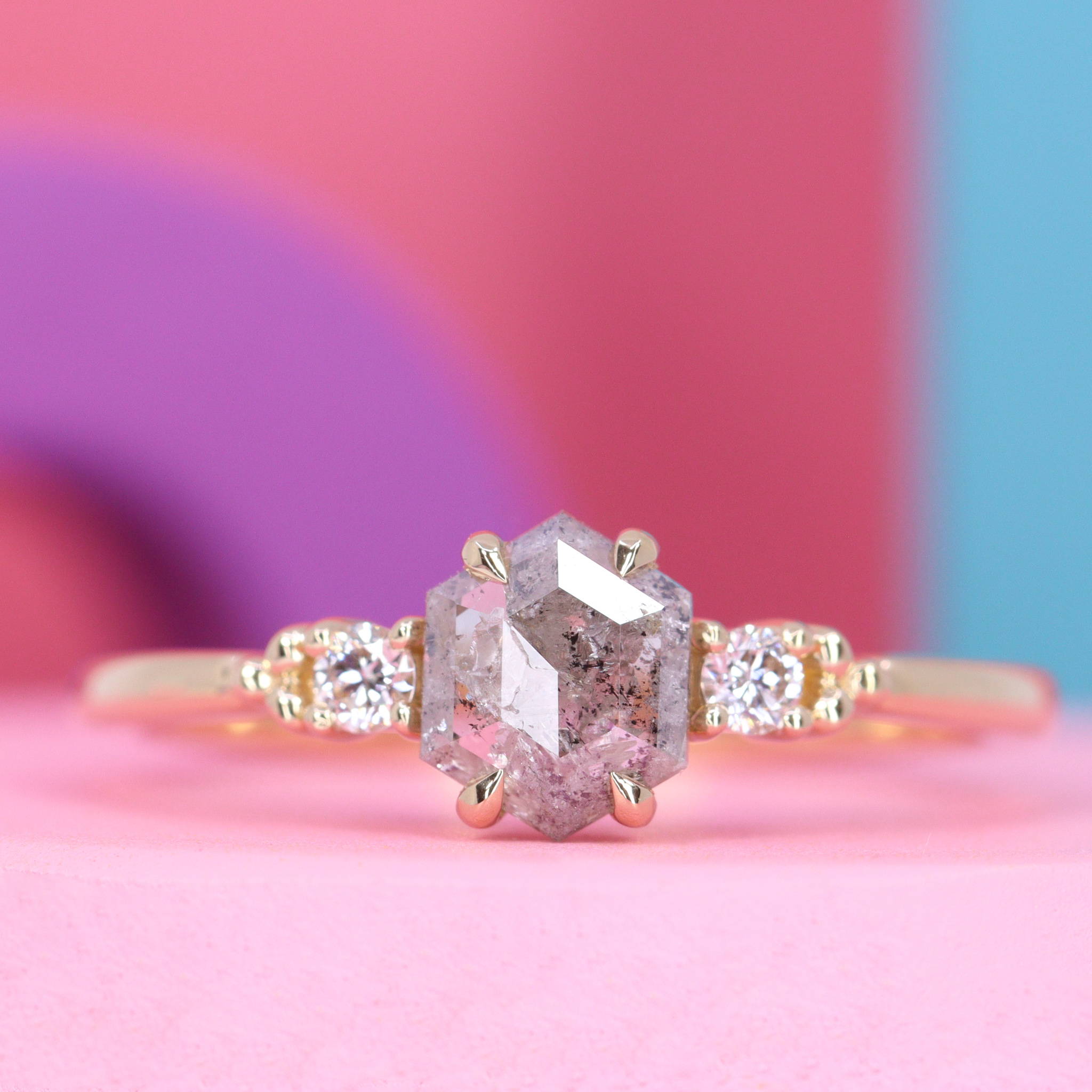 Adding diamonds and gemstones isn't the only way to add interest to your design. In our popular Natalia design, we use beading to make it look even more elegant on the hand.
Halos are an incredibly beautiful way to contrast your centrestone. Typically set with delicate diamonds, they sparkle on the wearers hand to make the ring look as though it is dancing. You may have seen a traditional halo, but did you know there lots of ways to create halos too?
When one halo just isn't enough, a double halo is the height of elegance. In our Selena design, we accented this teal sapphire with a rose gold and platinum halo.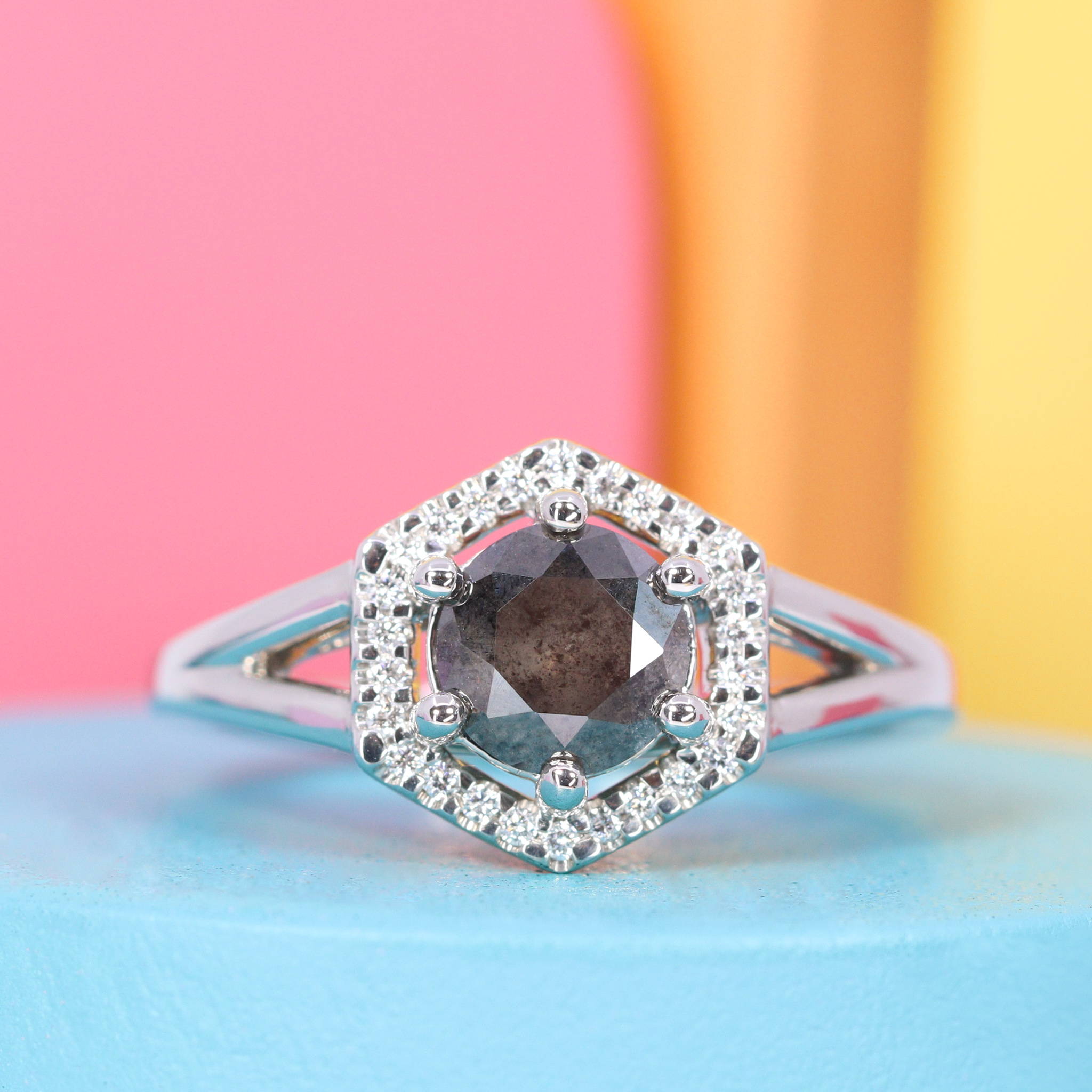 Whoever said halos need to be round? Adding interest to this deep salt and pepper diamond, we've paired the hexagon halo of our Isabelle design with a 'split shank' (aka, split shoulders).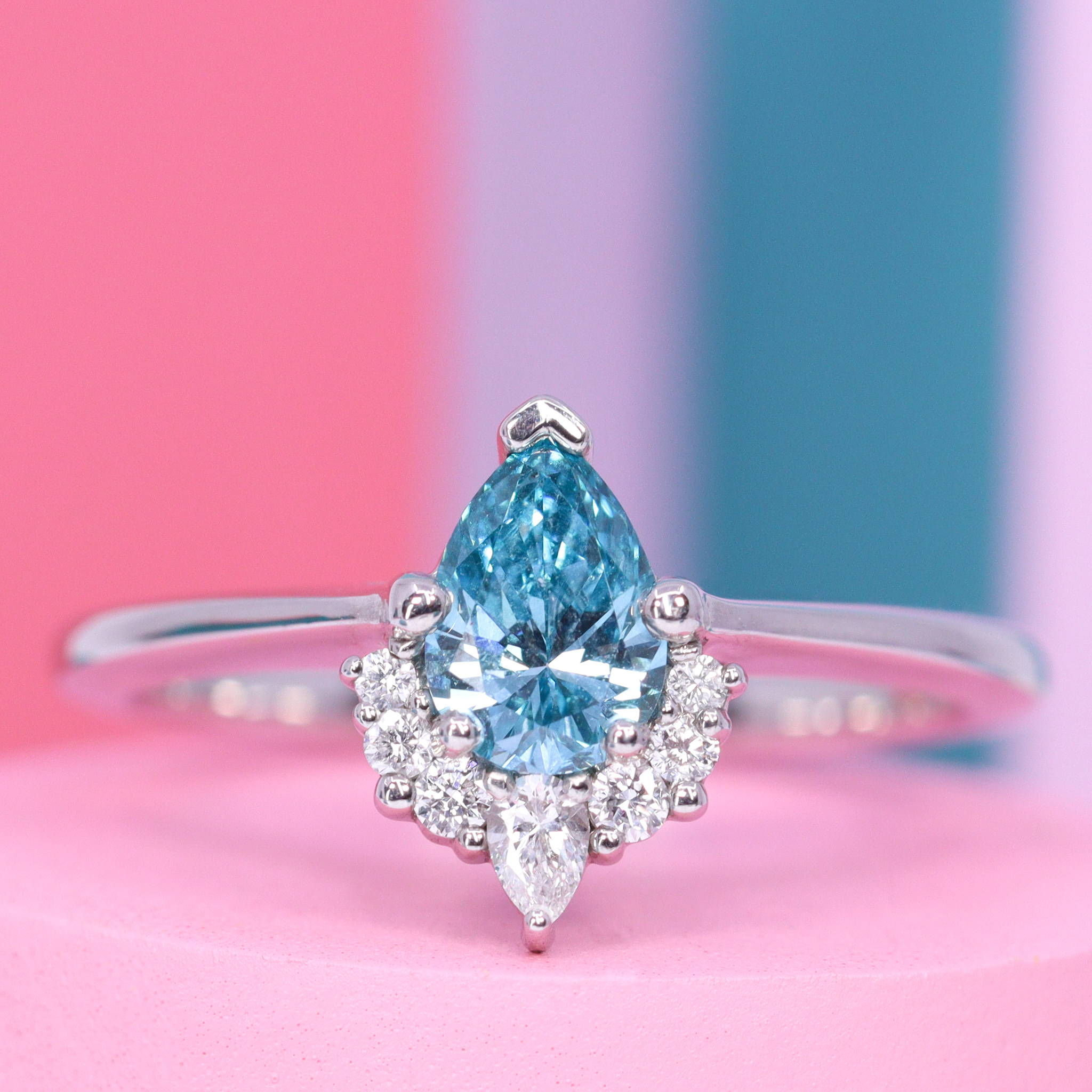 Our hal halo Celeste engagement ring is one of our signature designs. It suits a longer stone, such as a kite, shield or pear, and leaves room for a dramatic tiara wedding band to be stacked above.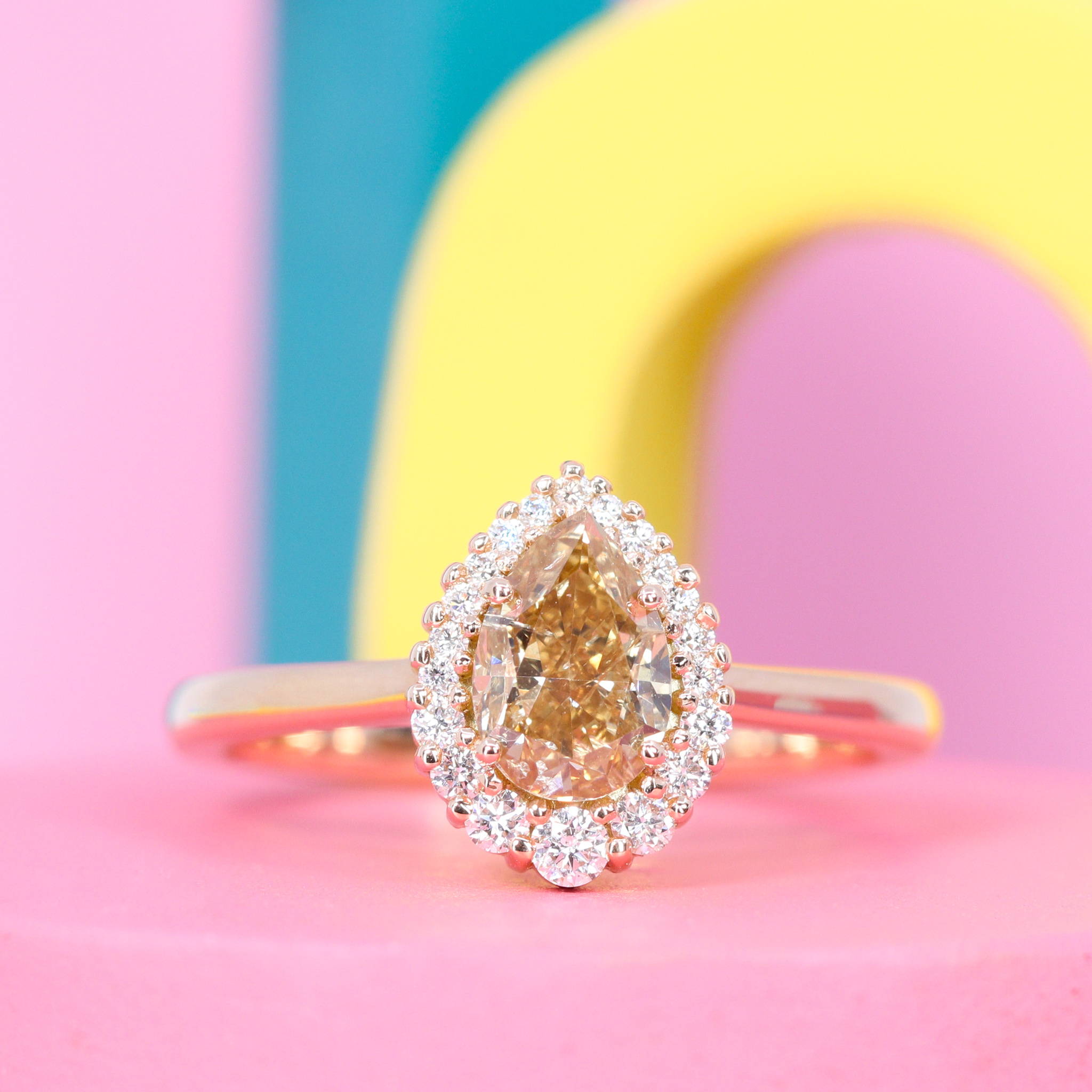 Halo stones don't have to be uniform. In our Anneesa design we've created a graduating effect by using larger diamonds at the bottom of the centrestone for a twist on tradition.
Our rings are typically designed with a 2mm band, tapering to 1.6mm at the shoulders, with the exception of a few of our designs, such as Callie (pictured). The profile of the brand is court for maximum comfort, with softly squared edges. We advise against bands thinner than 1.8mm as it is more likely to need repairs and maintenance in the future.
We adore diamond set shoulders and this is an option on many of our designs. If you're pairing with a diamond-set band, we can match the size, width and setting style of your engagement should you want them to match.