UNIQUE RINGS DESIGNED BY TEN CHILDREN UNDER TEN
Nothing says 'I love you, mum' more than a handmade picture. Walls proudly filled with paintings and drawings are a feature in any family home. When we asked children to design their own rings we couldn't of imagined how creative their designs would be. We picked ten of our favourites to turn into real rings. We're sure you'll love them as much as we do.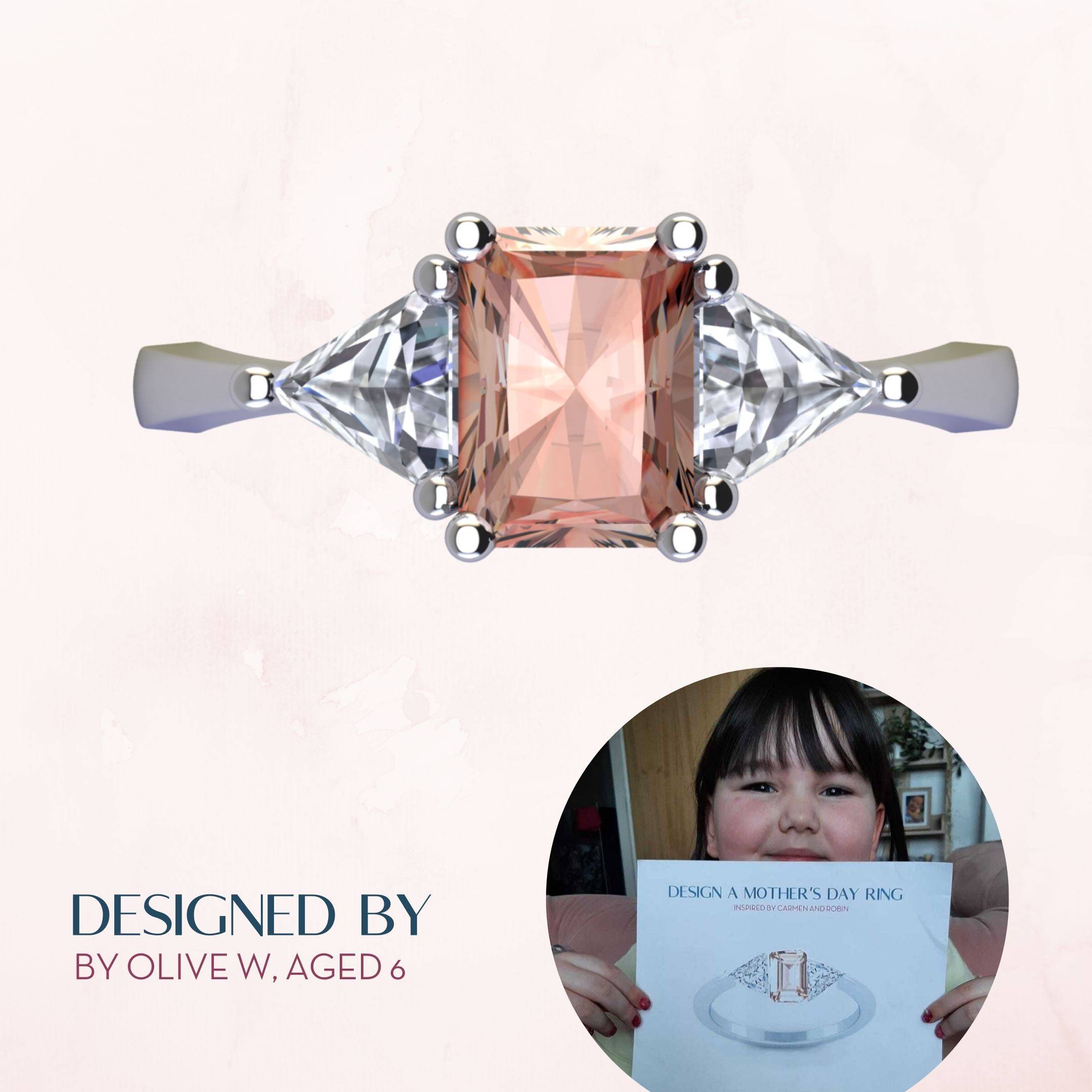 Olive's design has a morganite centre stone encased by two white diamonds. We love the symmetry of the ring and the emerald cut off the morganite. The soft hues would look great on everyone. We chose to share Olive's ring as we feel the ring oozes romance and we can definitely envision her on a forever finger.
Approx price: £3100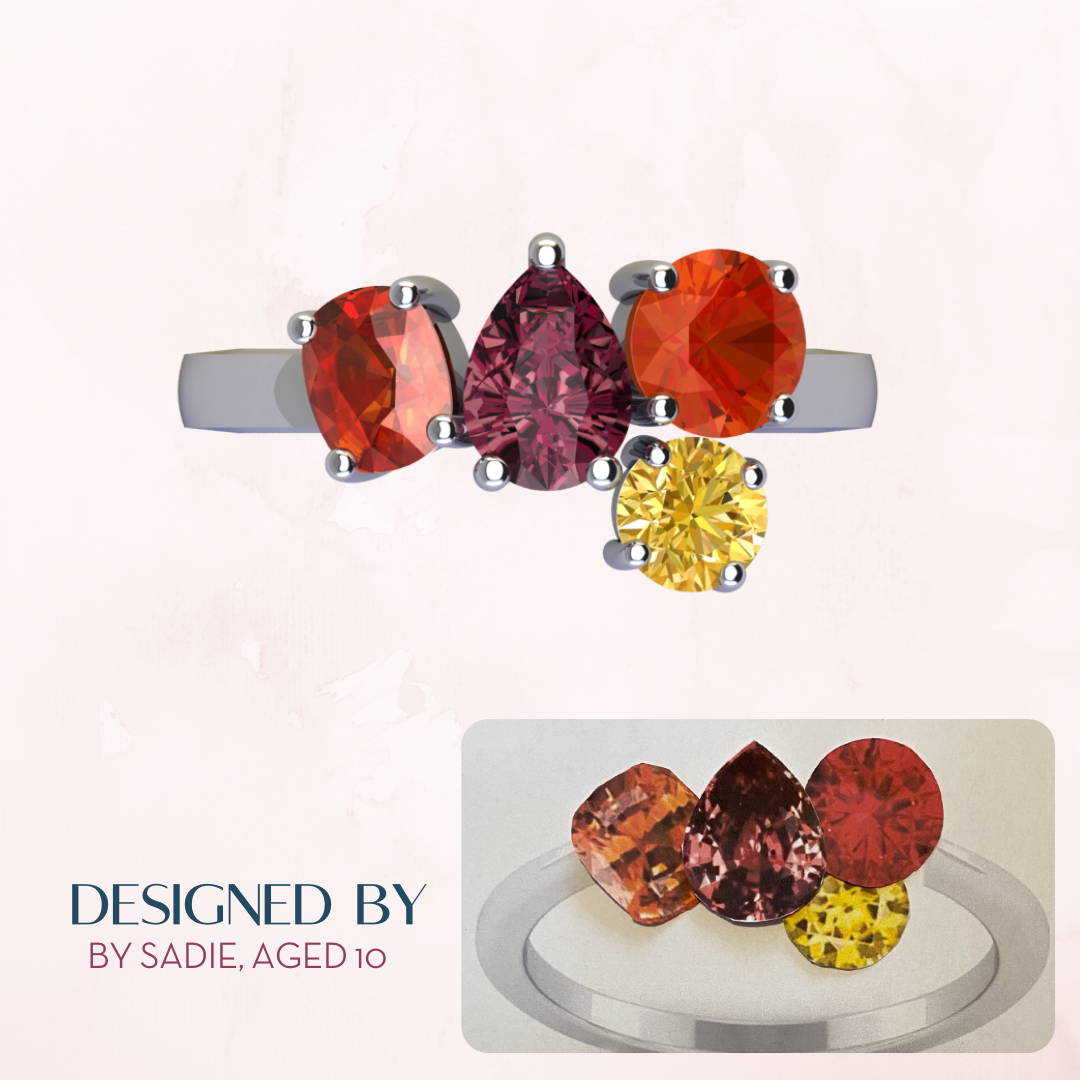 Sadie calls this design 'Fire', and we can see why! She chose three sapphires and a round ruby, in a deep firery palette of colours.
The colours really compliment one another and stand out. We love asymmetry at Jessica Flinn and this piece would wear incredibly well!
Approx price: £4000 to £6800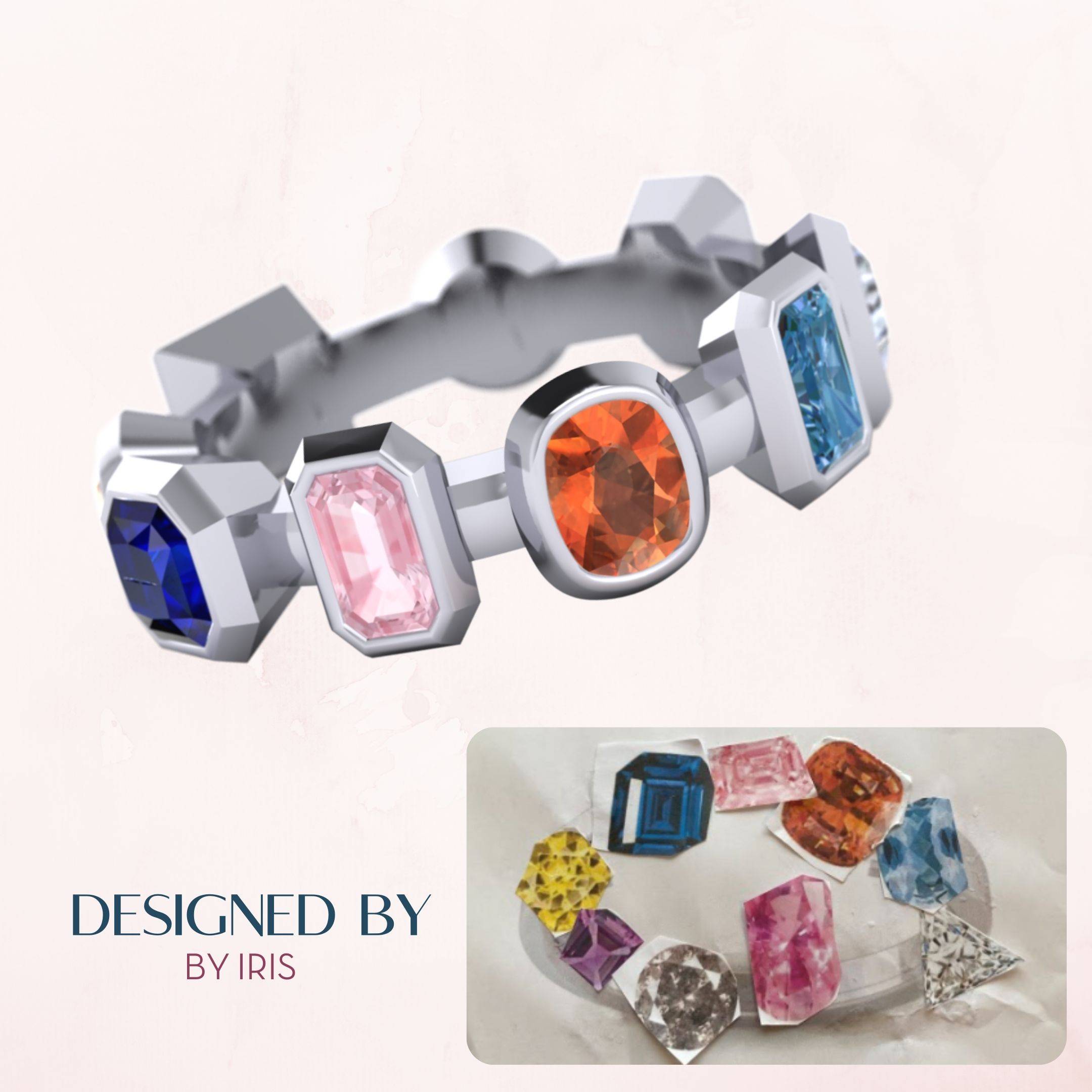 Iris's design is not for the faint hearted. She has incorporated all of our popular gemstones into her design; sapphires (of many colours), salt and pepper diamond, morganite and a white diamond.
We really love how the gems go all the way around the ring giving it a completely different look with each twist.
Approx price: £10,500 to £19750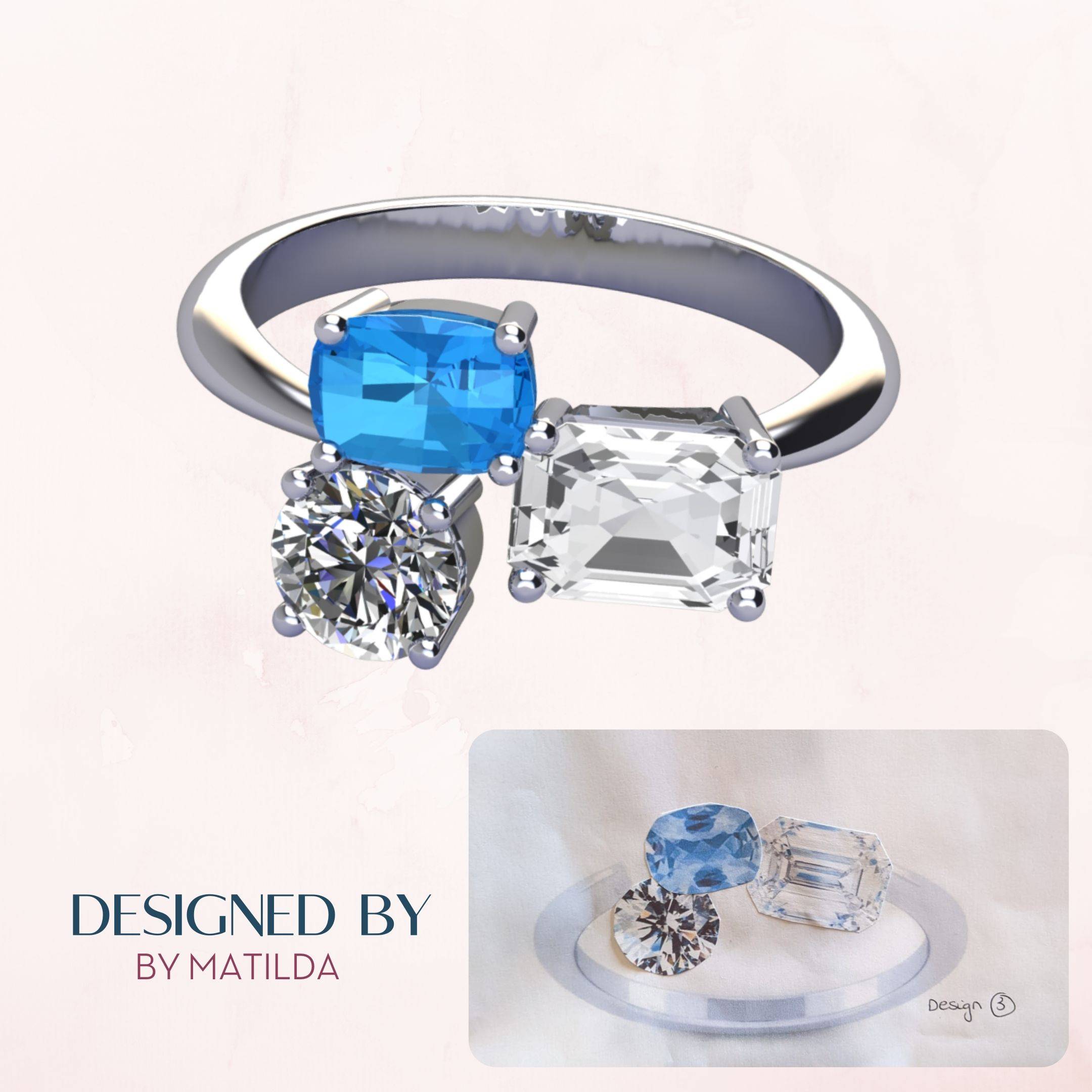 Matilda's design is made up of two white diamonds and one Ceylon sapphire. We love how the size of each gemstone increases leading to the largest stone; the emerald cut white diamond. The blue hues are very soft and makes us reminisce of a perfect summers day.
We can imagine how beautiful the gleam from the stones look when the light hits. It's a yes from us!
Approx price: £7000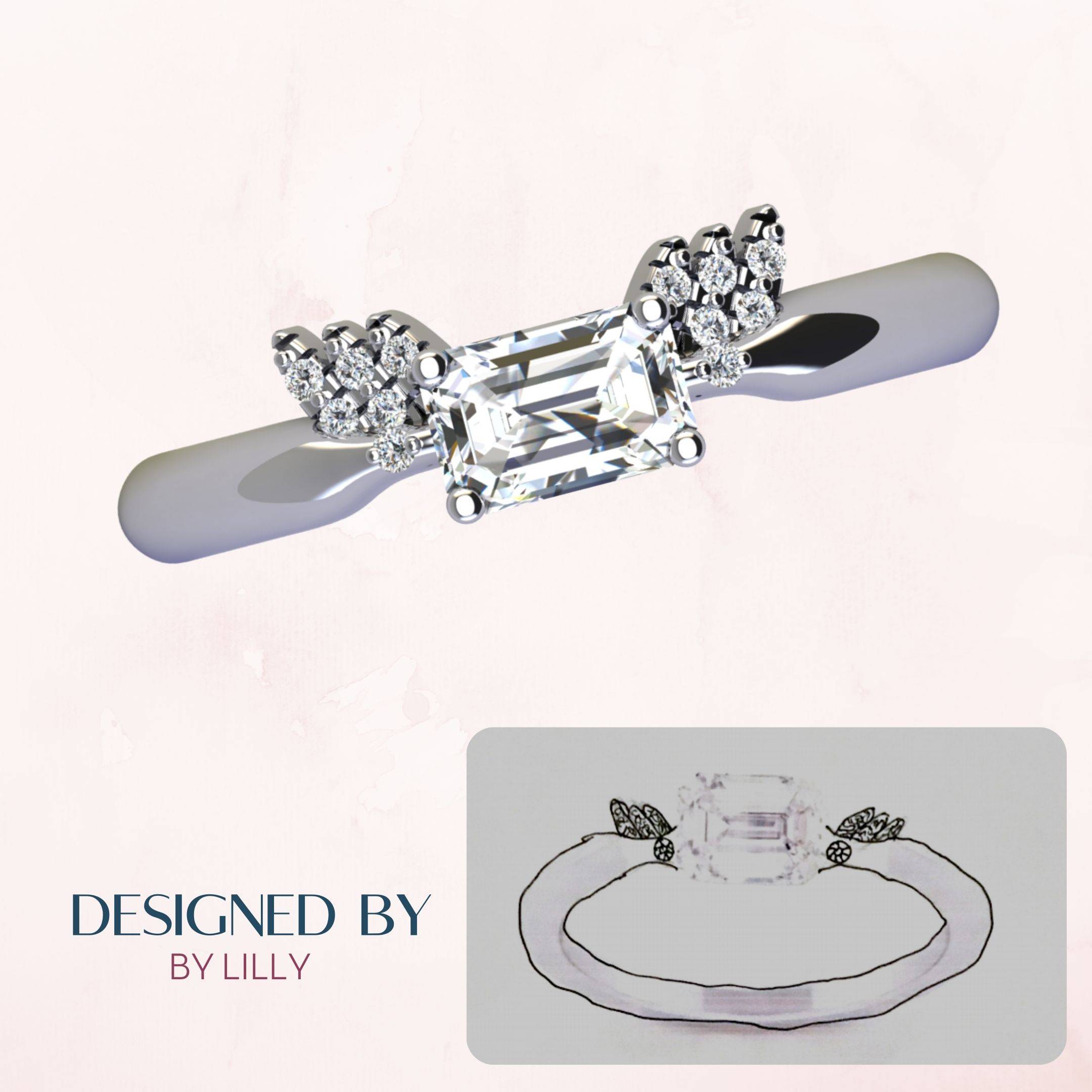 Lily's ring looks as though it was sent from the heavens! The ring has a stunning white diamond heart accompanied by smaller white diamonds in it's wing shaped sides.
We're in love with how the design looks as though it's in mid flight, like cupid himself is flying down to grace those forever fingers.
Approx price: £5900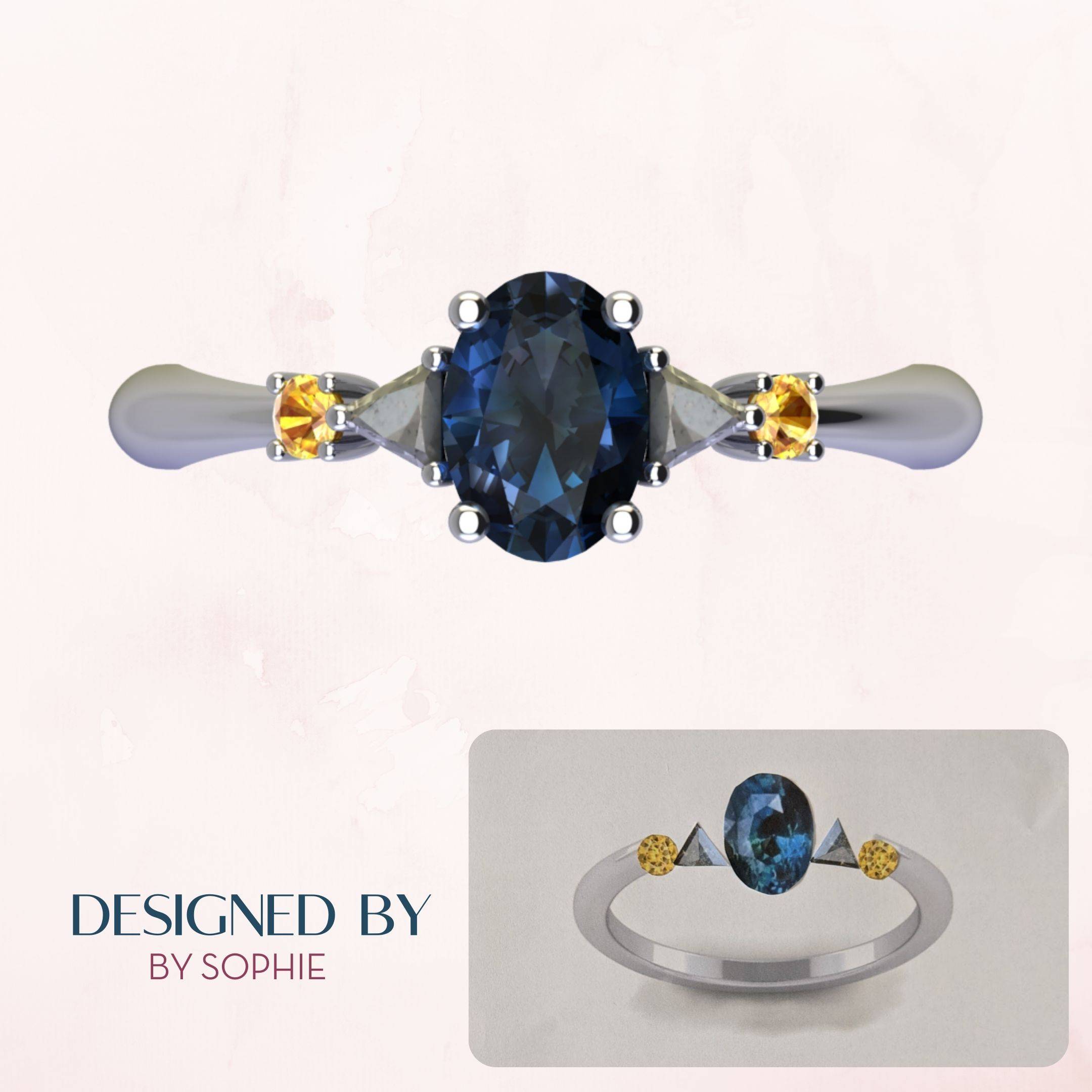 Sophie's design has a beautiful Ceylon sapphire centre with both salt and pepper diamond and yellow sapphire side stones.
We're in love with the bright flares of colour from the sapphires. Despite the use of different colours, cuts and gemstones, the symmetry and sizing of the stones creates a sleek, elegant ring that we would all love to wear.
Approx price: £4000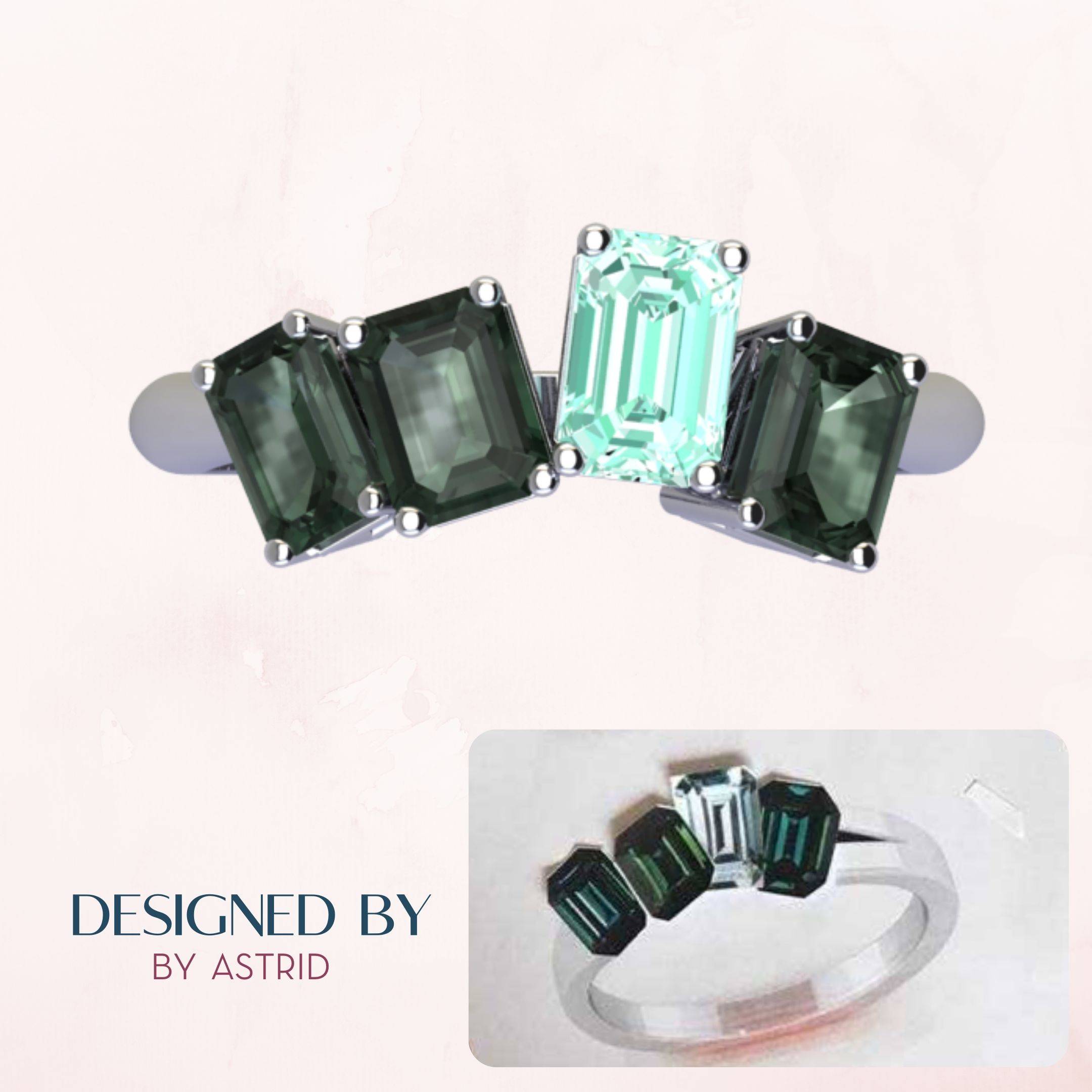 Astrid's design is made up of four green emerald cut sapphires. The third sapphire is a lighter colour than the others creating a more dramatic affect.
We're obsessed with the subtle design flare of using slightly contrasting colours. We also love that the focus is slightly off centre. It's definitely a talking piece.
Approx price: £6000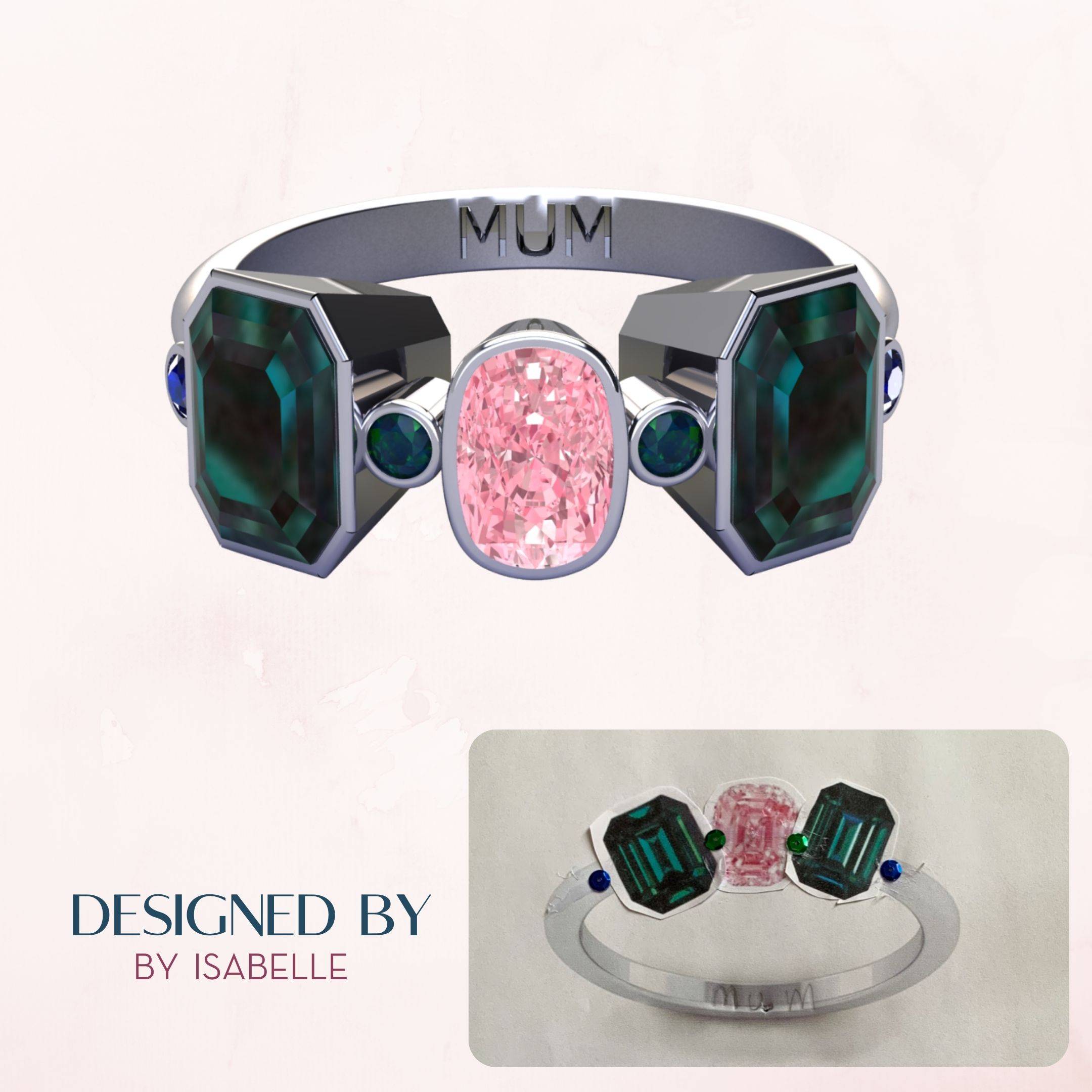 Isabelle's design has a cushion cut pink sapphire centre with two emerald cut Montana sapphires at either side. Each of the three larger stones are separated between one another by smaller round sapphires.
We love the pop of pink against the blue and the design twist of using the smaller stones between the larger stones.
Approx price: £9000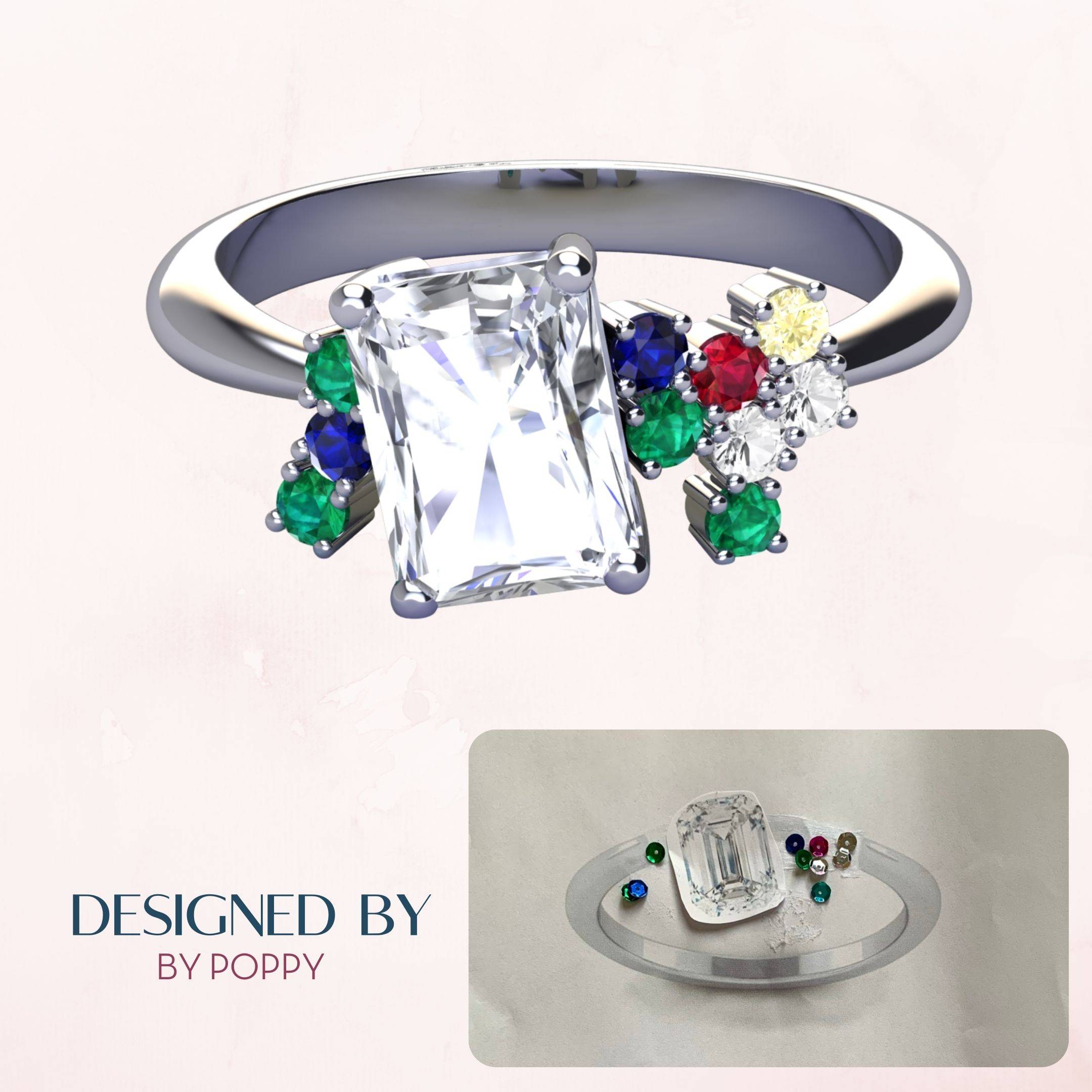 Poppy's design is made up of a large white diamond at the heart with complimenting colourful round smaller sapphires at each side.
The asymmetry of the ring is what caught our attention. We think there's a lot of people out there who would love the subtle pops of colours against the dazzling white diamond.
Approx price: £5000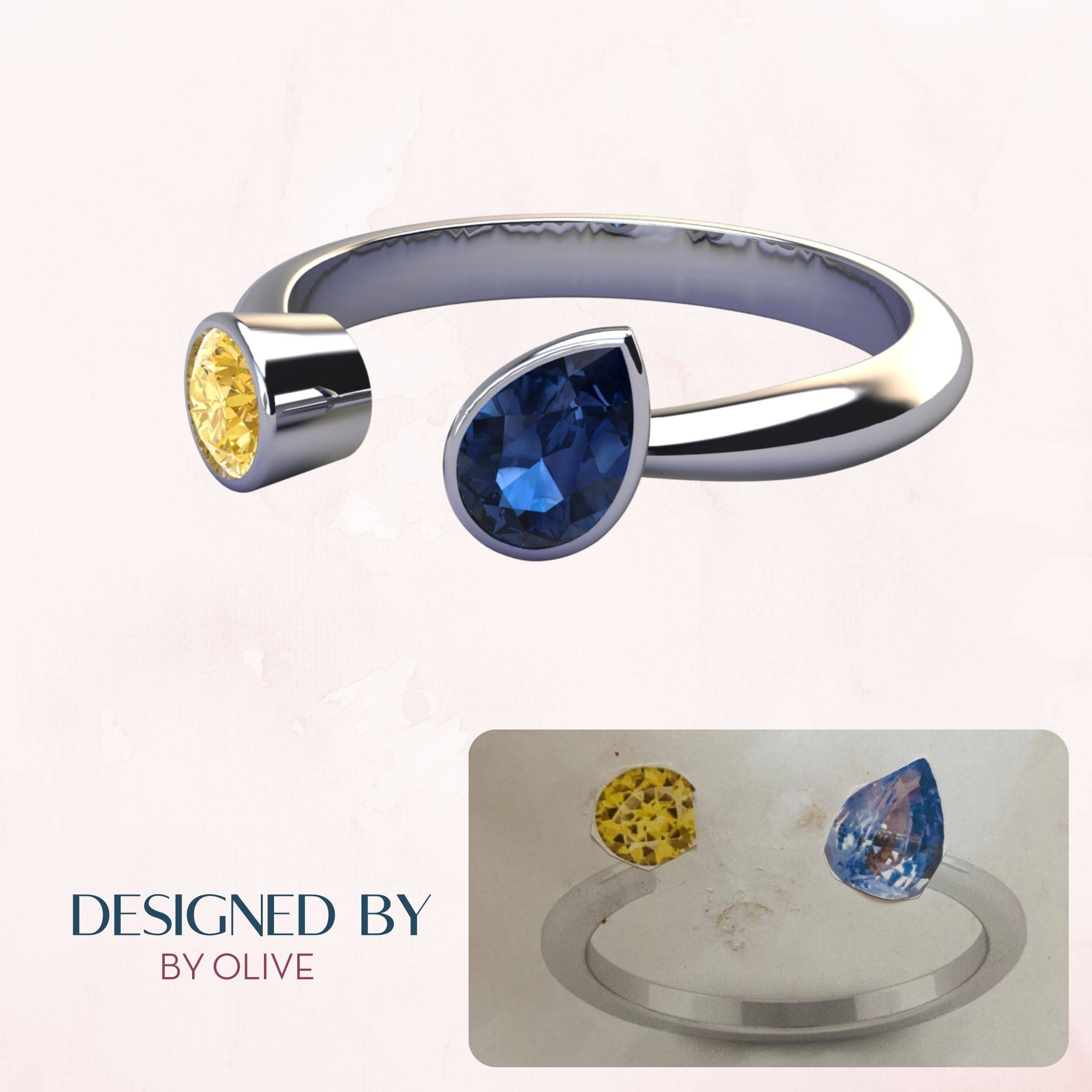 Olive's design is made up of a round yellow sapphire and a pear shaped Ceylon sapphire.
We fell in love with Olive's unique design and how she had created a gap between the two stones. The stones are completely contrasting in colour, cut and shape however they both compliment each other which makes the ring so special.
Approx price: £3500

If you love one of the designs above and wish to enquire about purchasing please email ruby@jessicaflinn.co.uk.
To view our stunning collections, click the images below.