2021: Sapphires to swoon over this spring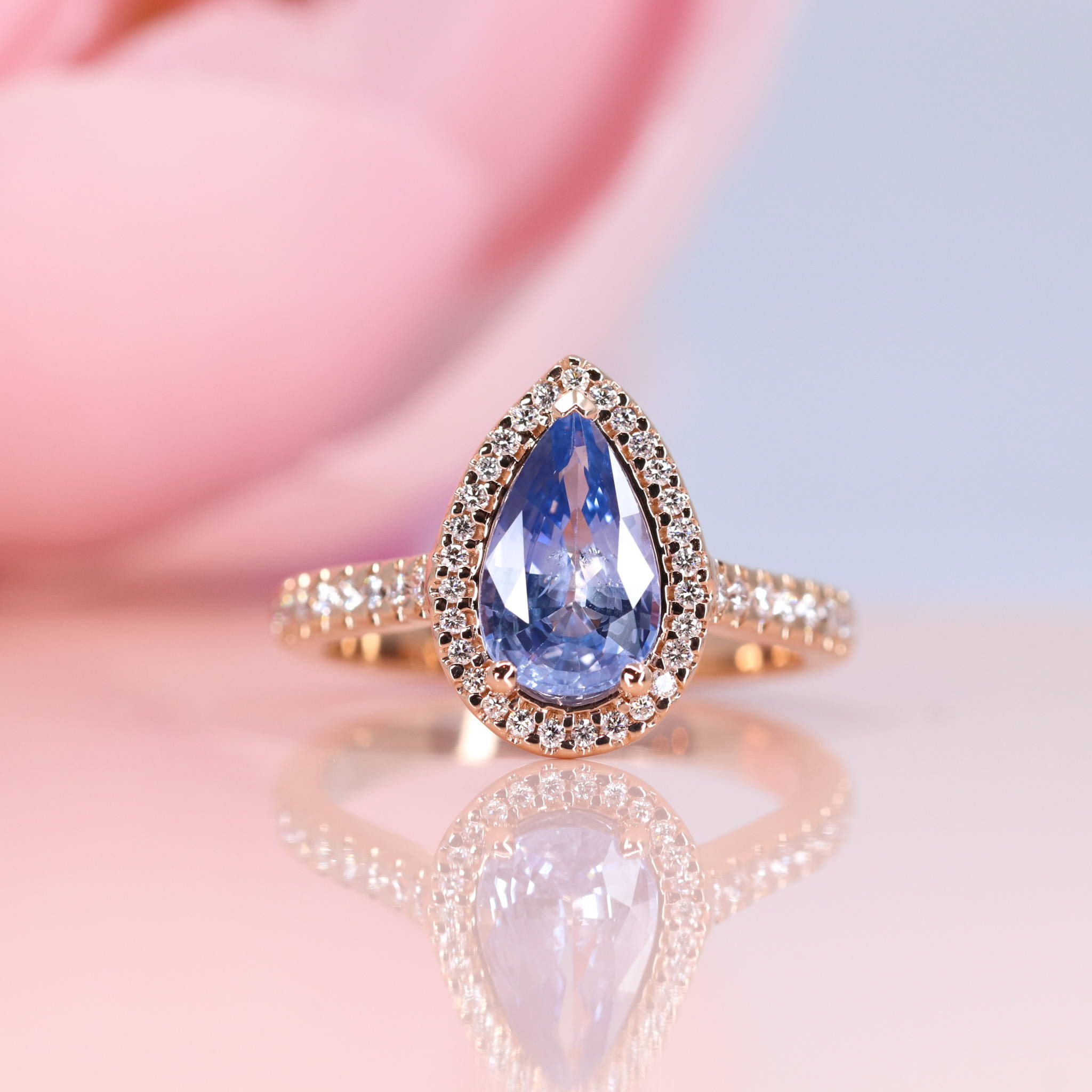 Flowers are not the only thing blossoming...
Our continued love affair for colourful sapphires continues to bloom.
And much like spring, sapphires have so much colour to offer. From rich, deep spring greens to soft pastel pink hues, there's a rainbow of sapphires waiting to be worn.
With a flourishing array of rings, we have created colourful collaborations working with quality gemstones and complimentary metals to enhance each vibrant tone and spectacular sparkle of our sapphires.
1. CORINNE - TEAL SAPPHIRE
Teal; the colour that harmonises the rich green of the spring fields and the ever-changing blues of the flowing streams. Corinne's centre stone takes centre stage - she's a beautiful teal-blue round brilliant cut sapphire. This stunning stone is held in a basket setting designed to allow light to enter from the bottom of the sapphire. The light illuminates and reveals the vast spectrum of her teal tones.
This sapphire is accented by two smaller white round diamonds at either side on her flowing and twisting shoulders, the sharp contrast only enhances the deep colour of the sapphire.
Commit, with Corinne.
£3,450.00
If a ring is sold out on our website or isn't available in your size, please contact us to discuss a bespoke order.
For all enquiries email ruby@jessicaflinn.co.uk
2. STELLA - Orange sapphire
Stella is a bold step away from tradition. At her heart, is a fiery orange sapphire. The colour is so intense and vivid it looks alive, like a pear shaped ember sat on your finger. Her rose gold band has a unique vintage-style pattern that makes her all the more whimsical.
The rich colours of the orange sapphire and the rose gold band bounce off each other, and in turn create this spirited ring that looks ablaze with each flare of light.
Her high profile means that Stella would stack beautifully with many of our straight bands - although we also think that she would make a perfect right hand ring.
Send sparks flying, with Stella.
£1,340.00
If you don't know your ring size -
not to worry, you can order your ring sizer here:
Her centre stone is an unusual pink 1.018ct sapphire, elevated and held by four delicate claws. Encased in a halo, her soft pink sapphire is complimented by the dazzling white diamonds.
Mae oozes romance and would make a beautiful engagement ring. Her high profile means she stacks beautifully with our straight bands. She's perfect for those who are looking for 'traditional but with a twist'.
Be tickled pink, with Mae.
£2,850.00
Love our style but can't find your perfect ring?
We can design you your dream ring with our bespoke package.
To enquire, email ruby@jessicaflinn.co.uk.
4. CELESTE - VIOLET SAPPHIRE
This magical, mesmerising ring has a 1.30ct pear cut violet sapphire at the centre with
a beautiful half-halo accented below. Her halo is set with six round brilliant white diamonds that gleam.
With a unique design and a royal opulent sapphire stone, Celeste is a special ring that looks striking upon a forever finger.
For those who want the drama and sparkle without the tradition, Celeste is for you.
Celebrate your uniqueness, with Celeste.
£2250
Love one of our rings but want a different coloured sapphire?
We can make that possible with our custom package.
To enquire, email ruby@jessicaflinn.co.uk.
5. mARGOT - BLUE CEYLON SAPPHIRE
Once upon a time lived a ring so enchanting some believed it only existed in fairytales...
Meet Margot, a pear shaped blue Ceylon sapphire centre stone ring with a halo and shoulders off diamonds. From every angle she glistens and leaves you gleaming.
Her perfect blue Ceylon sapphire and her rose gold band are a match made in heaven. The warm hues are reminiscent of a summers day.
Margot's timeless design and stunning gemstones make her a ring you will pass down for generations.
Fall madly in love, with Margot.
£2,920.00
Whether it's for a left or a right hand, all of o
ur rings are made with forever in mind.
Which is why we hand select each gemstone and use mastercrafts people throughout the entire process of making your rings.
---