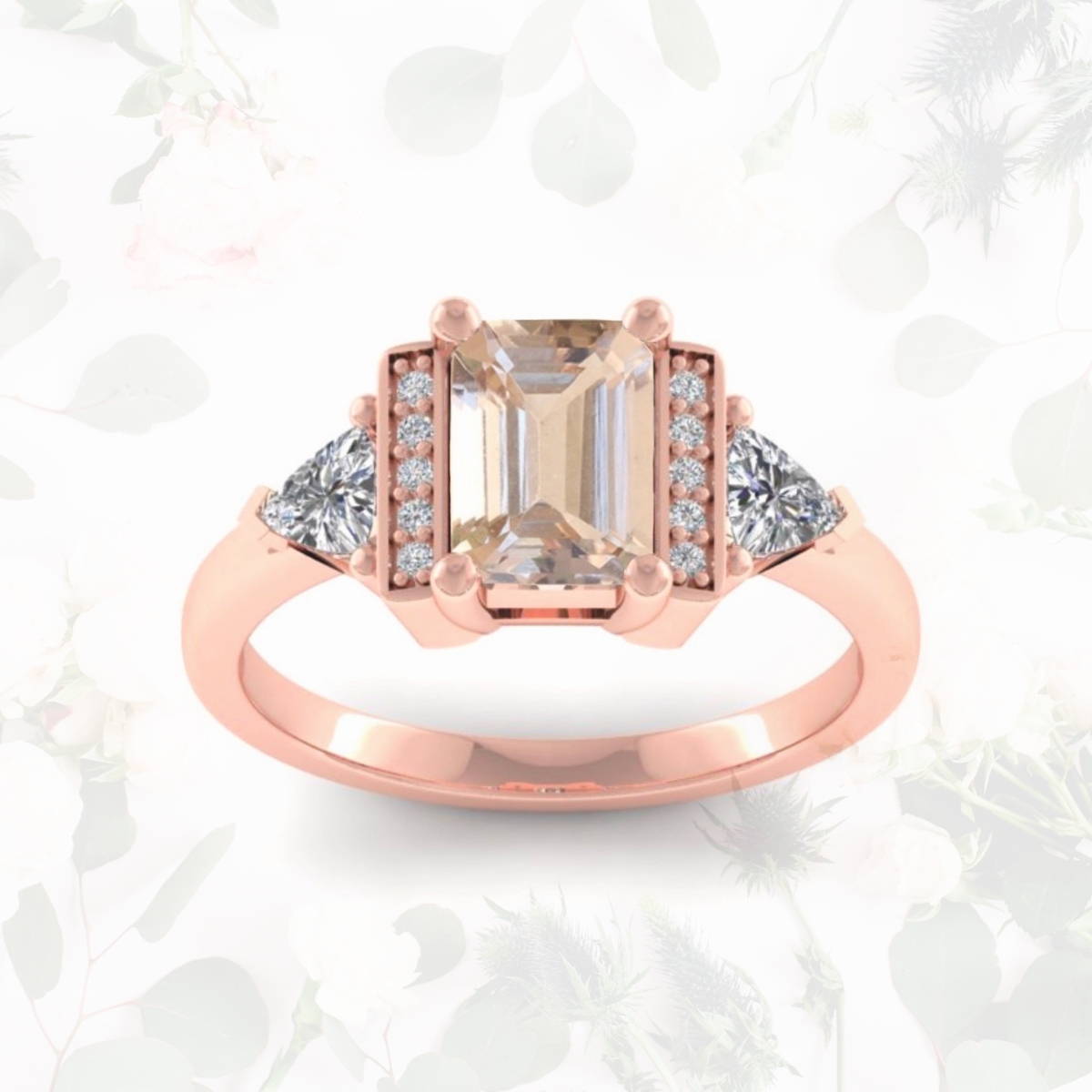 Our Morganite collection has arrived. A selection of our signature designs, recreated to hold this elegant, peachy-pink gemstone.
Morganite is the third most popular gemstone for engagement rings after diamonds and sapphires. But what is Morganite? And is it right for your forever ring? We've answered some of the most important questions below:
What is Morganite?
In scientific terms, Morganite is part of the Beryl family of minerals. It has a hexagonal crystal structure and is part of a wider family of gemstones. Often referred to as 'Pink Beryl', you know it's colourful siblings 'Green Beryl' and 'Blue Beryl' by their other names Emerald and Aquamarine.
A translucent gemstone, it captures and reflects light, although is not as brilliant as its distant diamond relatives.
Where does Morganite come from?
Morganite deposits can be found in Madagascar, Afghanistan, Mozambique, Namibia and the USA, but it is mostly mined in Brazil.
How do morganite colours vary?
Just like sapphires and diamonds, Morganites vary in intensity of colour as well as shade.
On one side of the spectrum you can find orangey-pink shades, and on the other you can find baby pinks. In our ready to ship pieces we use the most traditional Morganite shades, which sits in the middle of the colour spectrum. More orangey or pink shades can be sourced on request.
How strong is Morganite?
All gemstones are ranked by strength on the Mohs scale, 0 being the softest and 10 being the strongest. Morganite is 7.5, with sapphires at 9 and diamonds, of course, at 10. Although this doesn't seem like much of a difference, it does mean that Morganites are more prone to damage than sapphires and diamonds, particularly larger stones. That said, they can be worn daily and be a stunning part of your forever ring when worn with care.
As a general rule, we don't work with any gemstones softer than 7.5. This is because we truly believe that beautiful rings should last forever. With stones any softer than this, this isn't guaranteed.
If you choose a morganite ring, we recommend removing it for vigorous sports and activities. And if you are concerned about damaging your morganite ring, we suggest you explore our Sapphire collection or speak to our design team.
Is Morganite cheaper than diamonds?
Morganite is much more accessible than diamonds. It gives you the opportunity to choose a larger centre stone, and to explore more options with side and accent stones for a much lower price. In many of our designs, you'll see that we've chosen to compliment Morganites with white diamonds for added sparkle. Many of our Morganite designs are under £1500.
Still unsure?
If you have any more questions about Morganites, or you're still unsure, please feel free to email our design team at ruby@jessicaflinn.co.uk.
Discover unusual gemstones, magical salt & pepper diamonds and stunning sapphire rings.