Jessica's Favourite Stacks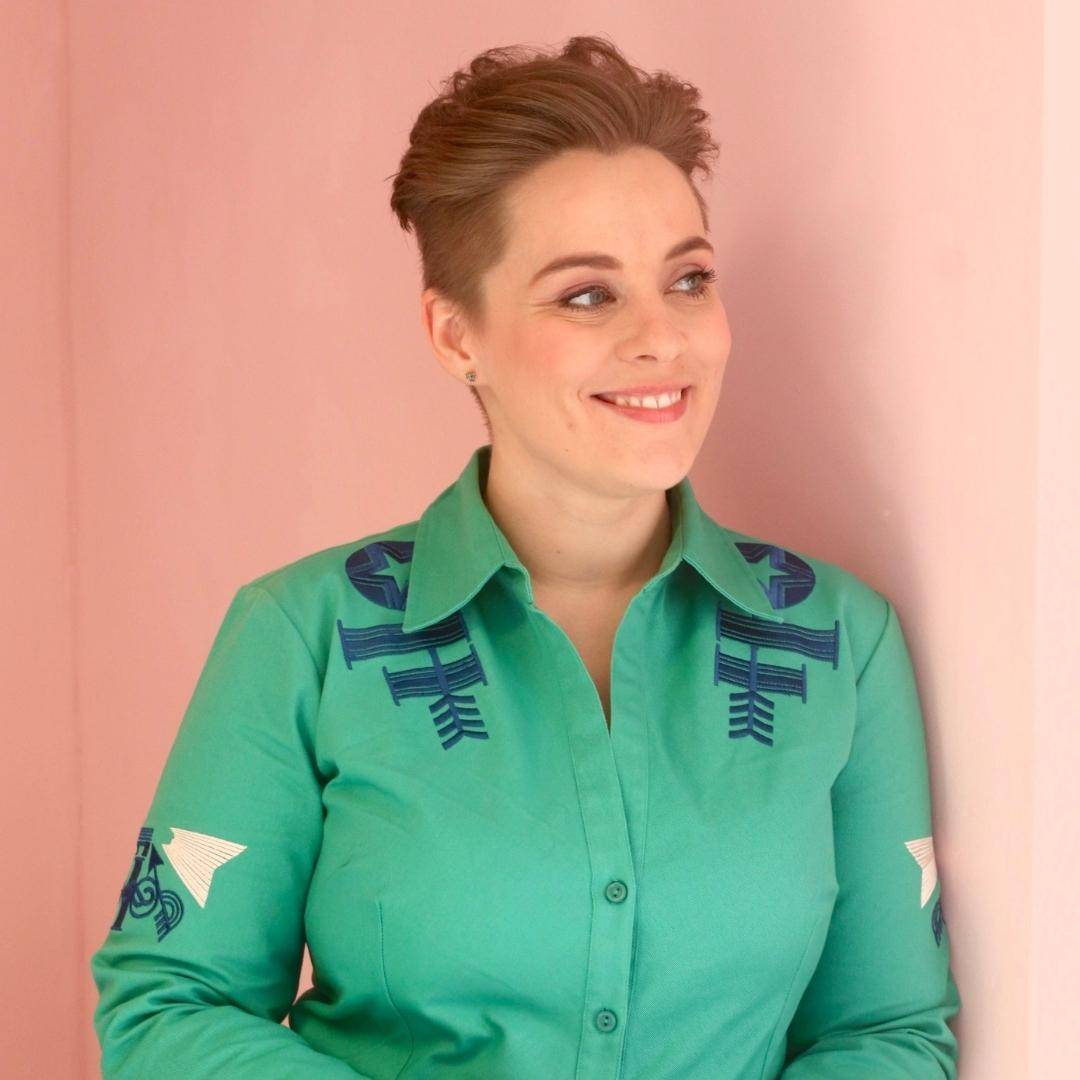 MEET OUR CEO AND THE STACKS THAT SHE ADORES
JESSICA'S FAVOURITE STACKS
Ever wondered what our founders favourite stacks are? Or just curious about our stack recommendations?
We sat down with Jessica to chat about the stacks she thinks are full of sass and bound to get the conversation started! Keep scrolling for some serious stack envy.
SO, WHAT IS A RING STACK?
A ring stack is a set of multiple rings that neatly nestle together, to create a beautiful piece of art set on your finger. This can include the engagement ring, wedding band, and other additional rings. The wearer can add or switch bands to express personal style or mark a special occasion.

OUR VIOLET SAPPHIRE PAIRED WITH A BLACK DIAMOND HALF ETERNITY
Meet Wednesday our beautiful black diamond half eternity ring, and Celeste, one of our most dramatic pieces with a striking 1.27ct pear cut violet sapphire. This stack shows the alternative side to all our brides who love a little darkness in their life.
With Celeste's moody centrestone and Wednesday holding the rebel ring in place, it's an unorthodox/gothic bride's dream. Celeste is wed-fit and high profile, which means she will stack beautifully with any of our straight bands, not just Wednesday.

AN OVAL LAB-GROWN BEAUTY NESTLED INTO A DIAMOND WISHBONE
NATALIA LAB-GROWN OVAL & ELLIS
Say 'hello' to Natalia and Ellis, your unusual dramatic duo that adds sparkle to any finger. This combo shows you can be sassy AND sophisticated, and would be perfect for a bride that wants a twinkle of quirkiness for their forever rings.
Our Natalia is a low-profile engagement ring, therefore fits perfectly with our dramatic, pointed wishbone shaped Ellis.
AN OPTIX CUT DREAM STACKED WITH A SIMPLE WISHBONE
Oh Charlotte and Clara, you're the stack of dreams. With Charlotte's extraordinary Teal Optix Cut Tourmaline, fitting snug into Clara's subtle wishbone shape, this duo well and truly steals the show!
Although Charlotte and Clara look stunning when worn alone, they stack beautifully together, and are perfect for the elegant yet classy bride.

A TEAL TOURMALINE MEETS AN ART DECO WAVE
Oh hello Harper and Thea you dramatic and dynamic duo. This beautiful combo combines an Art Deco twist, with a classic trilogy ring to create a sophisticated, stylish yet subtle stack.
It demonstrates a love for symmetry and movement, with a flowing movement that casts through. Perfect for the bride that loves a nod to the Art Deco era, with a delicate personality.
A FOREST GREEN SAPPHIRE NESTLED WITH A SUBTLE WAVE
This stack completely stole Jessica's heart, and we're sure it'll steal yours too. A classic trilogy ring nestled beautifully within our stunning diamond set Eliza.
With Callie's 0.77ct green Australian sapphire drawing you in, it's hard not to notice the elegant and refined design of Eliza. It is perfect for the sophisticated bride that wants a bit of drama on their finger.
SALT & PEPPER SOLITAIRE THRONED INTO A TIARA
ROSE GOLD SOPHIA & WINNIE
Who says you can't wear a salt and pepper paired with a tiara ring? With our Sophia and Winnie you can. Sophia's effortless design, fitted with a natural non-enhanced, non-treated 0.78ct salt and pepper, gives out all the sophisticated vibes.
Paired with a white diamond Winnie, you've got yourself a stack made in heaven, and one that you know will be unique to you.
A STUNNING GREEN SAPPHIRE PAIRED WITH A DIAMOND FILLED TIARA
Meet Ophelia and Arrietty, our Art Deco stack that looks like it's straight out of a Wes Anderson film!
With Ophelia's stunning 1.71ct Emerald cut Green Sapphire centre stone, snuggling perfectly into Arrietty's seven beautiful diamonds, it's hard not to be mesmerised by this dramatical stack. Perfect for the bride who loves to be bold and daring.
If you're feeling mega bouji, maybe our triple stack could be for you? Starting with our Ariel mermaid tail patterned band uniquely adding movement and mystery to a traditional style. She is complimenting the main feature of the stack which is our distinctive and one of a kind green diamond Adaline, which is surr by diamonds that each point north, east, south and west.
Finally we have our entrancing Joanie ring nestling perfectly into Adaline's diamonds, adding to the halo of drama. Creating a truly breathtaking stack, perfect for the bride who loves to be unique, dramatic and drop dead daring.
explore our 'snap & stack' service
If you're curious about any other stacks, head to our Instagram on Mondays and Thursdays to get your stacking requests in with our Group Marketing Manager, Hayley. Or try our 'Snap and Stack Service', to see what stack would suit your engagement ring best!
Simply send us a photo of your ring from two different angles, and the names of the wedding rings you like. Our team of designers will use your image to create up to three mock-ups of our designs, shaped to your ring, so you can see how they look on your hand. This service is completely free and we'll aim to get back to you within 2-3 working days.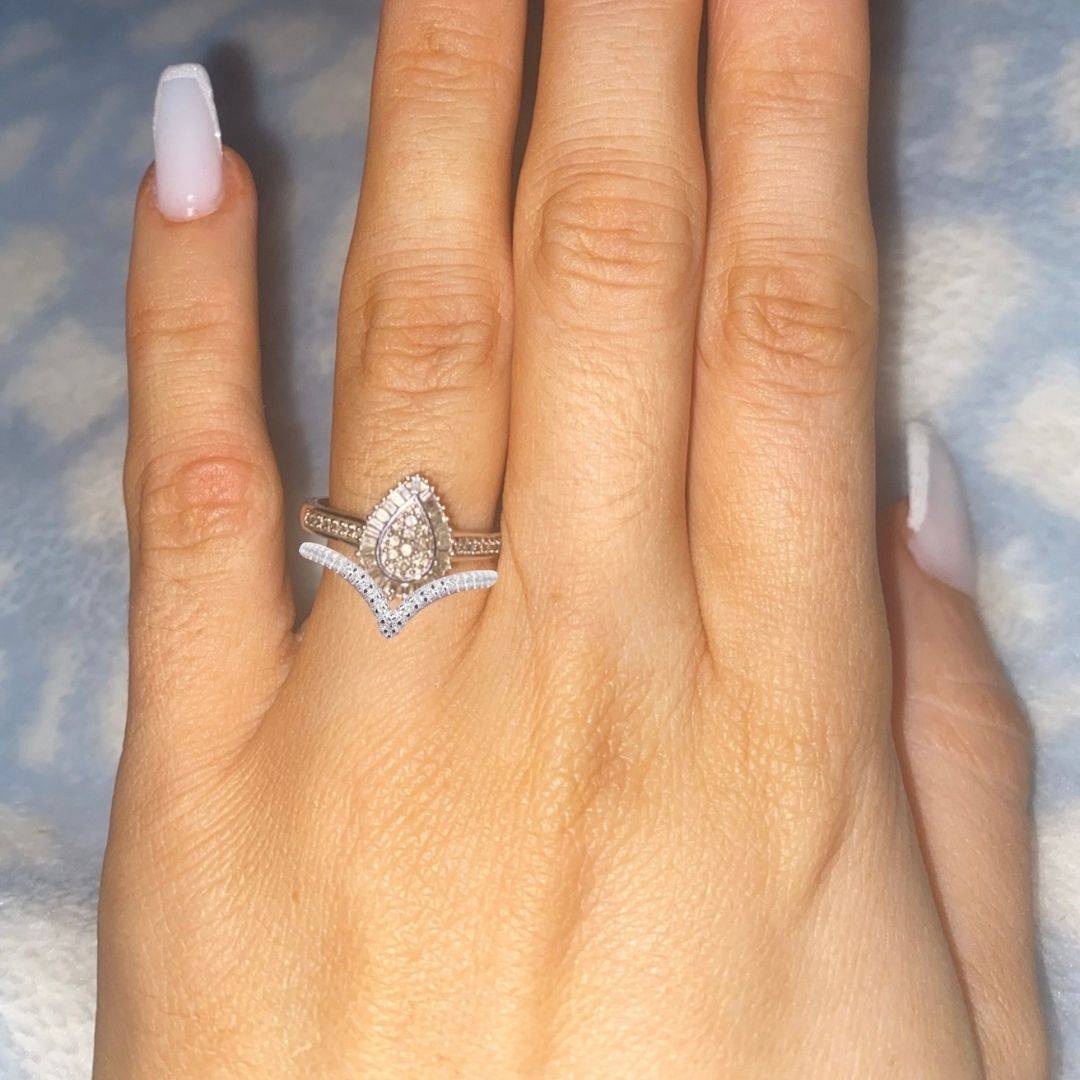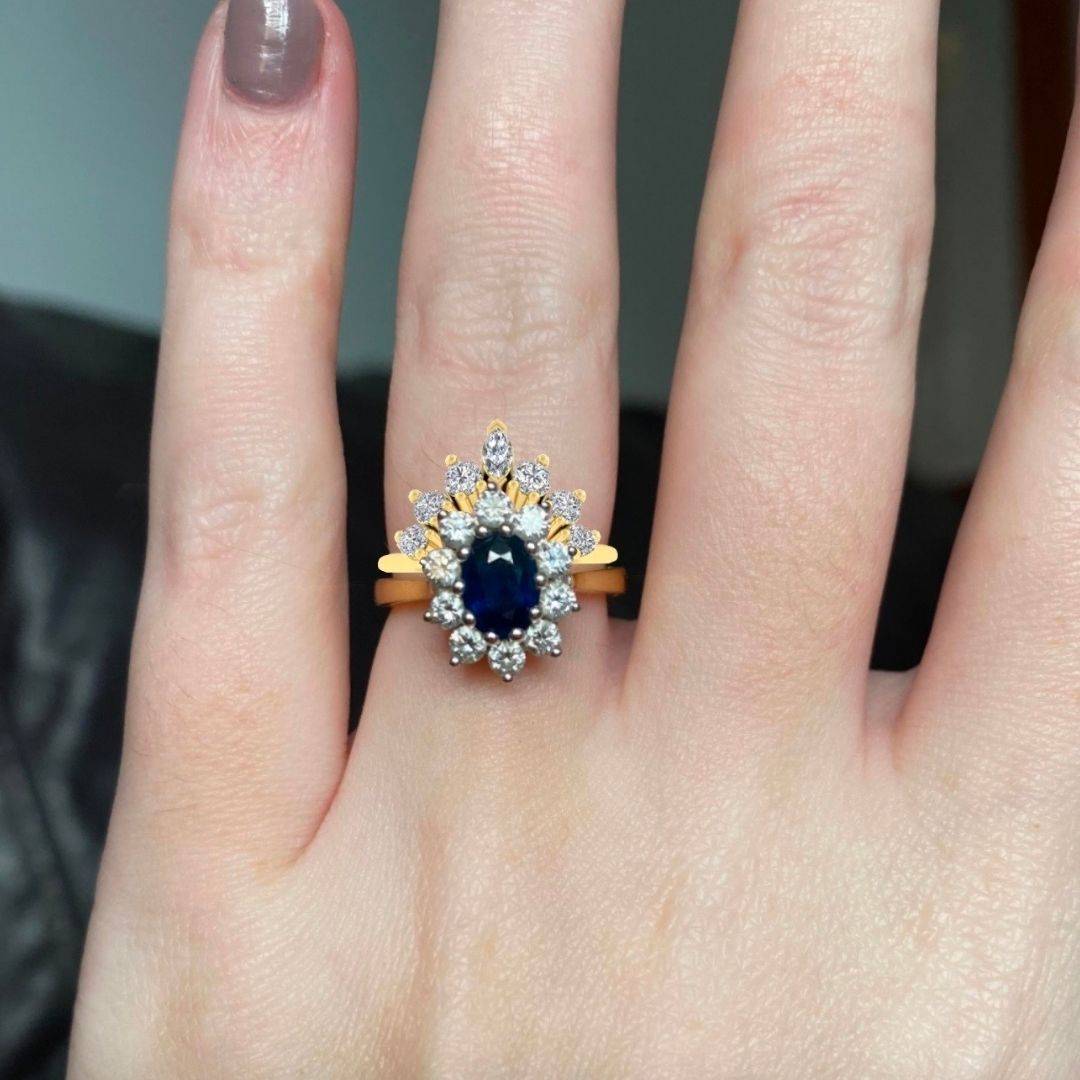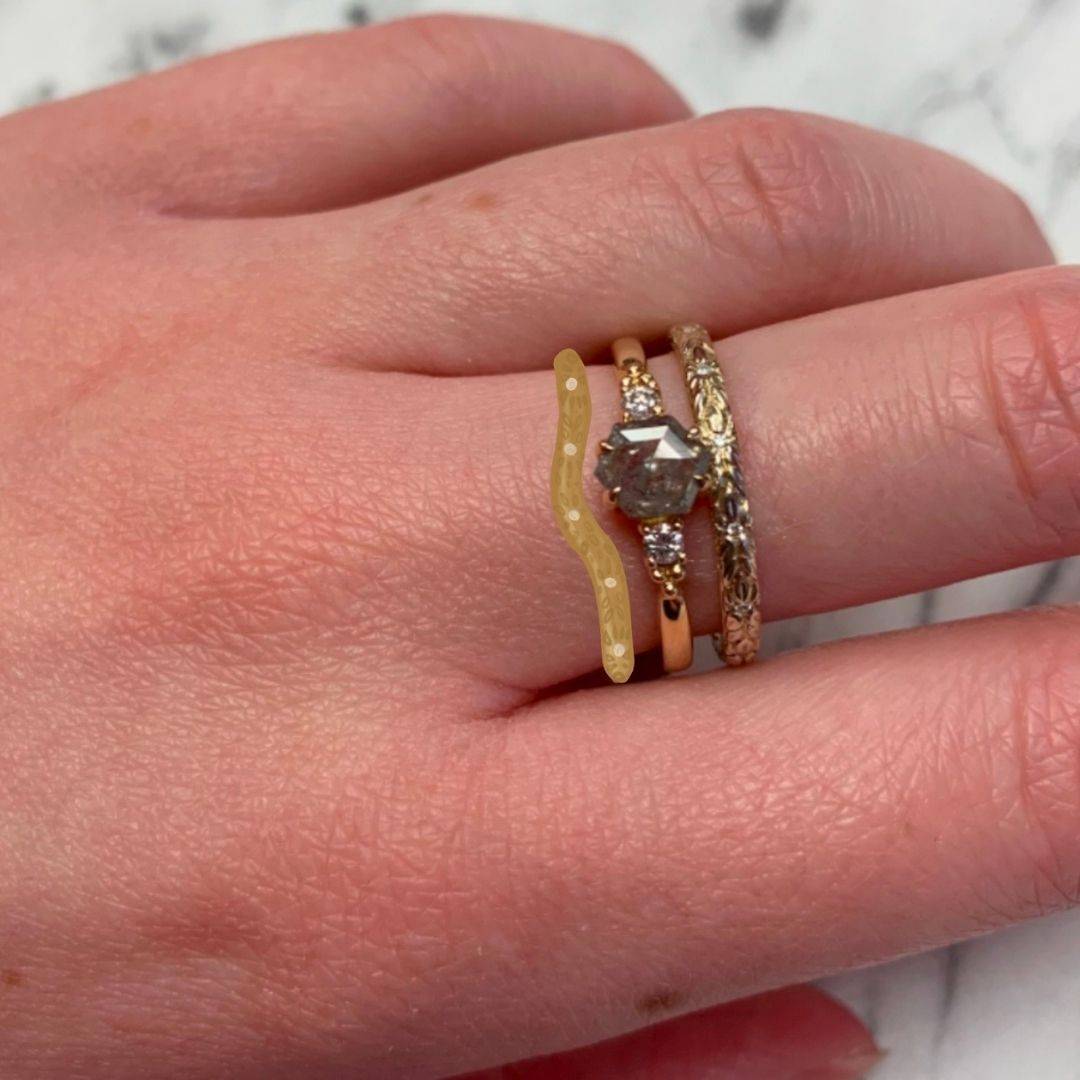 When working with a customer to design a stunning diamond or sapphire engagement ring, we focus on key elements including uniqueness, timelessness and modernity. To do this, an appointment or email contact is necessary for us to bring your dream ring to life. These can be a virtual appointment, a visit to our showroom or through a discreet email service.
---