Fall Madly in Love With Morganites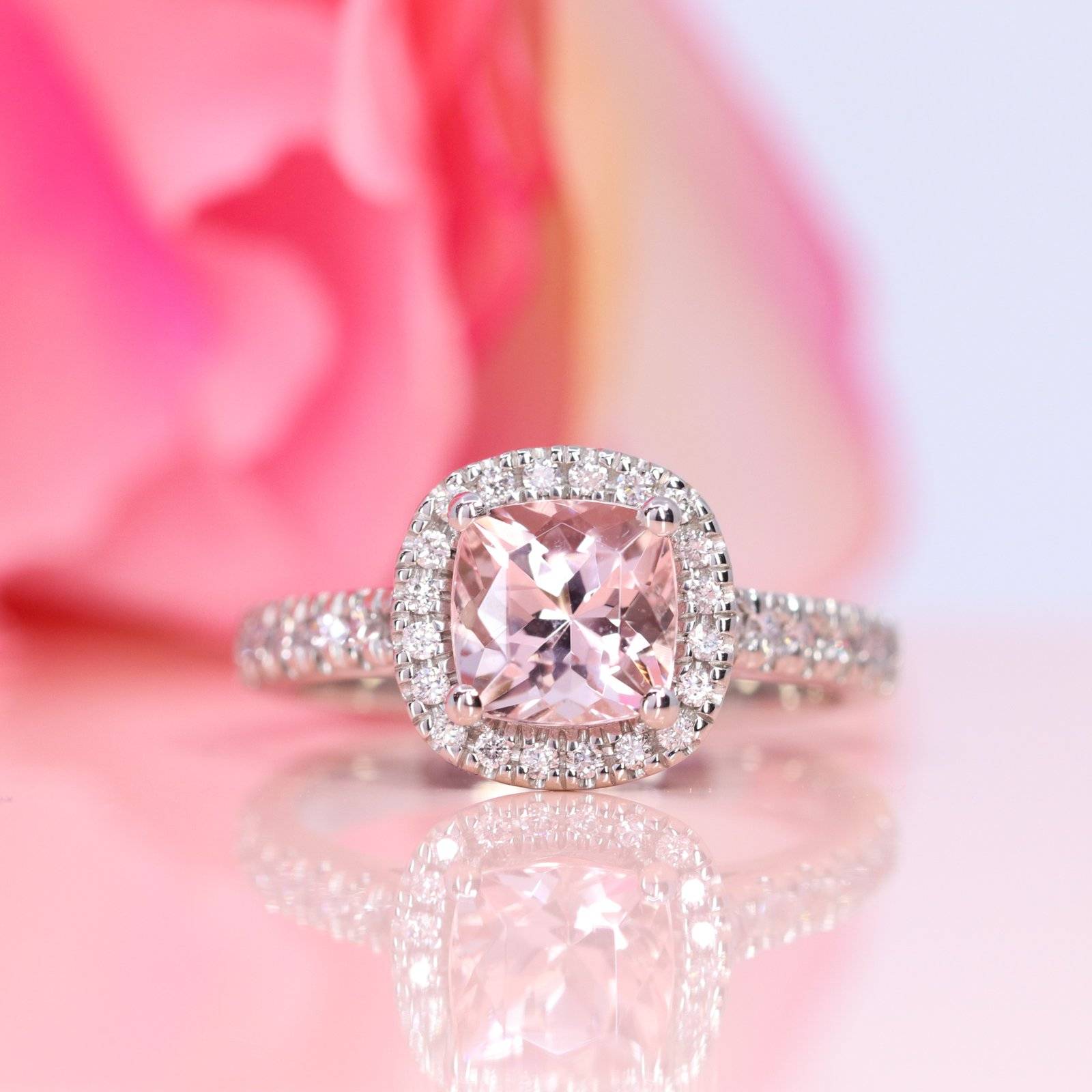 Morganites are part of the beryl family, making them cousin to the long loved Emerald. They are stunning, practical and ooze sparkle and personality. We're not surprised that morganites have become a popular choice amongst the wedding community (and with celebrities, too).
We've put together five reasons why we love morganites and why a morganite could be the perfect gemstone for you.

Morganites have become a popular choice. Their soft pink hues ooze romance which makes them the perfect gemstone to declare your love.
From blush to peach, there's a shade to leave you tickled pink. Morganites can appear a salmon shade or a very obvious rose pink, each stone will be completely unique and glorious within itself.
Whilst their colours vary, each is subtle and makes for a timeless centre stone.
The different coloured morganites compliment different designs and metals. So when you're choosing your stone - keep that in mind.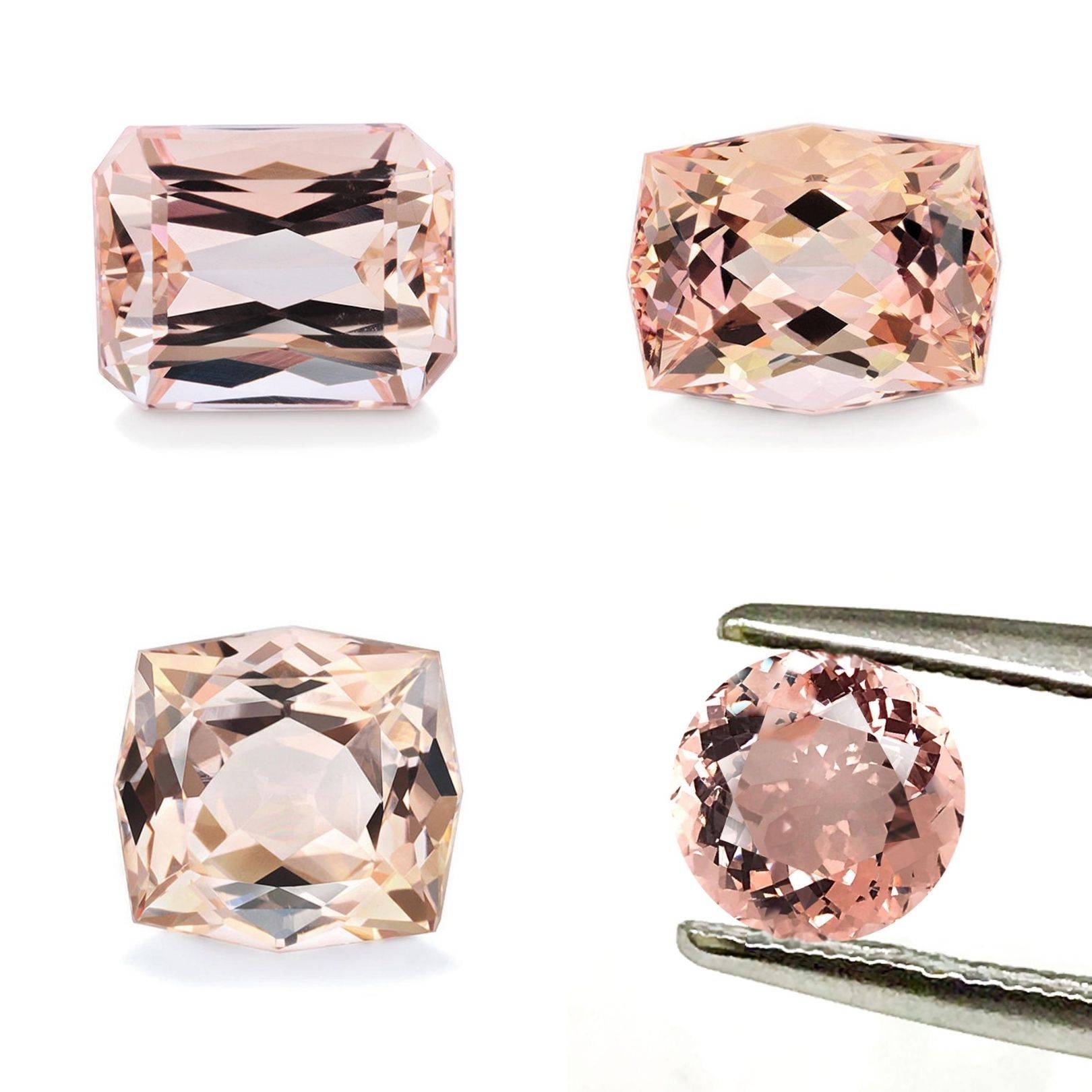 If a ring is sold out on our website -
please contact us to discuss a custom order.
For all enquiries email ruby@jessicaflinn.co.uk
2. a prACTICAL forever ring
Morganites are not only beautiful to look at but they are a practical choice for a forever ring when worn with care. With a rating of 7.5 to 8 on the Mohs scale, they are a durable, but not as strong as diamonds.
Morganites also require minimal special care, due to their hardness and durability. By using just warm soapy water with gentle cleaning and a soft cloth, you can clean your morganite safely and easily.
We recommend that morganites are worn with care. If you are prone to being heavy handed, it may be wise to consider a stronger gemstone.
🔎 Find Jennifer on our website.
If you don't know your ring size -
not to worry, you can order your ring sizer here:
Due to their durability, morganites can be cut in many ways to enhance their sparkle. Our morganite rings include cushion cuts, emerald cuts, oval cuts and brilliant cuts. Not all gemstones can be cut in as many ways as they aren't as strong!
Each design takes into consideration the cut of the morganite to magnify the beauty of the ring. Having the right cut is an important part of the design process. You want your ring too gleam and dazzle with every movement.
Although morganites often have inclusions many are invisible to the naked eye. We use clear morganites in our designs for a high lustre finish.
🔎 Find Henrietta on our website.
Love our style but can't find your perfect ring?
We can design you your dream ring with our bespoke package.
To enquire, email ruby@jessicaflinn.co.uk.
4. aLTERNATIVE but timeless
Now this may seem obvious but it's one of the main reasons we love morganites. Because they are different yet they remain timeless!
So for those who love to go against the grain but want a ring they can love for a lifetime, a morganite could be the answer.
They have soft delicate colours which means they still bring personality without being overbearing. Because they can be cut in many ways, they can be incorporated into your more traditional designs as well as unique bespoke rings.
🔎 Find Ophelia on our website.
Love one of our rings but want a different coloured morganite?
We can make that possible with our custom package.
To enquire, email ruby@jessicaflinn.co.uk.
Not only are morganites a strong, lasting gemstone that have a high brilliance, they are also much more affordable in comparison to diamonds.
On average the price for 1 carat is around £300 compared to that of a diamond where 1 carat can cost up to £2300.
This means you can create bigger rings within your budget. You'll notice that we use diamonds in all of our morganite designs as they work so well together. But if you were looking to create a ring that only uses morganite gemstones - that's what our bespoke package is for!
🔎 Find Corinne on our website.



Whether it's for a left or a right hand, all of our rings are made with forever in mind.
Which is why we hand select each gemstone and use mastercrafts people through out the entire process of making your rings.
---