Alternative Salt and Pepper Diamonds Rings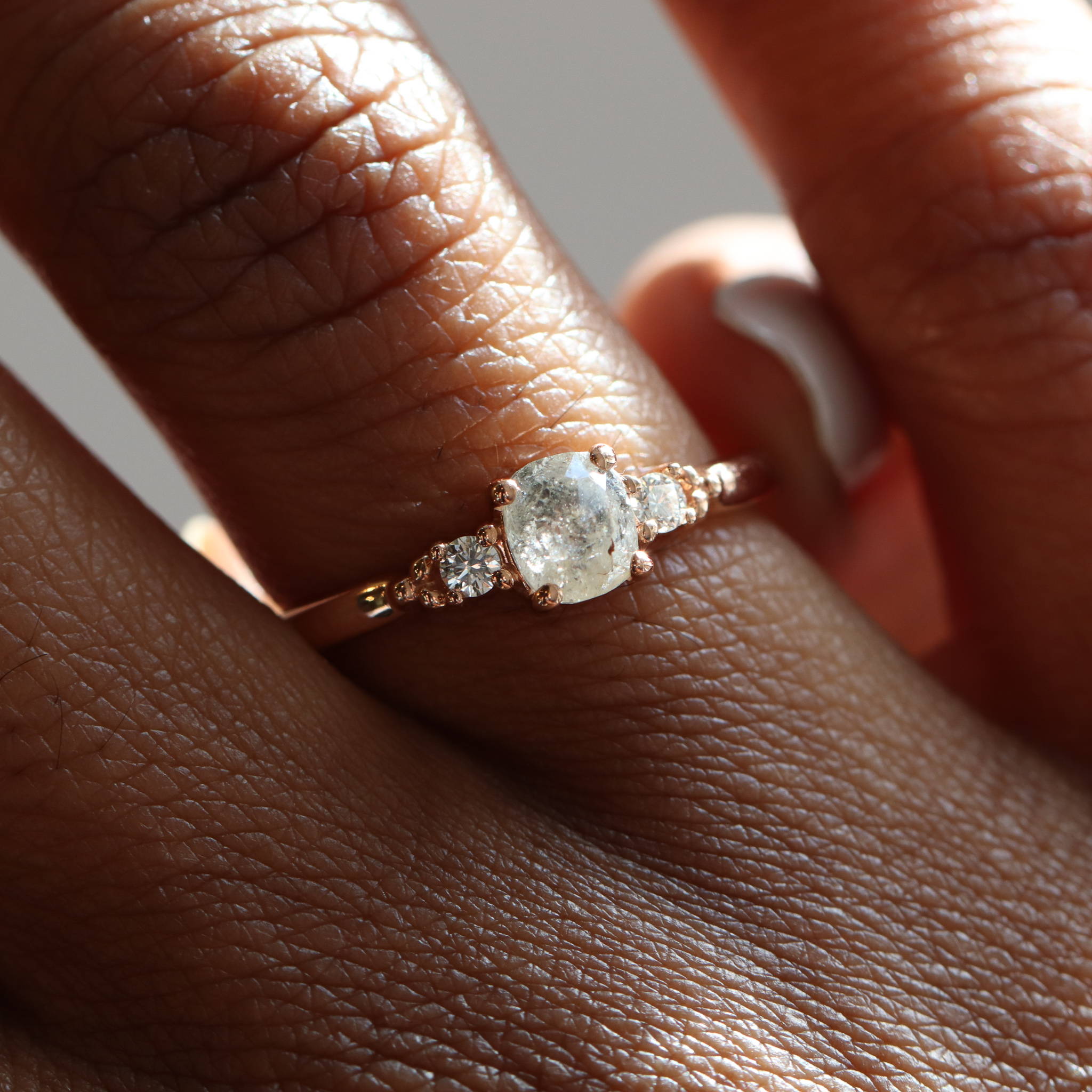 We adore Salt & Pepper Diamonds. Unlike white diamonds, which are celebrated for their clarity, Salt & Pepper Diamonds are celebrated for their inclusions. Why? Quite simply because they were formed billions of years ago. Each diamond is a snapshot of a moment in time, and no two are ever the same.
When sourcing salt & pepper diamonds, we work with trusted suppliers with traceable processes.
To learn more about salt and pepper diamonds, click
here
.
1. Roxanne -
sHIELD SHAPED SALT AND PEPPER DIAMOND
Roxanne - is unlike any of our other rings.
She stands alone in her geometric shape and style.
Her beautiful and unique shield shape takes centre stage in her design. And her pale salt and pepper diamond is full of the wondrous inclusions we crave. To her side is a row of 4 round brilliant cut diamonds and a 0.14ct curved trilliant, for our signature Art Deco feel.
For those who pave their own path, Roxanne will be the ultimate dazzling companion. Roxanne is the ring that you spot across a room, totally and utterly in a league of her own.
From £2,460.00
If a ring is sold out on our website or isn't available in your size, please contact us to discuss a bespoke order.
For all enquiries email ruby@jessicaflinn.co.uk
2. OPHELIA -
EMERALD CUT Salt AND PEPPER DIAMOND
An alternative ring with a timeless design. Ophelia is a symmetrical beauty with depths of personality.

Featuring diamonds in three different shapes and sizes, all set in an eye-catching art deco design;
she's guaranteed to sparkle.
Her dreamy emerald cut 1.41ct salt and pepper diamond sits in the centre capturing the light at all angles. On either side, the dramatic centre stone is framed by a row of 1mm nestled diamonds, separating the salt and pepper diamond from two stunning trilliant cut 0.13ct white diamonds.
The darker tone of the salt and pepper diamond is bewitching against the warm tones of the gold.
From £2,430.00
If you don't know your ring size -
not to worry, you can order your ring sizer here:
Delphine -
ELONGATED HEXAGON SALT & PEPPER diamond
Delphine is a magnetising ring for those who are pulled in by all things unique.
At her heart sits an
elongated hexagon salt and pepper diamond, chosen for its depth and drama. A
ccented by two trilliant cut contrasting white 0.27ct diamonds, she gleams in the sun.
Pictured here in platinum, her monochrome tones create a mystic allure. Her three diamond design makes her a timeless ring for generations to come.
Love our style but can't find your perfect ring?
We can design you your dream ring with our bespoke package.
To enquire, email ruby@jessicaflinn.co.uk.
4. CELESTE -
KITE SHAPED SALT AND PEPPER DIAMOND
Celeste, derived from the Latin caelestis, meaning heavenly, was not named accidentally.
She looks out of this world with her
striking centre 1.21ct kite shaped Salt & Pepper Diamond. Below she is accented by a beautiful half-halo, set with six round brilliant white diamonds and one pear shaped white diamond.
The collaboration of the clean cut
centre stone and the softer shaped smaller diamonds makes Celeste a truly special ring.
From £2,130.00
Love one of our rings but want a different centre stone?
We can make that possible with our custom package.
To enquire, email ruby@jessicaflinn.co.uk.
5. NATALIA -
HEXAGON SALT AND PEPPER DIAMOND
Natalia takes your traditional engagement ring and flips it on its head. Swapping a traditional diamond for a salt and pepper and cut into a hexagon shape as apposed to the more traditional, round and oval.
To either side the centre stone is accented by two round brilliant white diamonds, chosen to highlight the depth of the salt and pepper.
She's our more refined design out of our alternative salt and pepper rings. Making her the go-to girl for those who like to question the realms of 'traditional'.
From £1,830
Whether it's for a left or a right hand, all of o
ur rings are made with forever in mind.
Which is why we hand select each gemstone and use mastercrafts people throughout the entire process of making your rings.
---